The 57-year-old Air Force veteran decided to go. "I decided I'm going to take this opportunity to come down in hopes that I'd get to speak so he would hear my voice," Robinson told First Coast News, On Your Side.
It started off pleasant. Robinson thanked DeSantis, a Navy veteran, for his service and shared that he too was a combat veteran.
DeSantis thanked Robinson for his service and that was the end of the pleasantries.
"I'm here today because I'm one of the Americans who do not agree with all of your policies," Robinson said. "I feel that you have enacted policies that hurt people like myself. … You have allowed weapons to be put in the hands of immature people who have caused the deaths, murdered ..."
Before Robinson could mention the racially motivated mass shooting in Jacksonville just over a week ago, DeSantis cut him off.
"First of all, I did not allow anything with that (Dollar General shooting). I am not going to let you accuse me of committing criminal activity," DeSantis said as the crowd started to clap for the governor. "I'm not going to take that." As DeSantis' voice gradually got louder, so did the applause and cheering from his audience. "If you want to have a civil conversation, that's one thing. … That guy (Dollar General shooter) was Baker Acted. He should have been ruled ineligible but they didn't involuntarily commit him."
Robinson managed to slip in a comment, "Sir, please allow me to speak my truth," he said.
"No!" DeSantis responded. "There is the truth. … You don't get to come here and blame me for some madman. It is not appropriate and I'm not going to accept it."
The owner of the restaurant and a couple of other people then approached Robinson and escorted him out of the restaurant. "They told me to never come back," he told First Coast News.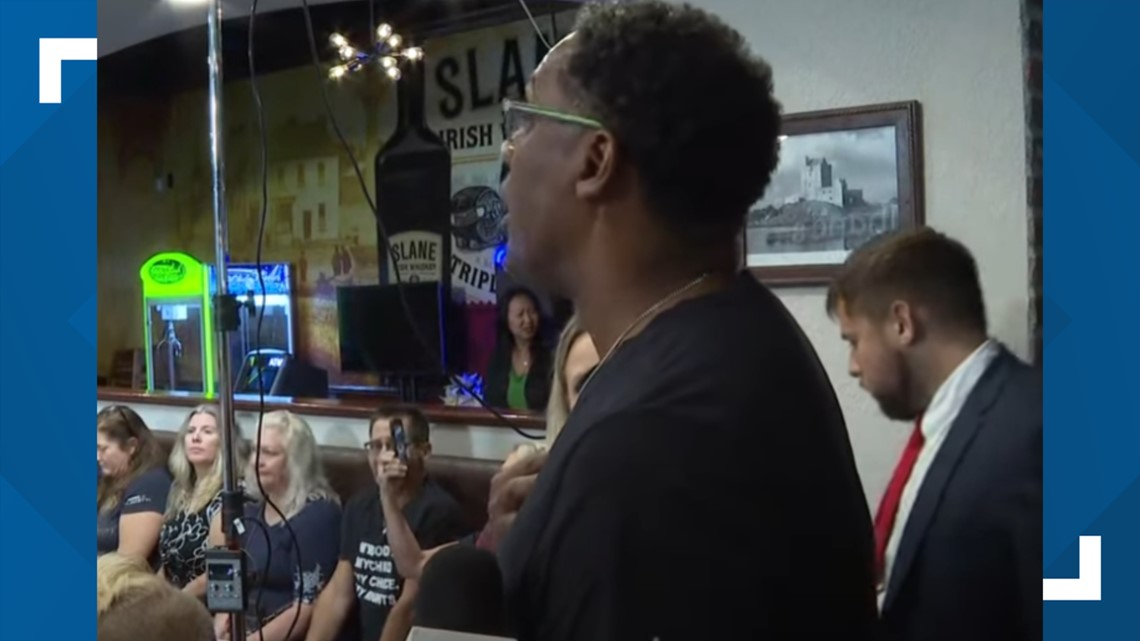 Robinson isn't the only person blaming DeSantis
Controversy is still swirling following governor's appearance at a vigil for the victims of the Dollar General shooting.
This is igniting conversations about the power of political rhetoric and policies. Other, like Robinson, say DeSantis's rhetoric around "woke" policies and Black History creates a hostile environment for people of color and may even encourage acts of violence. Those who support the governor disagree.
Tammy Hodo is a diversity consultant who also believes DeSantis's policies including banning diversity, equity, and inclusion programs in state colleges and universities and regulating how schools deal with race and gender helped incite the shooting.
"I think this is one of the consequences of trying to roll back policies and even have conversations surrounding racism, bigotry, the historical experiences of different groups in America," said Hodo, who is the founder of All Things Diverse.
Supporters of DeSantis like State Representative Dean Black, (R) District 15, dismiss any connection between DeSantis's policies and racist violence, saying individuals are responsible for their own actions.
"That's quite obviously absurd," said Black when asked for his thoughts on the accusations. "No one is responsible for the tragedy that happened in Jacksonville other than the heinous racist that committed the crime."
The former president's statements are also cited in two separate criminal indictments related to his role in the Jan. 6 riots.
DeSantis announced he will allocate $1 million for Edward Waters University to increase security and give $100,000 to the shooting victims' families.