Jax Beer Week. Wow! Am I right? It was a busy week of activities, new beer releases, a new brewery too! I think we need to know a couple of months ahead of time so we can all take vacation that week next year! I made it to only half of what I wanted to do.
Start off with Main and Six Brewing, hopefully you have made it there by now or perhaps you caught them at Brew at the Zoo. It was a busy week for Dennis and the crew. They opened the brewery, released a new beer and served up beer at Brew at the Zoo. They followed that up with another beer release this week.
Strings Sports Brewery was also serving beer, at least samples at Porchfest on day one of Beer Week. If you missed them, they had a beer on tap at Hyperion Brewing. Speaking of Hyperion, this past week, Troy Orton left as head brewer. It was described as a mutual parting of ways. Matthew Fletcher is now the head brewer. He has been the assistant brewer since day one.
I attended another Alewife Beer School, this one on beer and cheese pairings. I have written about Beer School in the past as both fun and informative. This one met that criteria with bells on. As always Kelly Pickard is fun and informative.
The next Beer School is being held December 5. The class is "Walk on the Wild Side" and will examine sour beers and styles. You can sign up for the classes online or do like I did and just came in and bought tickets. Cost is $20.
The cheeses for this class came from Grater Goods artisanal cheese shop in Murray Hill. My dad and I enjoyed the cheese as much as the beer. But we both had a standout beer, one that he purchased afterwards, North Coast Brewing Old Stock Ale. It is a reasonably priced beer, but very big with dried fruits and caramel notes. The ABV is off the charts at 13.75 percent. Woo!
My second favorite of the night was Les Grisettes from Green Bench Brewing. It's a farmhouse style ale brewed with Brettanomyces. It was funky and lovely, at least for me. I do love the farmhouse style. As a side note, this grissette style beer has a sad but lovely story about being the beer served to Belgium coal miners. The women who brought the beer wore gray outfits and the style takes its name from them.
The CASK Homebrewers Group also had a Belgian tasting and competition last week at Alewife. Wow! These guys and gals are good! We cast our votes, but to be honest, all of them were fantastic! Its no wonder they won Florida's best Home Brewing club last month!
Had a great talk with Atlantic Beach Brewing company's Head Brewer Rory Malloy when I picked up my Cafecito de Cuba bottle. He's working on a BIG, honking Belgian for their Holiday/Winter beer. Details to come! He's also thinking their next bottle release will probably be something with Red Velvet, coming early next year.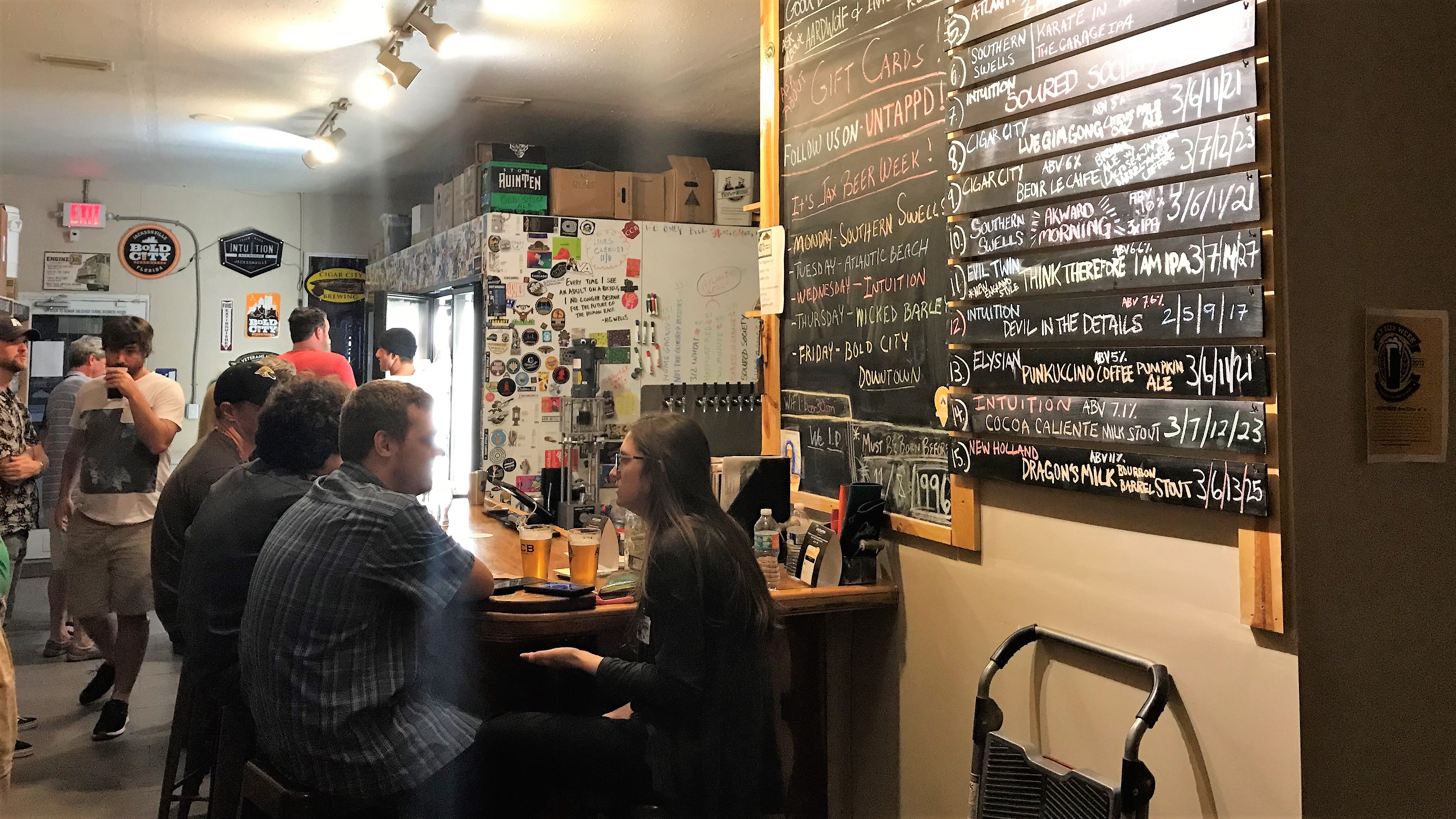 We originally planned on hitting Southern Swells Donut and Beer pairing, having tried The Mini Bar's doughnuts during Oktoberfest, but decided with limited quantities of doughnuts to let others have a try. We opted for Intuition Ale Works night at Beer:30 San Marco.
The highlight of that night was Intuition's Cocoa Caliente, a spiced milk stout. It's sweet and chocolatey, with a big old kick of datil pepper on the finish. I did not find it so overwhelmingly spicy, but I also like atomic fireballs as a treat! Ed thought it was a tasty beer, but just too much spice for his liking.
We also tasted Elysian Brewing's Punkuccino Coffee Pumpkin Ale. Sort of had me at pumpkin and coffee. Interestingly enough, Ed liked it as much as I did. The spice is very forward, making it more like a pumpkin spice latte.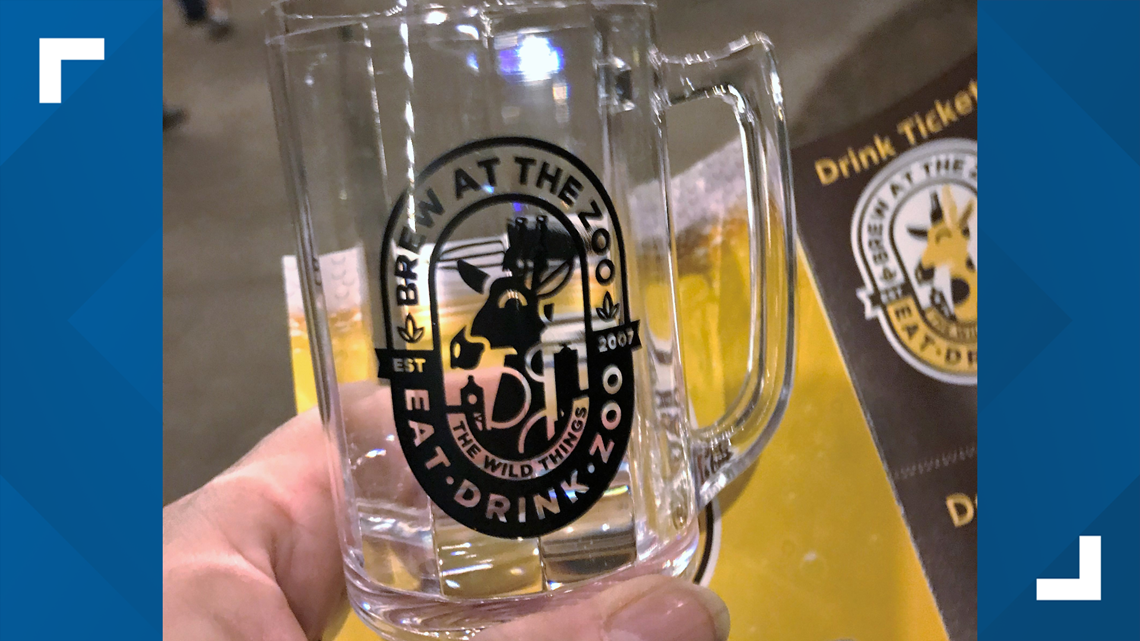 At Brew at the Zoo, nearly every local brewery was represented and frankly, this might have been the best out of the five I have attended. In years past, when we have had our fill, there are a lot of empty tables for both food and beer. This year we were walking out and still getting samples along the way. And there were some special brews.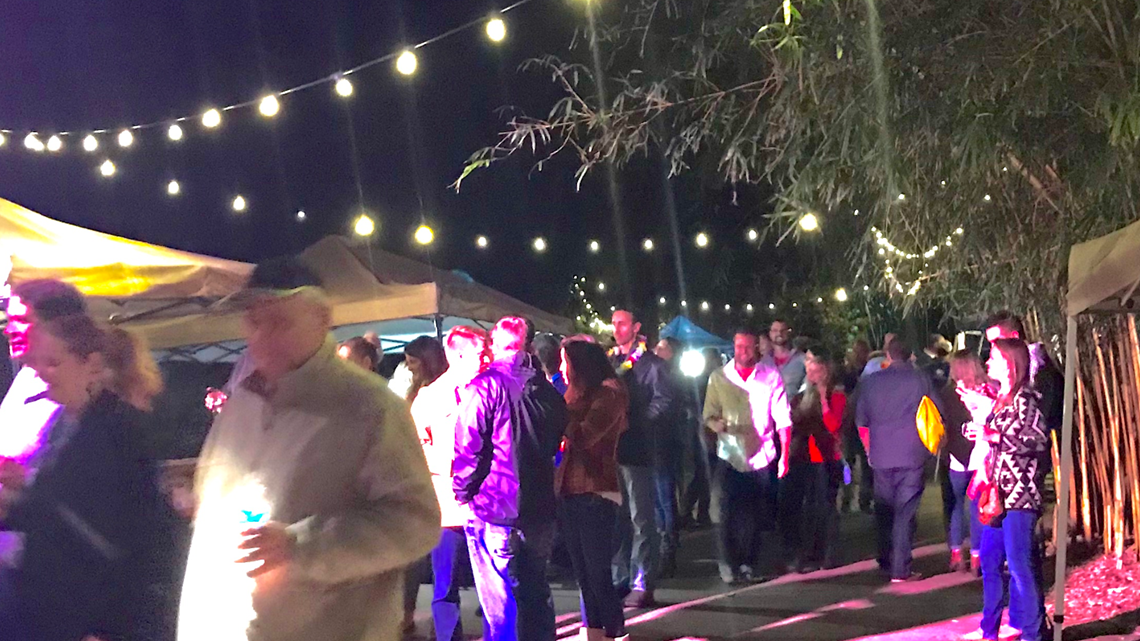 One of the first beers we tried was Seven Bridges Grille and Brewery's Imperial Belgian Pumpkin. I have always enjoyed beers when I have gone there, but we always think of it as a restaurant with a brewery. This beer changed my opinion. It was downright one of the best pumpkins I have had. Smooth spiciness, not at all harsh and you can tell it's pushing 8 percent. Don't make my mistake and think of Seven Bridges as a restaurant first, it's a brewery with a really good restaurant.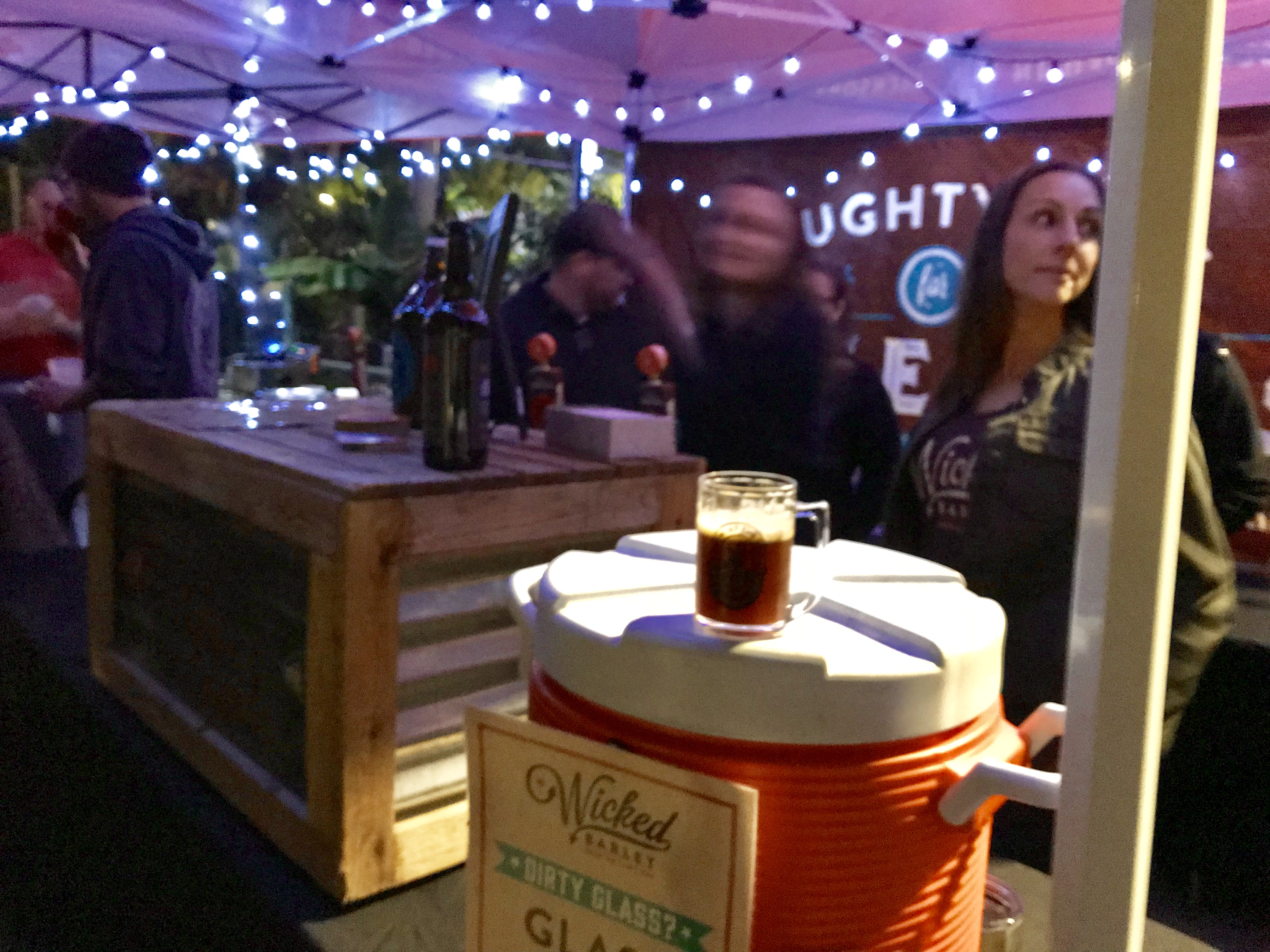 Another local favorite, Wicked Barley Brewing ,was serving food and beer. On the beer front, Barrel Aged Barleywine. Wow! This was a good barleywine without the barrel, but it was over the top with the barrel. My dad is a huge fan of the style, this was one of his favorites of the night. It's a 10.5 percenter, so be careful when you try it!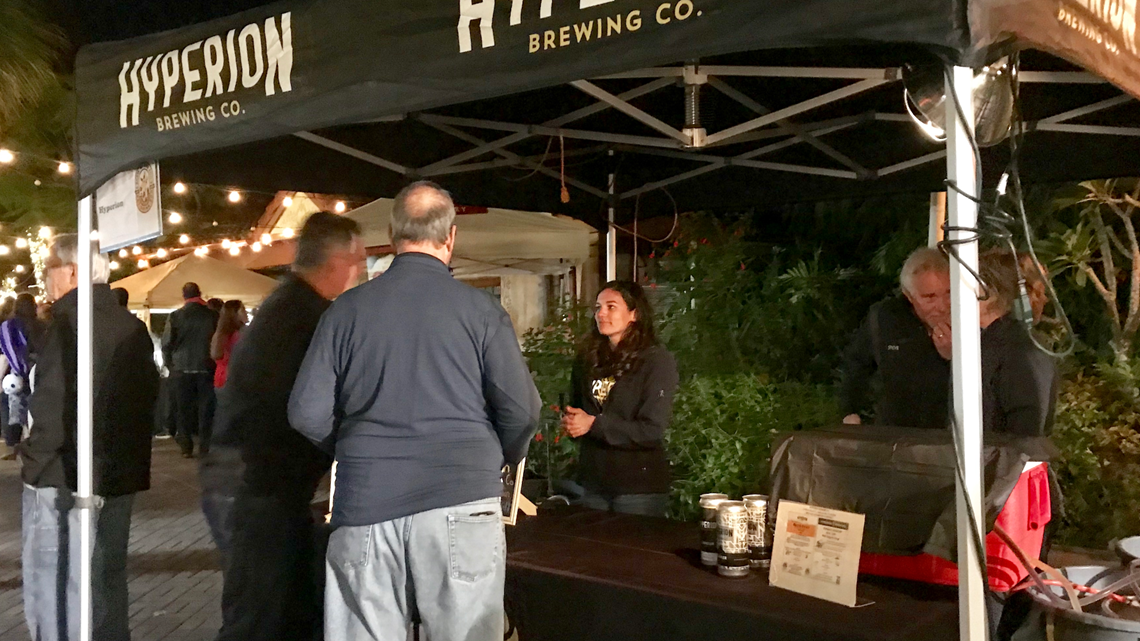 Central 28 Brewing out of Central Florida had many beers to sample. One that truly stood out was called Breakdown. This is a porter brewed with tart cherries and named in honor of Tom Petty. It's a brand new brew and should show up in town soon, if it isn't already out. It was rich chocolate with that touch of tartness, making it not sweet. Ed really liked this beer a lot.
Another Central 28 offering was Frost Moon Stout, a sessionable beer inspired by Mexican Horchata. Cinnamon was the spice I caught the most, slight sweetness due to it being a milk stout. Overall, I would call this a pleasant winter beer. If you are interested, Beer:30 San Marco just put this beer on tap.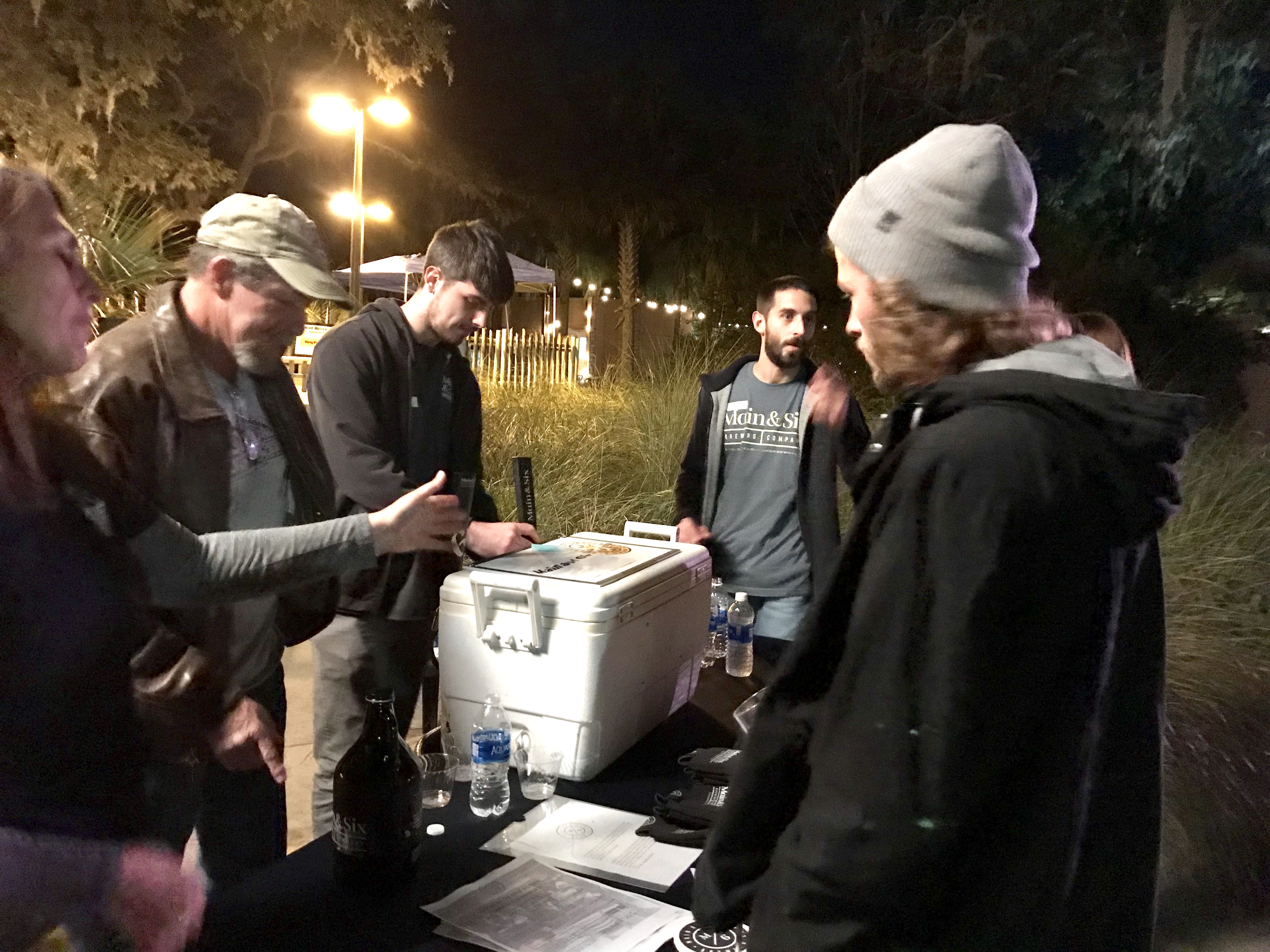 Interestingly enough, I've been on an IPA kick lately and found an unusual one from Alltech Lexington Brewing, the people who normally brew some fantastic bourbon barrel beers. It's called College Heights IPA and is described as a mix between East Coast and West Coast IPA styles. I found it very juicy, not overly bitter, but with that hops bite.
Another great IPA was from Fulton Beer, new to the Jacksonville market from Minnesota. It's called Specter and is described as an NE IPA. I found this one juicy too, just a bit more assertive on the hops front, but easy to drink.
My dad fell in love with JDub's Brewing's Raspberry IPA. This is a pretty solid IPA with touches of raspberry. JDub is out of Sarasota and can readily be found in town. If you find the Raspberry IPA let me know. My dad is on the search for it!
By the way, we celebrated my dad's 80th birthday at Brew at the Zoo. How cool is that?
The Brew at the Zoo is getting bigger. This year there were four main areas with tents lining the path to each one. Each pod, so to speak, had music, either a DJ or live act and places to stop and converse and most importantly, restrooms. The organization gets better each year too. Your ID is checked in the line before you get to the front, so your ticket is just scanned and you are in!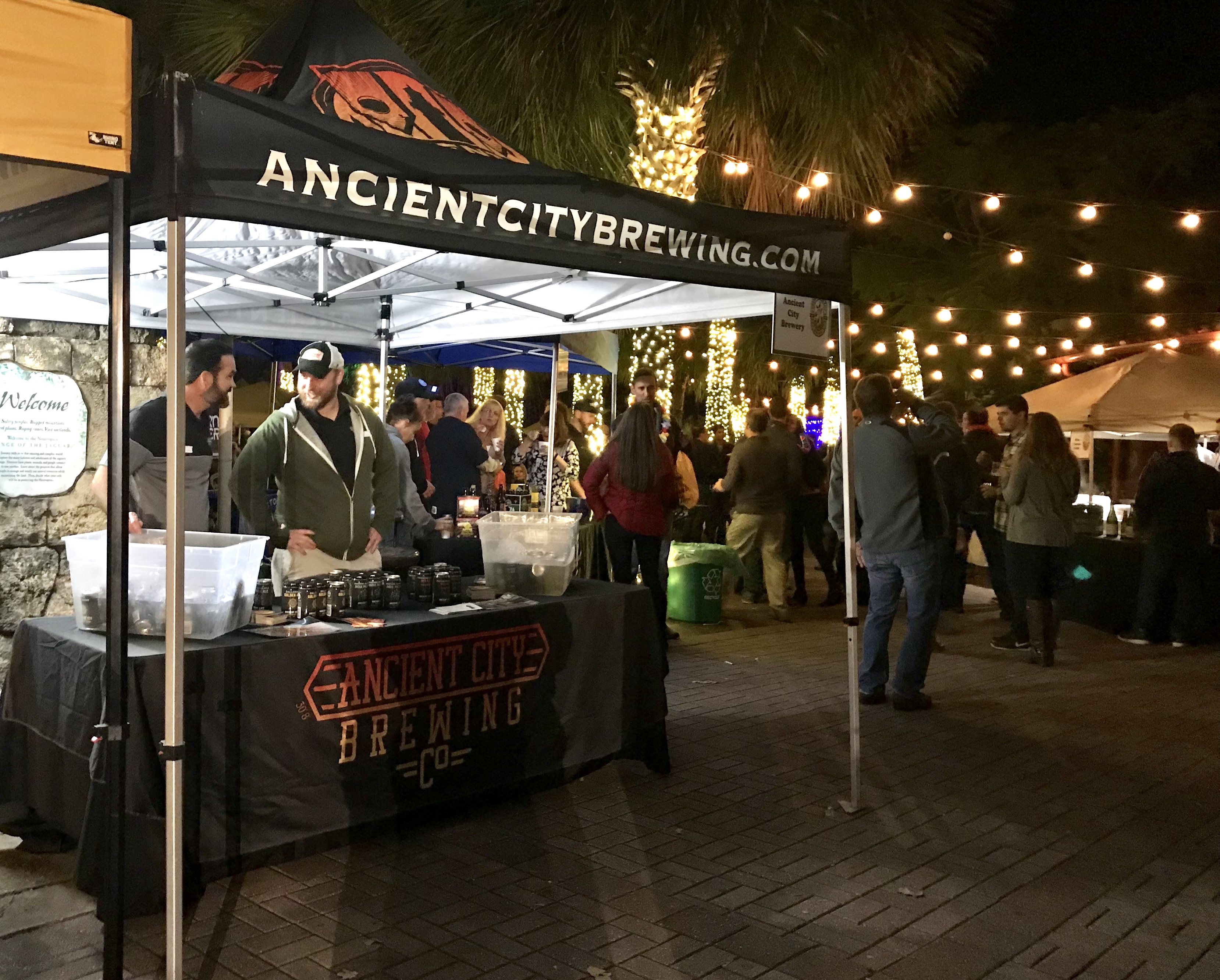 We love this event, it's the highlight of the fall for us.
With Brew at the Zoo over, the next festival on my radar is the Riverside Craft Beer Festival. Planning is cruising along for this event by the Riverside Rotary. Early word is that breweries will be divided by region, so all of your local favorites will be in one area, while if you love West Coast beers, you can hit that area. More details to come on this!
I hope you had some fun this Jax Beer Week. I just wish it was a bit longer than a week! Now, the wait is on until next year. Until then, have you been to our Facebook page yet? I post a daily schedule of events there and breaking beer news.