Some success comes easily to Seth Owen.
He was co-valedictorian of his high school. He was captain of the swim team, sophomore class president, junior class treasurer, a member of both the national and international honor society. And thanks to two years of dual enrollment, he graduated from First Coast High just four credits shy of an associate's degree.
"Definitely ambitious," he says of his academic disposition.
But Seth's plans to attend Georgetown University this fall were waylaid by something that has nothing to do with academics: His home life, or what's left of it.
Seth is essentially homeless. By choice, his father would say. Seth moved out in February after refusing to attend the family's conservative church, Pecan Park Baptist, on Jacksonville's Northside.
"I said, 'I can't go back to that church.'"
The message from the church had long been personally hurtful, because Seth is gay. But that's not the only thing that prompted him to stop attending. He recalls sermons about women being inferior to men, or children being required to submit to their parents – no matter what.
"A member asked, 'What if they're being abused?' and [the pastor] said the Bible doesn't make an exception for abuse. Even then, they are to obey their parents."
For Seth, the cumulative message was unacceptable. "I cannot sit there in the pew in silence accepting that," he says.
Leaving the church wasn't simple. Seth's entire family is involved – his father's the deacon, his mother the treasurer, his oldest brother a former pastor.
"My father looked at me and said, 'Biblically, we have the right to stone you for what you're saying," says Seth. "And I knew it was done there."
Seth's father, Randy Owen, doesn't deny making the comment. He merely observes, "I've made that comment to every one of my children -- that in the Bible, in Biblical days, that a disobedient child, that they would stone him."
And Randy Owen says he didn't force his son move out.
"As far as kicking him out because he wouldn't attend the church we attend -- that's a lie," the senior Owen said in a phone interview. "I made clear we are not kicking him out, but we worship as a family. He's allowed to live here as long as he worships the same way we worship.
"He chose to pack his bags and move out."
Seth kept his sexual identity well-hidden most of his life. Even when he began to tell school friends, he did so with limits. His brother also attended First Coast High School, and he suspected he would tell their parents.
But one night while he was studying, his father took his phone.
"He started going through all of it, from like 11 to 2 am. When he woke up my mom I knew he found something bad."
Not sexual or inappropriate "bad," he clarifies. Just a picture of him and a male friend, "maybe holding hands or something like that … something that clearly indicated I was not straight."
His parents grilled him through the night.
"They wouldn't let me leave the room -- they wouldn't let me shower or step outside for a minute. They were angry I wasn't giving them the answer they wanted."
Seth eventually confessed he was gay. Soon after, his parents sent him to conversion therapy.
"Technically he's a 'Christian counselor,'" says Seth. "But he made it very clear it was because I was gay, and his goal was to 'fix' that."
Seth's problems at home became palpable to his teachers.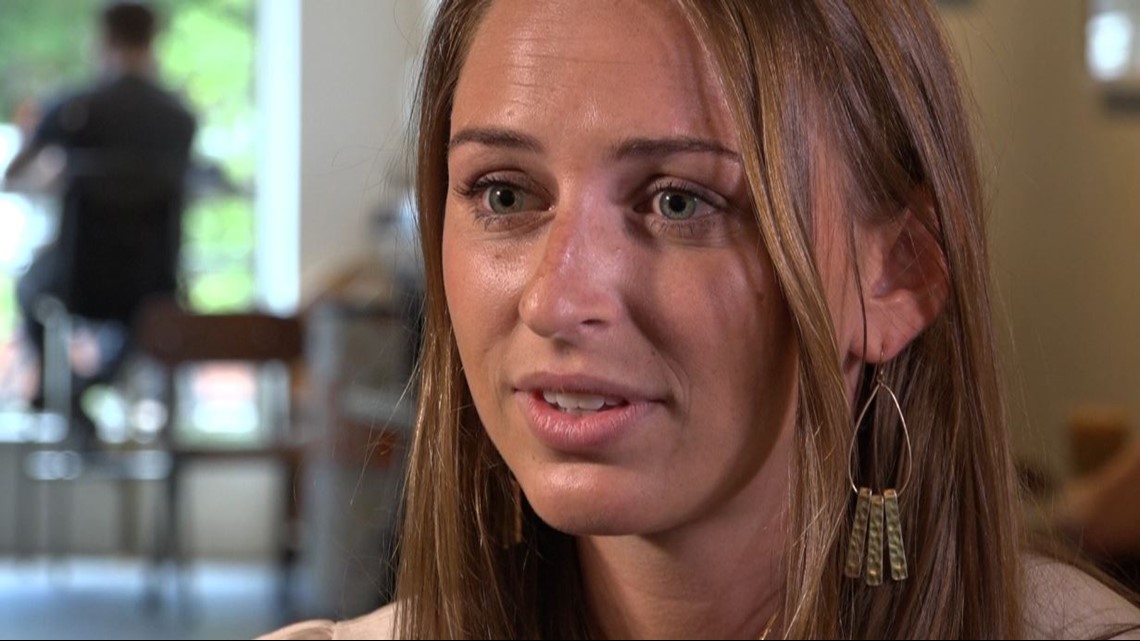 "He mentioned something about seeing his therapist who was trying to make him not gay. I was like, 'what?!'" recalls math teacher Kaylee Petik, also his swim coach.
She didn't press him on it, just passed him the website for JASMYN, as a resource. "I assumed [at home] it was maybe not the best environment for him."
Seth's history instructor Kyle Fortenberry says he knew of trouble at home, but "it was this past school year where things obviously got a lot worse. There was this tension between his sexuality, but also wanting the love and acceptance of his parents."
That tension broke earlier this year. "Everything erupted in [February], that was when things really got crazy," Petik says. "After his family found out that he was gay, it turned into this huge ordeal."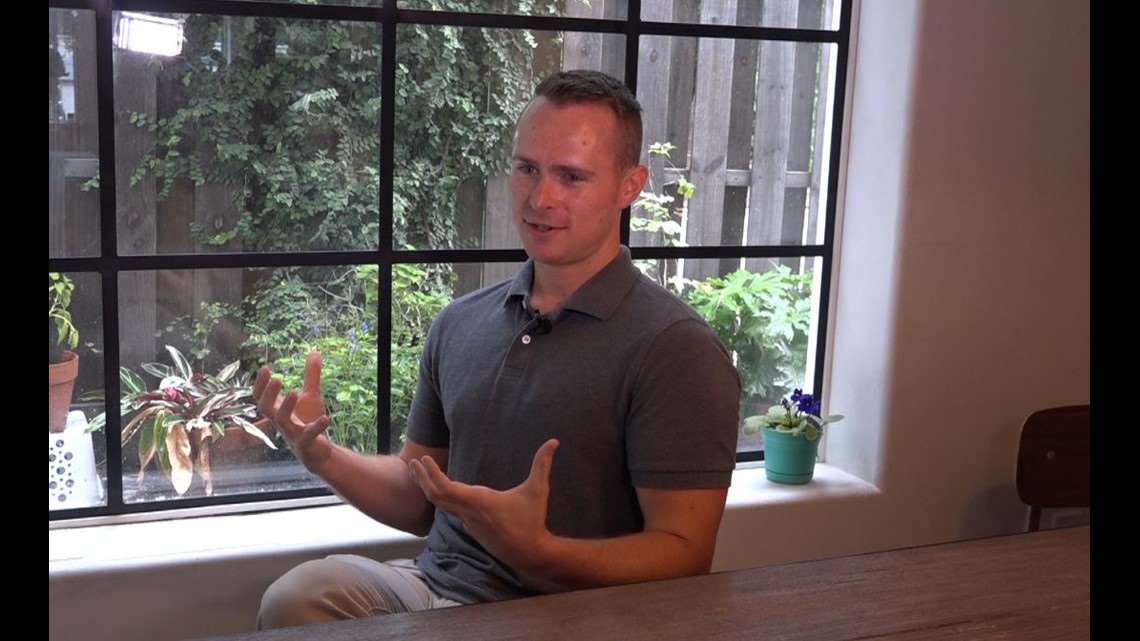 Seth moved out, but he did so reluctantly.
"I was pleading with them, I said I'm not ready I'm not ready to be on my own," he says. "Letting me walk out that door, they were saying we don't care where you're staying, we don't care if you're safe. Our religious beliefs are more important, our church is more important."
Seth lost more than his home when he moved out.
His scholarship to Georgetown University this fall was based on his parents' income. After he moved out, he lost their financial support. But the school still labeled him a dependent. Seth resubmitted his financial information, asked Georgetown to update his financial status. The school declined.
"I appealed a second time. I sent letters from district my mental health counselor, documentation that I was homeless while I was in high school," he says. He even sent his pay stubs from Publix. "They denied the request for independence status again."
Asked for comment, Georgetown University sent this statement:
"While we cannot comment on any individual case, we work closely with students whose financial circumstances change after admission to modify financial aid assistance and ensure they can still enroll regardless of their ability to pay."
With Seth on the verge of losing his dream of attending Georgetown, his teachers -- his chosen family, he calls them -- started a GoFundMe page called, "Let's Make Seth a Hoya!" The page's goal is to raise the $20,000 difference between what his scholarship covers and the cost of tuition. The page has so far raised $6,200. He's also applied for a Pell Grant that may put tuition in reach.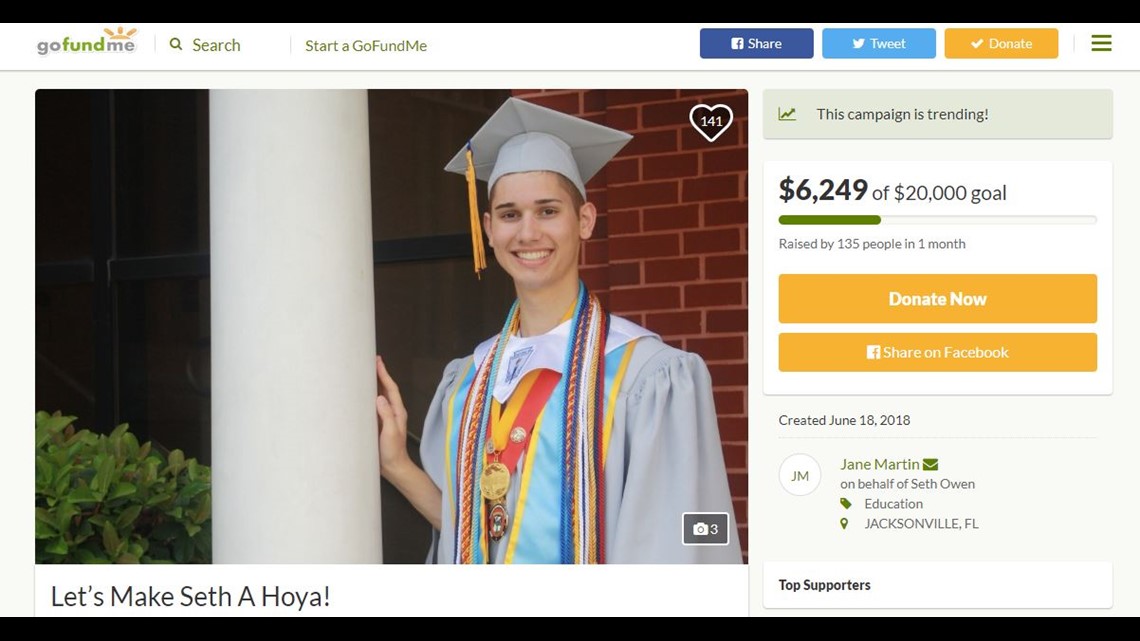 "Seth hasn't asked for any of this," says Petik. "This is truly teacher-driven. We see so much potential in him, we want him to succeed. Our Jacksonville community needs to support our best and brightest -- and he is one of them."
Even more than that, Petik hopes to bring attention to his circumstance.
"Every child deserves the right of an education, regardless of their sexual orientation."
Fortenberry agrees, and says despite Seth's litany of accomplishments, he's just as vulnerable as any kid in conflict with his family.
"It's terrifying, because you realize what if he didn't have us?" Fortenberry wonders. "What if he didn't have other people step up like this? Where would he have gone, what would he have done?"
Seth has been staying with friends since he left home. He says the "unconditional love" of his friends and teachers has helped him remain optimistic. School starts Aug. 24, and he hopes to be there.
But also hopes sharing his story can help others.
"Here in the South we have churches that are so tight-knit and close-minded, I feel like people need to understand this still happens. It's not a thing that only happens in Hollywood. It's real life for some people, and that's scary.
He adds, "I couldn't have made it without people who stepped up to help me, and I hope I'm one day able to do that for someone else."
Statement from Seth Owen on Aug. 3, 2018
Thank you to all of my supporters in Jacksonville and across the globe who have given their time, talents, and financial support to help me make my dream of attending Georgetown University a reality.
Thank you to the staff and professionals at the Georgetown University Office of Student Financial Services. Over the past several months, the Office of Student Financial Services has worked to address the situation that I faced after I was forced to leave my home, in February. In mid-June of this year, the Office of Student Financial Affairs adjusted my aid package to take into account my circumstances; however, there was still a gap that would need to be filled by private loans. These loans were not a viable option for me, as my parents would not act as the necessary guarantors of the loans. At this point, I thought my dream of attending Georgetown University was over.
Hearing of this situation, my former teacher, Jane Martin, started a Go-Fund-Me campaign. To date, the goals of the campaign have been met many times over.
While the campaign has been ongoing, the professionals at the Office of Student Financial Services have continued to work with me to make my dream a reality. Due to their efforts and attention, they were able to adjust my aid package even further, my expected contribution is now $0. With these new adjustments, I will be able to attend Georgetown University this fall.
The Office of Student Financial Services was instrumental in helping me enroll in the Georgetown Scholarship Program, whose purpose is to make attendance at Georgetown possible for students in a financial situation similar to my own. This program also includes mentoring and networking opportunities which will help me to assist others in situations similar to the one I found myself in earlier this year.
Georgetown is my dream school because of the limitless opportunities it provides to its students. In particular, my interest in the school was piqued by the prestigious program of study in the Walsh School of Foreign Service. I am honored to be selected to attend Georgetown University and am elated that I am now able to attend Georgetown because of the gracious donations to the GoFundMe campaign and the efforts of the Office of Student Financial Services.
Thank you to all who have donated to the campaign. Your generosity will help me succeed academically this year and in the years to come. At the moment, I am in process of exploring the establishment of a scholarship to help LGBTQ+ scholars who find themselves in the circumstance I was in earlier this year. I am looking forward to utilizing the resources of Georgetown to help with this effort.
Again, a simple "Thank You" seems to be not enough for all of the support I've received from so many. I will be seeking to pass on the kindness and generosity that I have been shown.