ST. JOHNS COUNTY, Fla. — No one has ever accused the internet of being slow to respond. It was no different Tuesday when St. Johns County Sheriff's Office took to Facebook asking businesses and residents to join its Connect St. Johns program. That's where people and business owners "register" and "integrate" their security cameras with SJSO allowing them to "keep our community safe," the post states. "Camera owners have the ability to choose how and when their cameras and historical data are accessible to SJSO."
Some of the commenters on the post loved the idea.
Geoff Marton wrote, "In 99% of places, no way I'd let this happen. But SJSO has done some freaking amazing things with technology that have kept crime in our county WAY down despite the insane growth our Commissioners have forced down our throats."
Other commenters weren't too agreeable to the program.
"This is a bad idea. For homeowners to allow access or even connect their cameras online," wrote Sean Fischer Northrum using a gif of Randy Jackson, a former judge on TV's American Idol saying, "Yeah, it's a no from me dawg."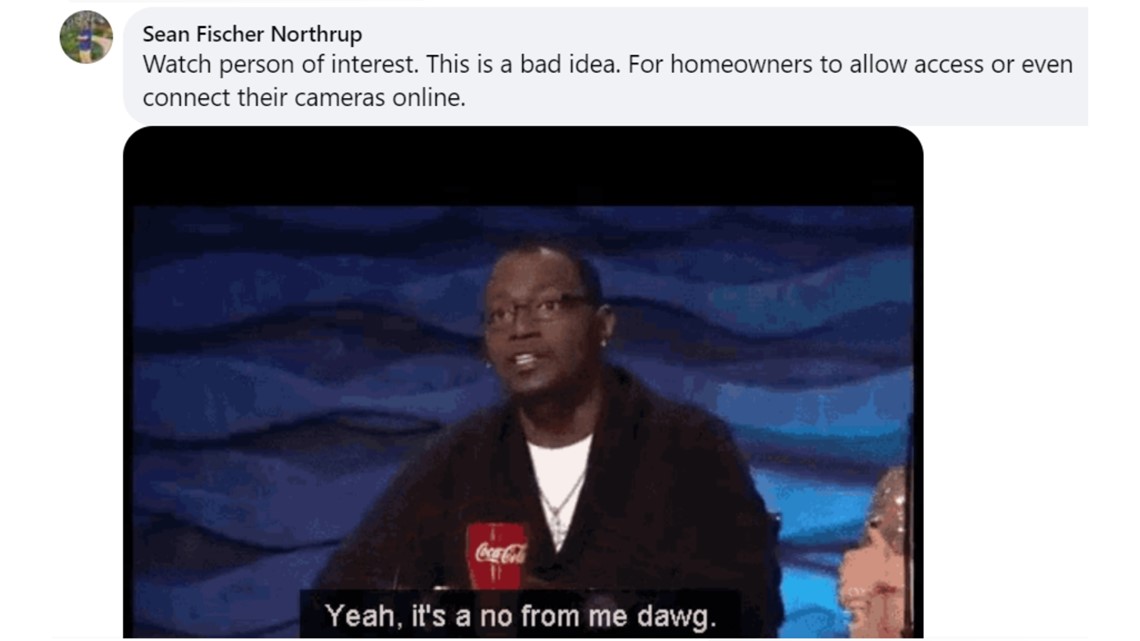 Tyler B-W used a gif of Dwane "The Rock" Johnson from the movie "Jumanji" saying, "It's a trap."

"No thank you. If a crime happens in front of my house I will see what's on my feed, and if would help will share. But registering no," wrote Evelyn Willis
"There is a book yall might want to read.... 1984... might give you an idea why this is not good...." - Randy Snyder
"I don't believe I will." - Clyde Tanner
"Neighbors spying on neighbors and reporting them to the police who are just 'following orders.' Where have I seen this before? Geoffrey Wynn
Angelica Gross dropped a Benjamin Franklin quote: "They that can give up essential liberty to purchase a little temporary safety, deserve neither liberty nor safety."
First Coast News On Your Side reached out to St. Johns County Sheriff's Office about the program and concerns residents may have. SJSO says Connect St. Johns doesn't give police access to cameras, but lets police know you have one so they can reach out for access if needed.
A St. Johns County Sheriff's spokesman tells First Coast News that by registering your home camera, you are informing the agency that there is a camera at your location in case officers would ever need to reach out for information gathered on that camera for an investigation.
It's been helpful for investigators in the past. For example, police have "found information to recover children that have been abducted," internet security expert Chris Hamer said.
He confirms that simply registering a camera does not allow the law enforcement agency to tap into your camera feed.
"You're not granting them access to it. You're simply notifying them that there's a camera at that location," Hamer said.
But he adds, "Do not volunteer that information if you're not willing to participate" in an investigation.
However, the topic can become more complex. Home security camera companies have made news across the county for handing over video from home cameras to law enforcement, without asking the camera owners first.
"The complexity of this is the cloud storage system is not your computer. It's your data on someone else's computer," Hamer said.
And he said that depending on the camera company or service provider, that service agreement you agreed to, may allow the use of your videos especially, if subpoenaed.