ST. AUGUSTINE, Fla. — Bishop Emeritus Victor Benito Galeone, who led the Jacksonville-based Catholic Diocese of St. Augustine for 10 years, died Monday at age 88.
Bishop Galeone, who had been in declining health, spent his last years in the St. Martin Home for the Aged in Baltimore, his childhood hometown and the city where he began his career as a parochial vicar, pastor, professor and missionary. He was bishop from 2001 to 2011.
"I am grateful for the legacy of Bishop Galeone," current Bishop Erik Pohlmeier said. "As I hear stories of his service in the diocese … the fruits of his efforts are obvious. There are many serving today who began their work and ministry under his care. May God welcome this faithful shepherd in the merciful heart of our savior."
"The mission of the church was his personal priority, giving such care to people on the margins," he said. "Bishop Galeone was a bishop who witnessed the truth consistently and at all times."
His successor, Bishop Emeritus Felipe J. Estévez, said he was "such a man of prayer. He led the diocese … by embracing the whole spectrum of the culture of life."
Bishop Galeone shepherded the diocese's 178,000 Catholics through difficult days.
He was consecrated and installed as bishop on Aug. 21, 2001. During his first staff meeting, on Sept. 11, he received news of the terrorist attacks on the United States. Bishop Galeone asked to take part in a special Mass scheduled that night at Most Holy Redeemer Catholic Church in Jacksonville.
An hour before the service, Bishop Galeone sat alone praying in a pew.
"Ultimately, someone has to be willing to say, 'No, we will not repay hatred with hatred,'" he said in an interview at the time with the Times-Union. "If we are Christians, especially. That's the message Jesus taught us. Pray for those who persecute you and do good to those who hate you and love your enemies."
The next year, the American Catholic church was rocked by accusations that priests had sexually abused children. The national scandal resulted in much soul-searching for the church and the implementation of mandatory training and screening procedures, according to the diocese.
Then came an economic recession that "brought new burdens," according to the diocese. "The major growth spurts in the previous decades had left the diocese in debt. Bishop Galeone was forced to make difficult decisions — staff layoffs and freezing the salaries of diocesan employees."
'A vocation to the priesthood'
Bishop Galeone was born into a "close-knit Italian family" in Philadelphia in 1935, and his family moved to Baltimore in 1941, according to the diocese. "His spirituality was evident even as a boy, so his family was not surprised when he announced that he had a vocation to the priesthood," according to the diocese.
He was educated at St. Charles College in Catonsville, Md.; St. Mary's Seminary; University in Baltimore; and Pontifical North American College at the Gregorian University, Rome. He was ordained on Dec. 18, 1960, in Rome. He earned a master's degree in education from Loyola College in Baltimore.
Bishop Galeone served in several Baltimore parishes and taught at St. Paul Latin High School during the 1960s but later felt called to mission work and twice served in Peru. "I had it in my blood," he said in an interview in 2010. "It was a beautiful experience. They were very poor. The experience with the Latin culture made me much more patient. I learned not to get all uptight. You see life from a different perspective."
He was back in the U.S. serving a Maryland parish when Pope John Paul II named him the new bishop of the Diocese of St. Augustine. Initially he declined, insisting he was too old at 65, lacked the right experience and would be an outsider, but he later accepted the job. He succeeded Bishop John J. Snyder.
"I knew the pope wanted it, so it seemed the Lord 'has other plans for me,'" he said. "His ways are so mysterious."
Bishop Galeone retired in 2011 at age 75 as required by canon law. At the time, his longtime friend Msgr. James Farmer of the Archdiocese of Baltimore, said he thought the bishop "wanted to be remembered as a humble priest who brought Jesus to others," according to the diocese.
"He was an extremely humble man. He never sought honors, never wanted any. He loved being a priest," Farmer said. "He's a priest in everything he does."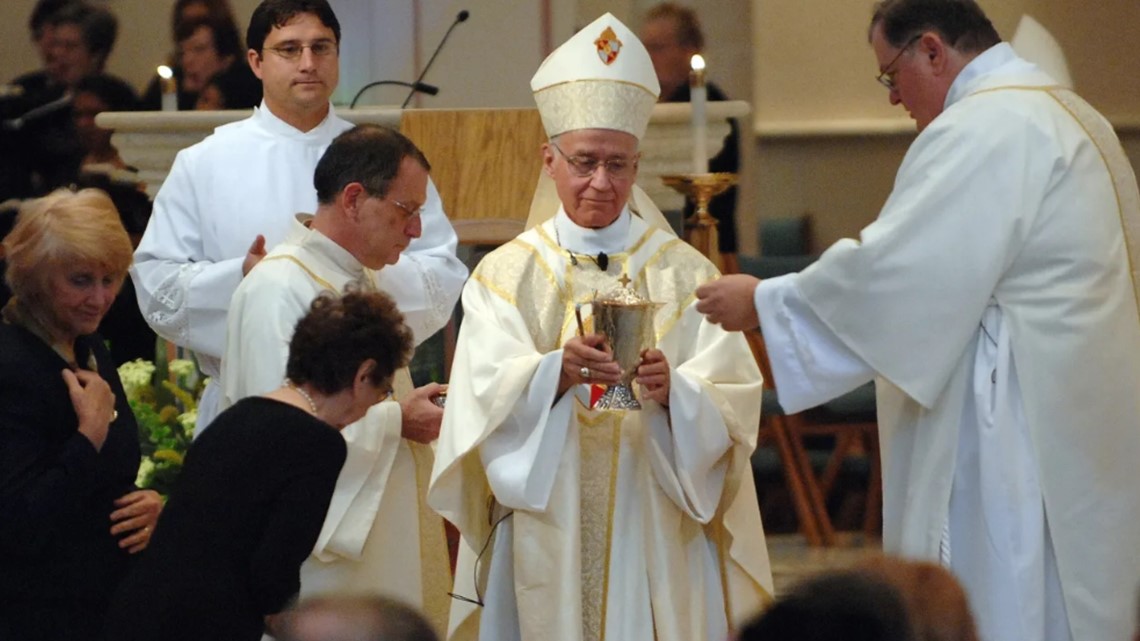 BISHOP EMERITUS VICTOR GALEONE FUNERAL
All services will be at the Cathedral Basilica of St. Augustine, 38 Cathedral Place, St. Augustine
Visitation: 4:30 p.m. MondayVigil Service: 6 p.m. MondayFuneral Mass: 10 a.m. TuesdayCommittal will follow the Mass at San Lorenzo Catholic Cemetery, 1635 U.S.