AUSTIN, Texas — Editor's note: This weather blog is no longer updating. For a timeline of when Central Texas may see severe weather March 3 and March 4, click here.
Thousands of Central Texans are expected to head to the polls for Super Tuesday. The forecast calls for a mostly dry day with cloudy and warm conditions. Pockets of drizzle cannot be ruled out.
A more widespread rain and storm chance develops for late Tuesday night and Wednesday. A few of these storms could be strong to severe with the potential for gusty winds, hail, and heavy rain.
Ahead of this storm threat, the SPC has placed all of Central Texas in the level 2 of 5 risk for strong to severe storms late Tuesday night and Wednesday.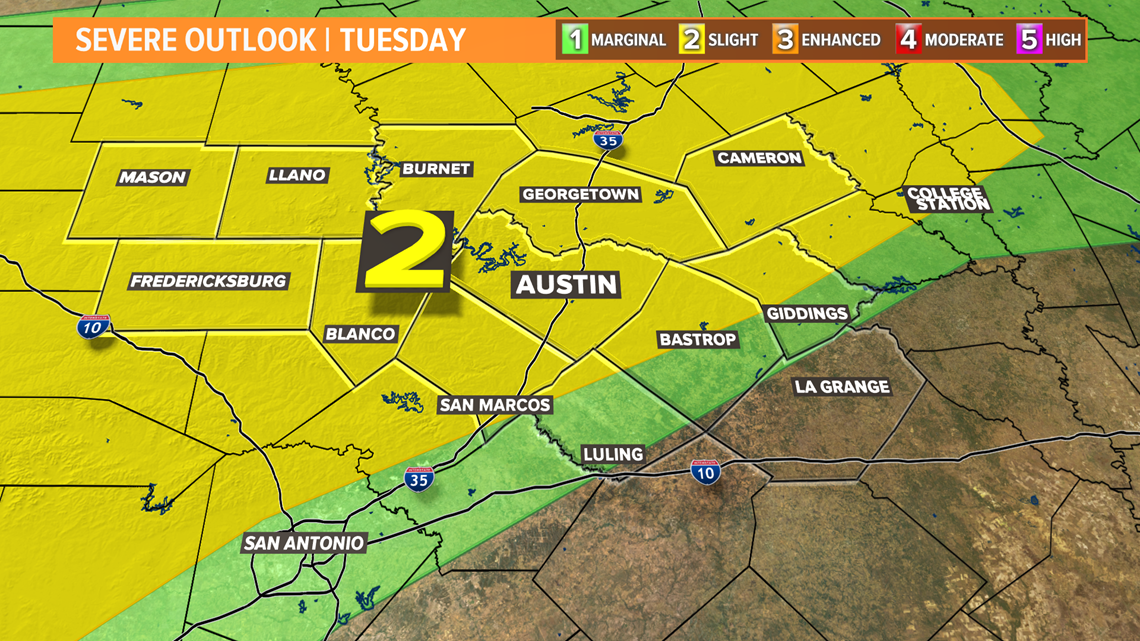 Here's a breakdown of the weather pattern heading into Super Tuesday:
The day on Tuesday will feature a mostly cloudy sky with afternoon temperatures reaching the 70s.
Voters will face a chance of scattered showers through Tuesday afternoon, but the widespread rain and storms will not move in until after midnight.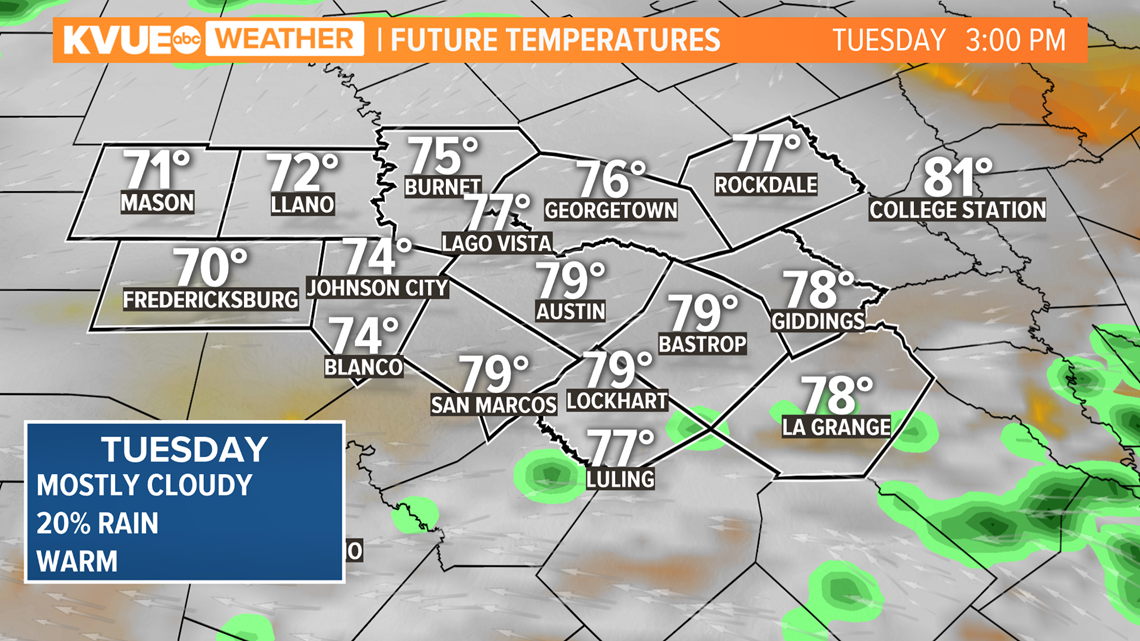 Showers and storms will begin becoming more widespread after about 3 a.m. Wednesday morning.
Activity will initially move in across the Hill Country, and move eastward through early Wednesday morning. As of now, the storms look to make it along the Interstate 35 corridor near 5 a.m. to 6 a.m.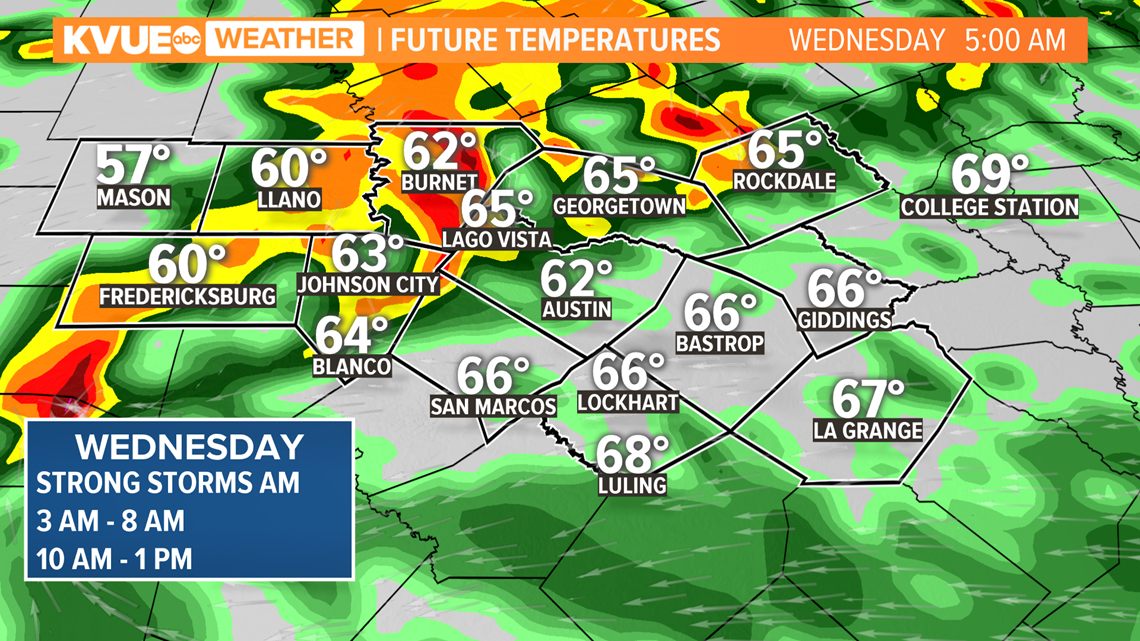 The exact timeline of storms may shift a bit between now and Wednesday, but as of now it looks like the first part of the day on Wednesday will feature area wide rain and storms.
Any of these embedded storms could be strong to severe with gusty winds, small hail and heavy rainfall. The tornado threat appears low at this time.
Keep in mind that the Wednesday morning commute could feature heavy rain and storms.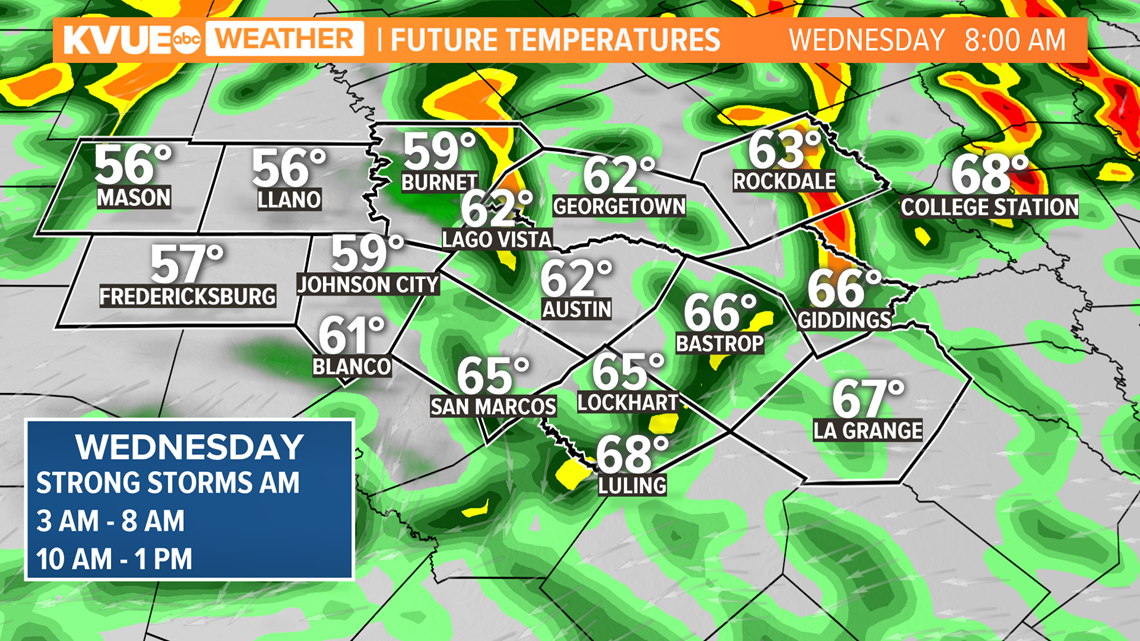 Additional waves of rain and storms will be possible through the lunchtime hours on Wednesday.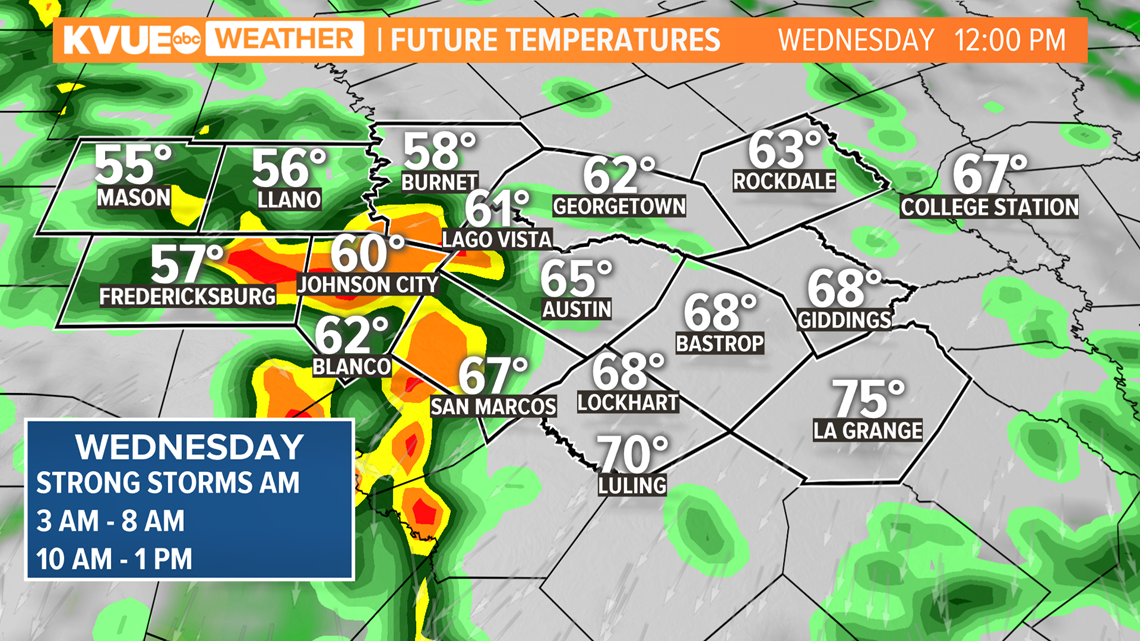 Even through mid-afternoon on Wednesday, rain and storms may be ongoing.
For most of Central Texas afternoon high will reach the mid to upper 60s on Wednesday.
The core storm chances will likely diminish after about 3 p.m. Wednesday afternoon, but lingering showers may continue into the evening hours.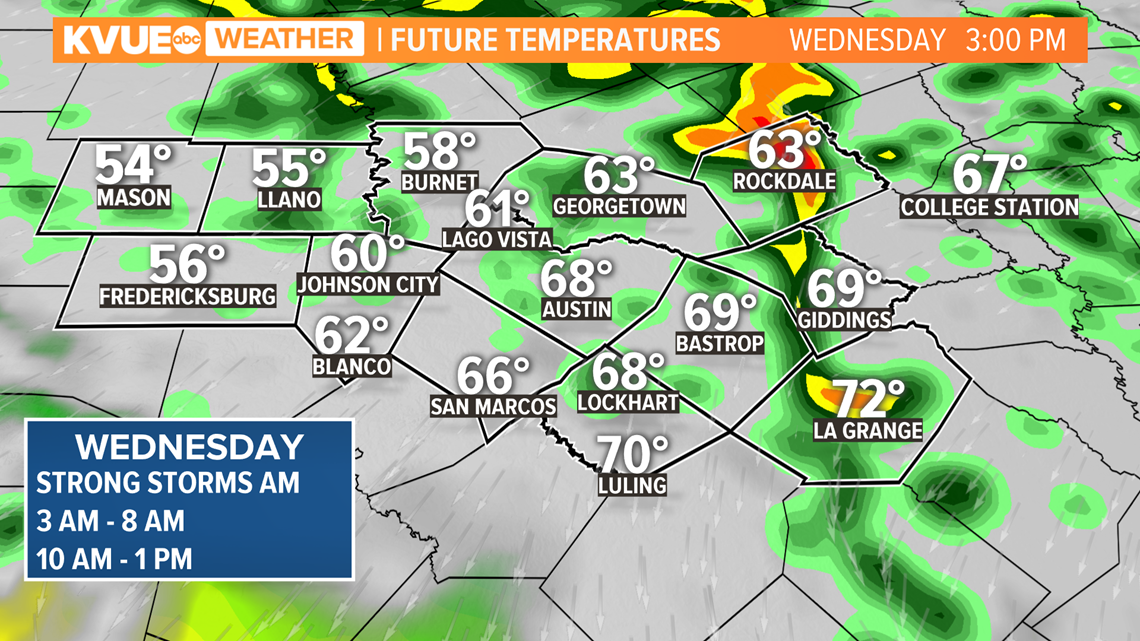 Going back to the storm threats, it appears gusty straight-line winds and hail will be the top priorities. The tornado threat at this time appears to be low.
This storm system will also bring a minor flooding threat to Central Texas, especially for the localized areas that experience the heaviest thunderstorms.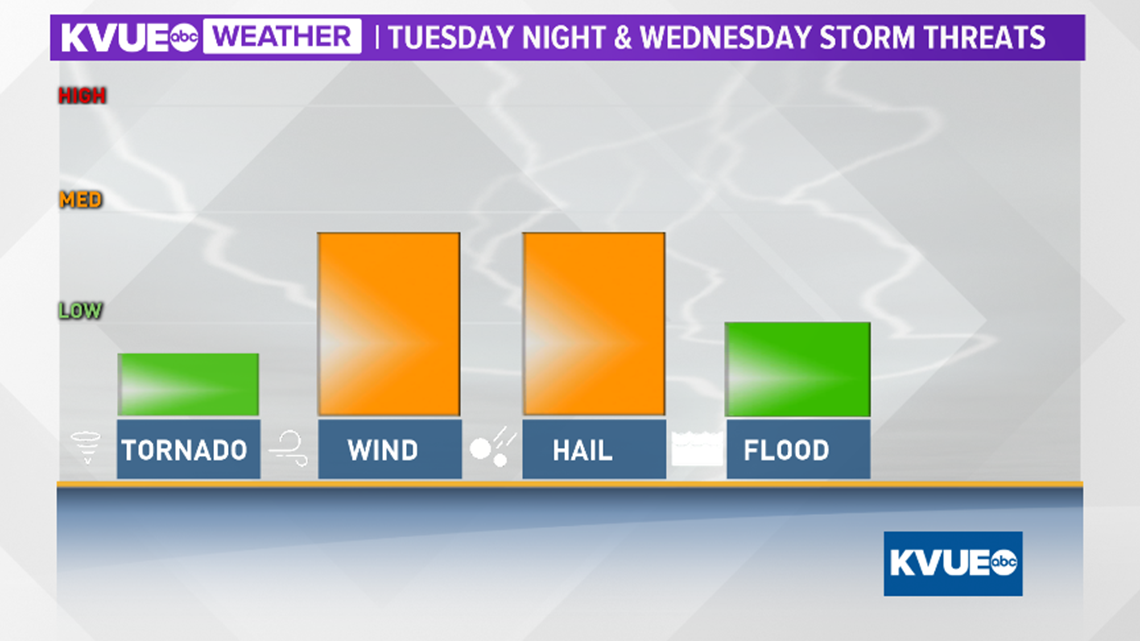 For those localized areas, rainfall totals in excess of 2.5 inches cannot be ruled out. Again, this will provide a minor flooding risk.
More widespread totals in excess of one inch are expected for much of the area.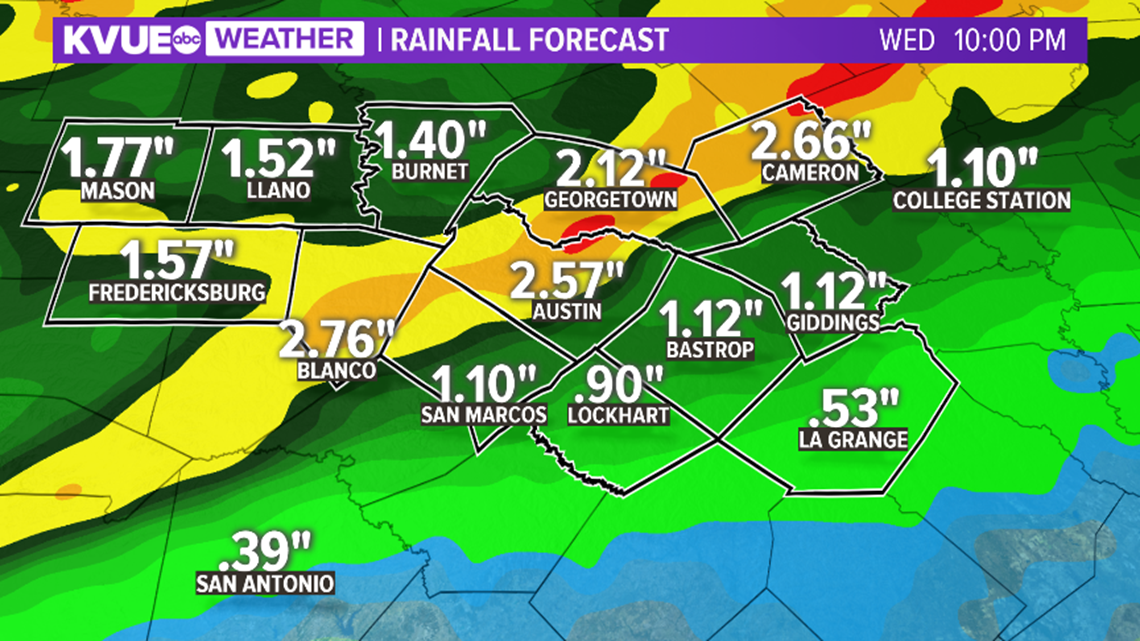 Following this storm system, both Thursday and Friday will be dry with afternoon highs near 70 degrees.
The KVUE Storm Team will continue to monitor this developing forecast.