As the hurricane adapts, 11Alive will monitor its impacts. We will do extended forecasts at 8 a.m., 11 a.m., and 2 p.m. on 11Alive.com, the 11Alive YouTube channel and on 11Alive+ on your Fire TV or Roku devices.
Follow us throughout the day to stay ahead of the storm. Download the 11Alive News app for all the latest breaking updates, and sign up for our Speed Feed newsletter to get a rundown of the latest headlines across north Georgia. Also, Download 11Alive+ on your Fire TV or Roku devices to stream live coverage.
Get updates from Tuesday below as we track weather developments and community impacts. The timestamps are in EST.
Sept. 27 Updates
11 p.m. | As of the 11 p.m. advisory, a tropical storm warning has been extended northward to include the entire Georgia coast.
10 p.m. | 11Alive's Chris Holcomb gave an update on Hurricane Ian's path during the 10 p.m. advisory.
9 p.m. | Here's a look at the Tropical Storm warning for parts of the Georgia Coast in Camden and Glynn counties.
Ian is expected to cross over Florida, briefly emerge out over water and then make another landfall on the Georgia coast.
8 p.m. | Hurricane Ian's latest outlook shows the storm will likely intensify into a Category 4 storm before making landfall near Ft. Myers, Florida Wednesday afternoon. The hurricane will likely weaken as it crosses Florida, threatening Georgia's coastline.
7:45 p.m. | 511 Georgia tweeted that Florida's Sun Pass users traveling from their state to Georgia will be able to access Georgia's Peach Pass express lanes.
They added that the I-75 South metro express lanes will remain in the northbound direction until the storm passes.
6:15 p.m. | Cobb County DOT spent time Tuesday clearing storm drains ahead of the potential impacts of Hurricane Ian. Crews were out at the intersection of Bouldercrest Drive and Barrett Circle in Marietta. Officials said they fanned out across the county to clear drains, inlets, and culverts from debris and blockages.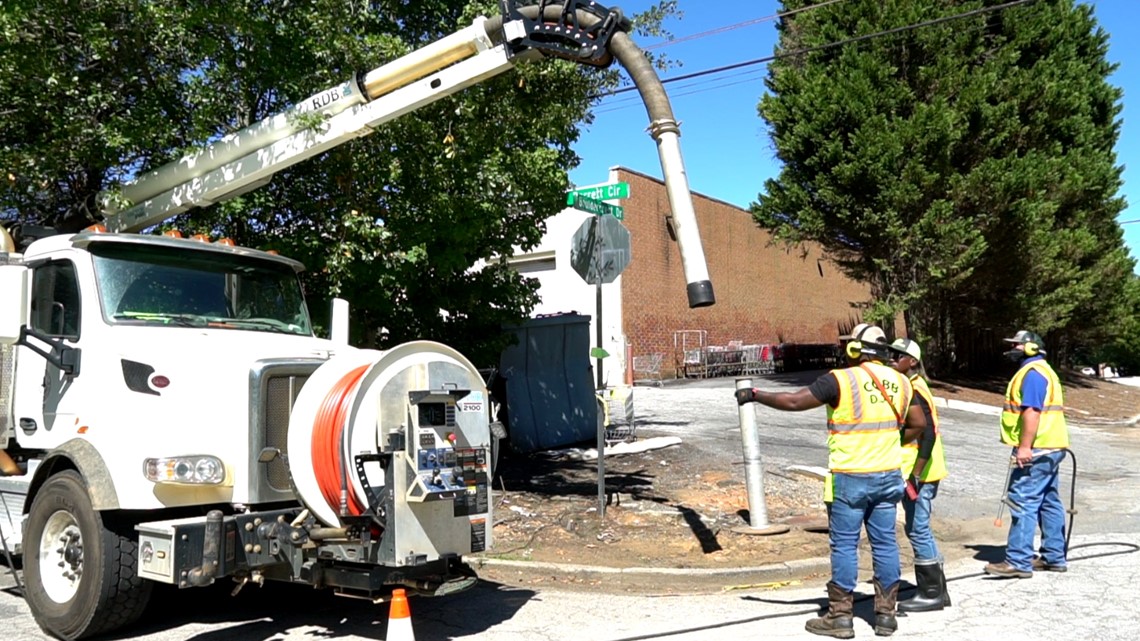 They also plan on rearranging shifts at the end of the weeks so that crews can respond to damage reports and flooding if needed.
5:15 p.m. | In Florida, the Tampa International Airport has suspended operations due to Ian. They were set to close at 5 p.m. Tuesday due to the threat in the Tampa Bay region.
Airport officials said the last passenger aircraft to depart was Delta flight 2790 heading to Atlanta, taking off shortly after 5 p.m.
5 p.m. | The National Hurricane Center released its latest advisory on Hurricane Ian, showing the storm was still a major Category 3 cyclone. Its track shows it moving eastward.
3:45 p.m. | Gov. Brian Kemps is issuing a State of Emergency for all counties in Georgia in preparation for Ian's impact. The State of Emergency will go into effect on Thursday, September 29, and will expire at midnight on Friday, October 28.
2:35 p.m. | Clayton County Public Schools has decided to move to virtual learning for Friday, Sept. 30, 2022 due to Hurricane Ian.
Students will access their assignments from their teachers and work independently at home. Students may need the following resources to access their school work:
Computer Device
Reliable Internet
Access to Canvas Learning Management System
Access to digital textbooks and/or online learning platforms
As far as attendance goes, the district said student will be counted presented and are expected to follow their teachers' procedures for completing tasks. Breakfast and lunch will be given to all students on Thursday, Sept. 29, that they can have for Friday.
"We will continue to monitor our facilities and campuses as needed with respect to potential damage caused by the storm; however, we anticipate a full face-to-face return on Monday, October 3, 2022. All stakeholders are encouraged to remain connected to the district's official platforms for updates as they will be conveyed to all in a timely manner," Superintendent/CEO Dr. Morcease J. Beasley said.
2 p.m. | Watch the latest update following the advisory from the National Hurricane Center:
1:45 p.m. | Several metro Atlanta high schools have rescheduled their varsity football games from Friday to Thursday. To see the latest list of games that have changed, click here.
MORE FROM THE 11ALIVE STORMTRACKERS
DOWNLOAD THE 11ALIVE APP:
Set up weather notifications by clicking the Gear icon in the upper right corner of the app. Select Notification -> Notification Settings -> Severe Weather Alerts -> Toggle the Severe Weather Alerts button to the right to turn alerts on.
Send photos and videos through the app by selecting the Near Me feature on the bottom right task bar of the app and entering your information.
TEXT YOUR WEATHER PHOTOS TO US: 404-885-7600
JOIN THE 11ALIVE STORMTRACKERS FACEBOOK GROUP: Nearly 10,000 metro Atlanta and north Georgia weather enthusiasts share their weather photos every day. Click here to join the group!