JACKSONVILLE, Fla. — For the first time in more than a month, the National Hurricane Center is highlighting a tropical wave off the west coast of Africa for a chance of development in the next week. While there are no threats to the First Coast, this is just a sign that the core of our hurricane season is here.
"A large area of disorganized showers and thunderstorms over the far eastern tropical Atlantic south of the Cabo Verde islands is associated with a tropical wave. Environmental conditions appear generally conducive for gradual development of this system while it moves westward to west-northwestward at 15 to 20 mph across the eastern and central tropical Atlantic, and a tropical depression could form around the middle to latter part of this week.
*Formation chance through 48 hours...low...20 percent.
*Formation chance through 5 days...medium...40 percent."
Up until Sunday August 7th, the map on the National Hurricane Center's website was the same since Colin dissipated on July 3! Also, there have been no hurricanes thus far. The last time there were no hurricanes through August 1 was the year 2017. Thereafter, if you look at the history books, 2017 went on to then have nine consecutive hurricanes - with a few that may ring a bell, including Harvey, Irma, and Maria.
Bottom line: Get your sleep now because by mid-August, activity across the Atlantic basin looks to be picking up.
Alex, Bonnie, and Colin have been crossed off the 2022 list so far. Climate "normals" would usually call for three named storms by August 3.
The Atlantic hurricane season ends on November 30 and the National Hurricane Center provides updates several times a day. You can be sure to get those updates right here, or on-air with your First Coast News Weather Team.
Last year, NOAA released the new seasonal averages for the Atlantic basin. According to the 30-year data from 1991 to 2020, the new averages include 14 named storms, 7 hurricanes, and 3 major hurricanes. The previous Atlantic storm averages, based on the period from 1981 to 2010, were 12 named storms, 6 hurricanes, and 3 major hurricanes. The averages from 1951-1980, were 11 named storms, 5 hurricanes, and 1 major.
If you didn't get a chance to catch our hurricane special, you can watch it in its entirety right here.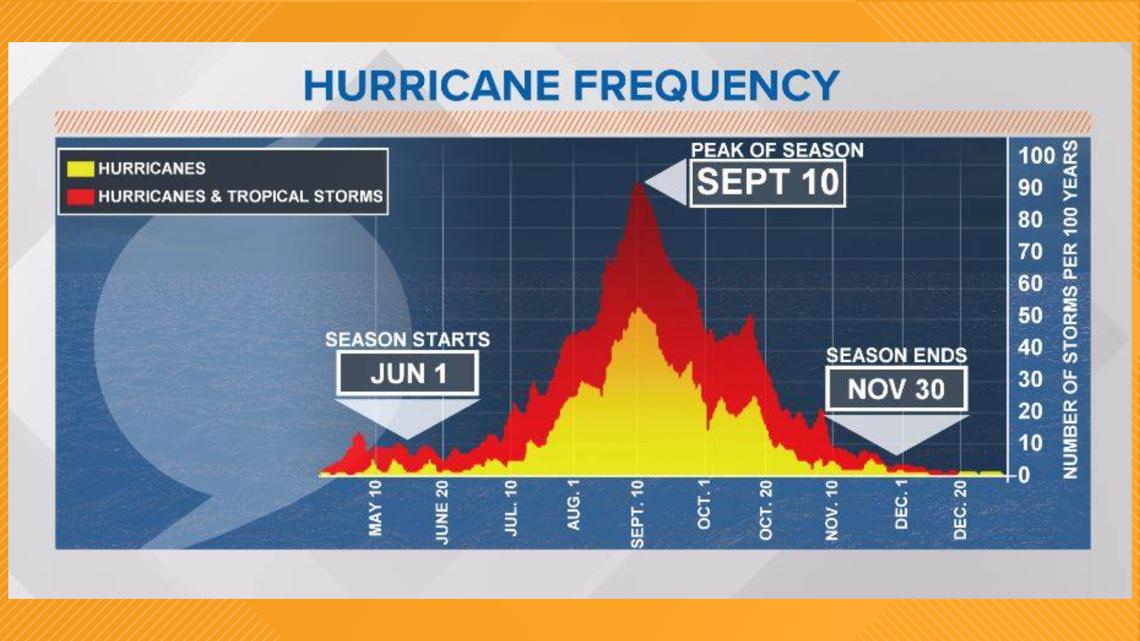 The Atlantic hurricane season officially runs from June 1 to November 30.
Download the First Coast News app and sign up for severe weather alerts