Dorian is pulling farther and farther away from the First Coast with hurricane conditions likely over portions of the coastal Carolinas on Thursday. The category 2 hurricane is finally beginning to make it's turn away from the U.S. East Coast. As of the 11 a.m. advisory, it was moving north-northeastward at 8 mph with its center about 140 miles south-southwest of Wilmington, North Carolina. Several tornadoes have been confirmed in the coastal Carolinas produced by Dorian's feeder bands. The SC and NC coast can also expect up to a foot of rain, dangerous storm surge, and hurricane-force winds onshore.
However (and thankfully), conditions improve for the Jacksonville area today. Storm Surge and Hurricane Warnings are still in place across the Carolinas.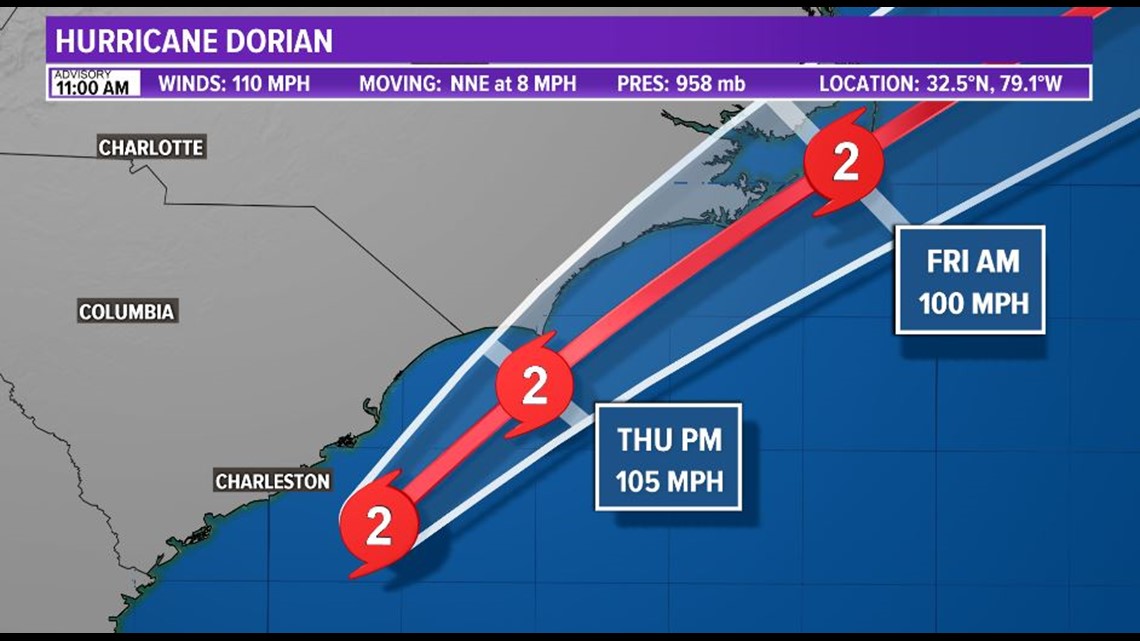 What warnings/watches are in effect for our First Coast counties?
All warnings and watches have bee canceled for southeast Georgia and northeast Florida.
What impacts will Hurricane Dorian have on the First Coast?
Locally, our Thursday will be breezy out of the west-northwest as the sunshine gradually returns. Winds will blow around 20 mph. Good news, the direction of the winds will help waterways drain after the upcoming high tide cycles. Elevated water levels will be slow to clear for those south of Duval County.
Stay locked into this forecast during the week because a lot can change. This forecast will be updated almost hourly.