JACKSONVILLE, Fla — Tonight: Scattered showers are passing over the First coast with a few embedded thunderstorms Sunday night into Early Monday morning. This will keep temperatures modified into the high 60's to low 70's.
Monday: Be ready for a wet morning drive Monday. A short wave trough is passing over the First Coast creating scattered showers Monday morning. Most of them will take place prior to sunrise yet lingering spots of rain will stick around up until lunch with another passing round of showers in the evening which will be more isolated. That thanks to a cold front passing over the First Coast Monday night allowing the humidity to drop a bit heading into Tuesday.
Tuesday: This will be a much calmer day in the middle of the week with dewpoints lower and rain chances near zero.
Thursday: A deep area of low pressure will be approaching the First Coast on Thursday. At this time most data points towards thunderstorms developing along with gusty winds as this front push by our area. Behind it is a blast of Autumn air in time for Halloween next weekend.
TROPICS: There are no threats to the First Coast and there is no tropical development is expected within the next 5 days. All good news. Make sure you're staying tuned in for updates. We will keep an eye on the Caribbean next week.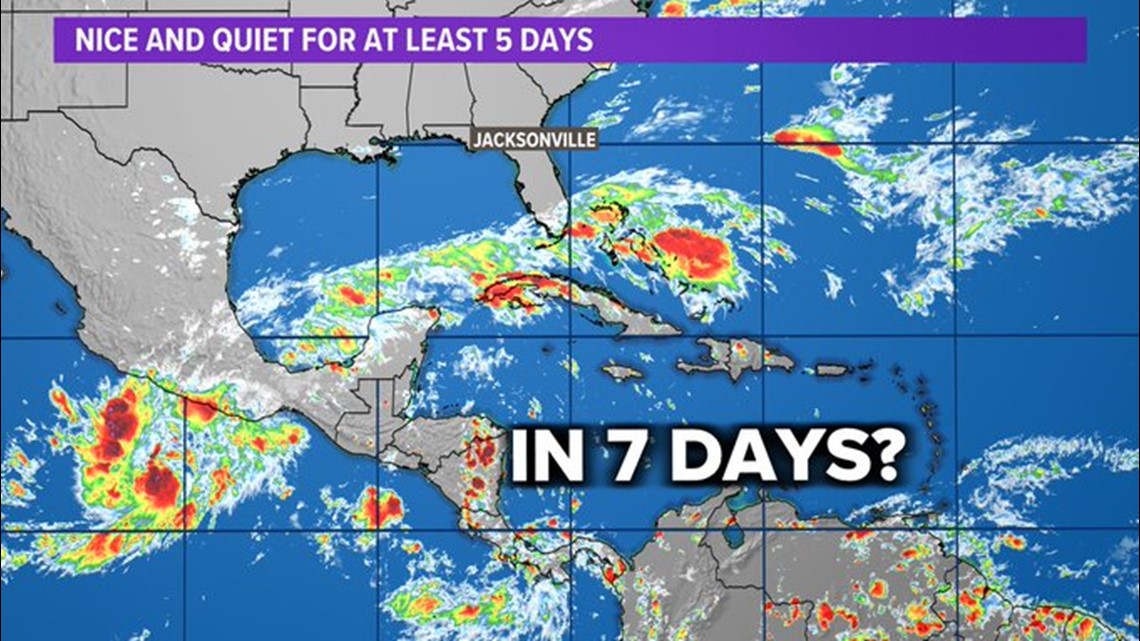 RIP CURRENTS: It's always a good idea to talk to the lifeguards and only go out where they can see you. The risk of rip currents always exists, especially around jetties and piers. Have fun, yet play it safe.