JACKSONVILLE, Fla — Happy Thursday, Jacksonville!
A more progressive pattern is setting up for the end of October. In the next week, we'll be tracking not one... not two... but three cold fronts moving across the First Coast. Stay tuned for updates as we track a rollercoaster of temperatures and, possibly, some widespread rain ahead of the Halloween weekend!
-Meteorologist Lauren Rautenkranz
THURSDAY: Mid- and high-level clouds will hang over southeast Georgia and northeast Florida. You'll still need the sunglasses as we'll see a few glimpses of sun through the day. Highs will end off a degree or two warmer than Wednesday's high of 81F, again in the lower 80s this afternoon. Conditions will be mostly dry, but a stray coastal shower may develop from St. Augustine to Palm Coast late in the day.
FRIDAY: Here comes the front! Skies will remain on the cloudier side with highs, again, a touch warmer than the day before. Temperatures start off in the lower and middle 60s and heat up into the middle and upper 80s. Also, the front will help to spark a few showers but it's a moisture-ridden system with mostly dry skies expected through the day.
The best chance for showers will arrive after 5 p.m. and along the Florida-Georgia border as the front is moving into the area. These showers will not be widespread nor long-lasting. The cold front moves through overnight and skies will begin to clear from northwest to southeast.
WEEKEND: Our highs drop back into the lower 80s behind the front and the sunshine returns! Both days will be dry and comfortable with light north-northeast breezes.
TROPICS: There are no threats to the First Coast and there is no tropical development is expected within the next 5 days. All good news. Make sure you're staying tuned in for updates though.
October tropical systems tend to develop across the Caribbean Sea or the Gulf of Mexico where the sea surface temperatures are still very warm. There is historically a second peak in the middle of October, but we are heading downhill now. You don't want to let your guard down just yet though. The Atlantic hurricane season ends on November 30.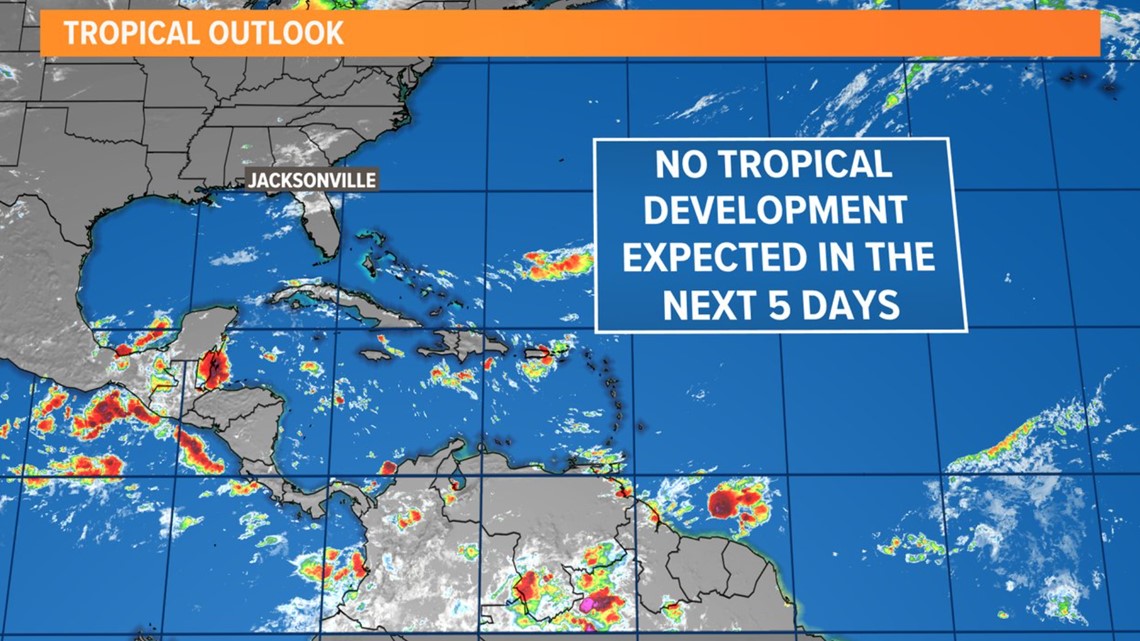 RIP CURRENTS: It's always a good idea to talk to the lifeguards and only go out where they can see you. The risk of rip currents always exists, especially around jetties and piers. Have fun, yet play it safe.