JACKSONVILLE, Fla — Good morning, Jacksonville!
If you have a chance to get outside today and this weekend, do it! My neighbor said to me yesterday, "This is Chamber of Commerce weather!" and he couldn't be more accurate. Enjoy! :)
-Meteorologist Lauren Rautenkranz
FRIDAY: Take your hot cup of Joe outside this morning! Temperatures are starting off in the 50s across inland areas and in the 60s from the I-75 corridor all the way to the Beaches. Once again, you'll notice the lower humidity with dew points in the upper 50s, lower 60s. We'll see plenty of sunshine with rain chances essentially non-existent. The wind will blow from the north-northeast with breezier conditions along the coast.
THIS WEEKEND: The comfortable autumn weather rings on. Dew points will only gradually increase as the onshore flow picks up. Rain chances stay near-zero with a dry air mass in place. Otherwise, highs will moderate into the middle and upper 80s with sunny conditions prevailing. This will call for a fantastic day at TIAA Bank Field on Sunday for the 1 p.m. Jaguars kickoff. You'll still want the SPF if you'll be out in the sun with a high UV Index! The weather is in our favor, Duval! Now we just need a W from the home team.
NEXT WEEK: Believe it or not, but conditions will remain mostly dry in the week ahead! Keep the sprinklers on, wash the cars, and enjoy the sunshine. Our next widespread chance of rain doesn't look to arrive until late next week - most likely Friday and into the following weekend. As far as temperatures go, lows moderate into the upper 60s with highs in the upper 80s. Humidity remains relatively low, too. What a nice way to end off the month of September!
TROPICS: There are no concerns to the First Coast in the next 5 days, but we will continue to monitor Hurricane Sam as it heads west across the central, tropical Atlantic. It is noteworthy that Sam is the 2nd earliest formation of the 18th named storm in the Atlantic basin, moving ahead of the 2005 hurricane season, and only trailing last year.
Early indications suggest the storm should take a turn well to the east of the Bahamas and head north, but it's not one to write off just yet. The EURO and GFS models now have a 500+ mile difference in the position of this system 7 to 10 days out.
Sam is forecast to rapidly intensify through the weekend and become the next major hurricane of the 2021 Atlantic season.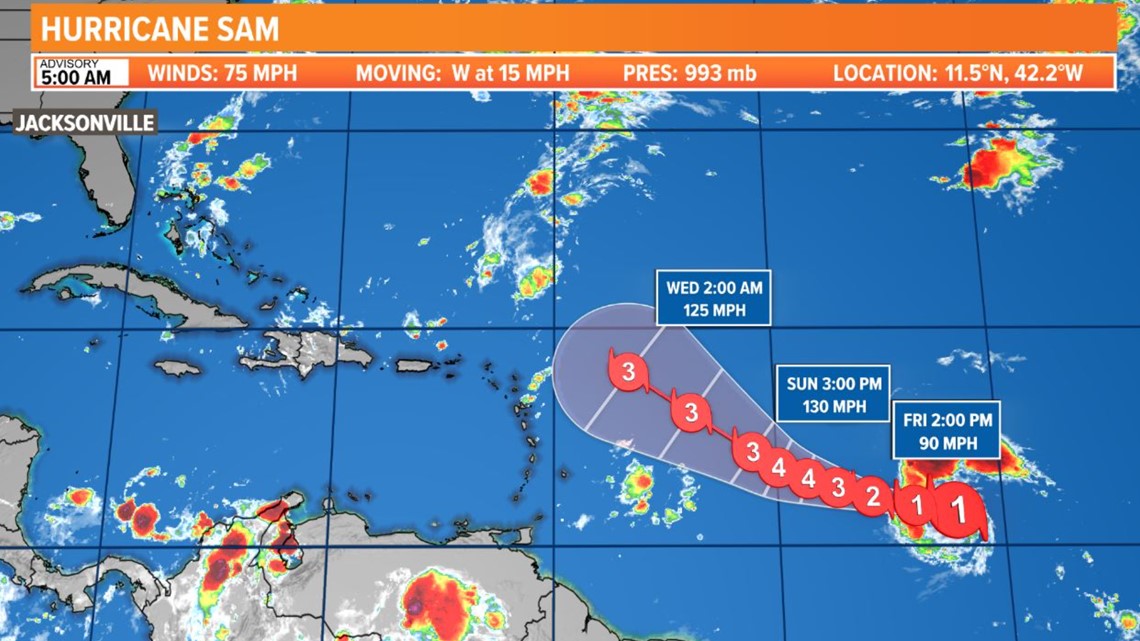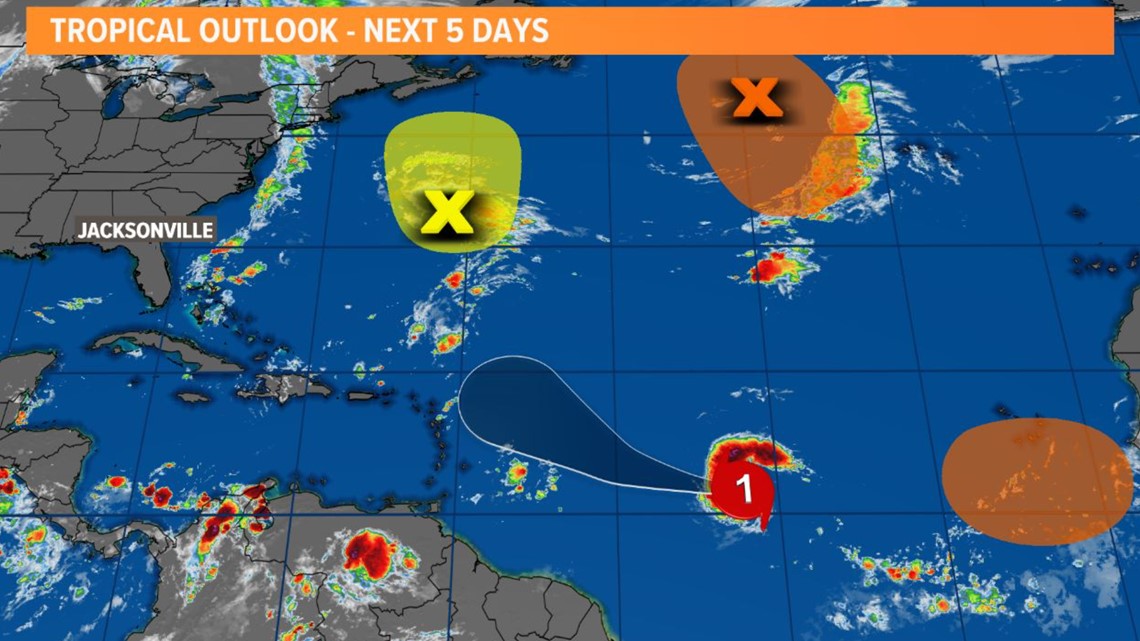 RIP CURRENTS: It's always a good idea to talk to the lifeguards and only go out where they can see you. The risk of rip currents always exists, especially around jetties and piers. Have fun, yet play it safe.