After a quick start to the 2020 Atlantic hurricane season, the development of the fourth named storm of the season may prove to be a difficult task.
As of Sunday, there are no organized tropical features across the basin, but several tropical waves are traveling across the Atlantic Ocean toward the Caribbean.
Tropical waves are weak weather systems that kick up storms and dust while traveling westward over central and northern Africa and then move westward over the tropical Atlantic. The tropical wave or Cabo Verde season, as it is often called, is currently in the early stages, but reaches a peak during late August and September. Some of these disturbances can go on to develop into tropical storms and hurricanes.
While AccuWeather forecasters will monitor each tropical wave for the potential for development, environmental factors will make this a challenge.
"Having sufficiently warm waters, typically near 80 degrees F, along with light winds aloft, or low vertical wind shear, are necessary factors in order for tropical systems to organize and intensify," stated AccuWeather Senior Meteorologist Dan Pydynowski.
While waters are relatively warm across the Atlantic Basin, strong wind shear typical for this time of year will hinder tropical development across the region.
"If vertical wind shear is too strong, it will have a tendency to rip tropical systems or tropical waves apart and keep them from organizing further," added Pydynowski.
The dust that these tropical waves carry with them from Africa will also play a factor in determining if there is a chance for development.
"Also, the mid-levels of the atmosphere need to be quite moist. Dry, dusty air from the Saharan Desert often prohibits development across the far eastern and central Atlantic this time of year," Pydynowski said.
Because of these factors, AccuWeather meteorologists will be focusing on the Caribbean and Central America for the potential for a gyre, or a large slowly spinning area of low pressure, to develop.
Cristobal's formation during early June was aided by a large gyre over Central America and the old moisture and faint, leftover circulation from Amanda on the Eastern Pacific side. Amanda moved inland over Central America and diminished but some of its energy remained as Cristobal took shape as a rare crossover storm.
AccuWeather's top hurricane expert, Dan Kottlowski was less concerned about a gyre developing after examining conditions and computer prognostications to end last week.
"Because of vast areas of wind shear, dry air and dust, the vast majority of the Atlantic basin is likely to be void of organized tropical systems the next several days," AccuWeather Hurricane Expert Dan Kottlowski said.
Even without tropical development, robust tropical waves can impact the islands of the Caribbean, bringing locally heavy storms, gusty winds and choppy seas to the region.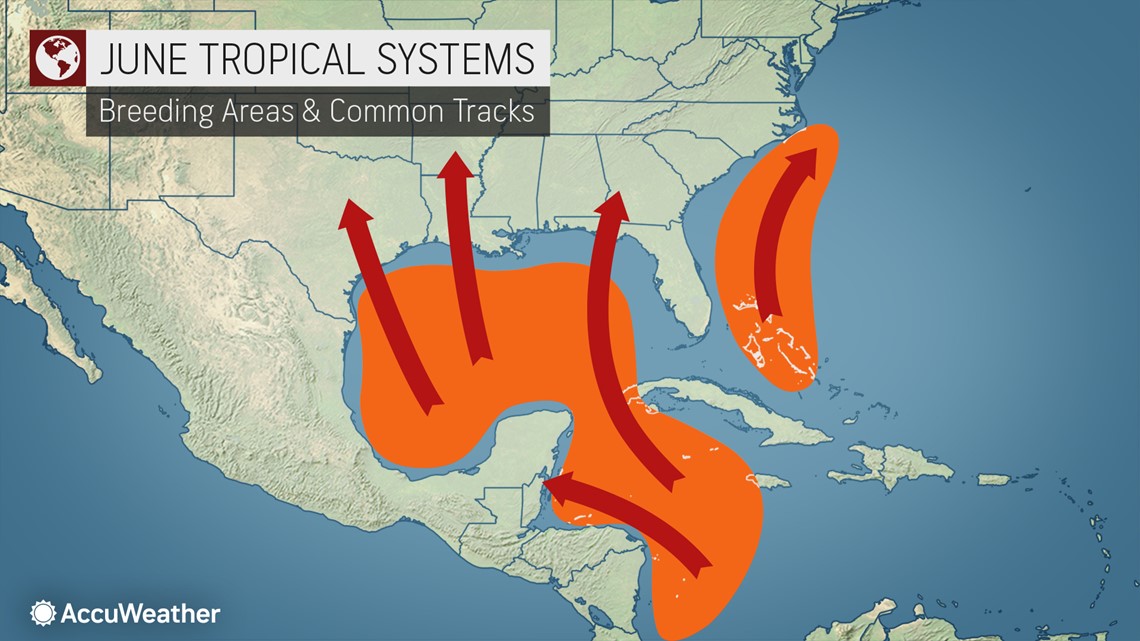 AccuWeather meteorologists are watching for development over the Eastern Pacific next week. But, at this time, it appears development would be a few hundred of miles off the coast of Central America and is forecast to drift slowly westward. Thus, it is not likely to be a threat to any land in the coming days, even if it does develop.
Should a system develop in either basin at some point, the next names on the list in the Atlantic and the East Pacific are Dolly and Boris, respectively.
Having four tropical storms by the end of June is extremely rare. According to records from the National Hurricane Center (NHC), the month of June has only produced two other D-named storms: Tropical Storm Debby from 2012 and Tropical Storm Danielle from 2016.
According to AccuWeather Senior Weather Editor and Meteorologist Jesse Ferrell, there have been 69 D-named storms in the Atlantic since storms were officially named starting in 1950. The most common of those names are Dolly at eight times and the aforementioned Debby and Danielle at seven times apiece.
Danielle's formation on June 20, 2016, just prior to landfall holds the record for the earliest formation of the fourth tropical storm of the season.
So far, eight D-named storms have been retired, including Hurricane Diane in 1955 and Hurricane Dean in 2007. Hurricane Dorian from 2019 is expected to be retired sometime this year. Ferrell said all of the retired D-named storms formed in August, with the exception of Dennis, which formed the earliest on July 4, 2005.
The 2020 Atlantic hurricane season has already experienced its earliest third-named storm on record when Cristobal formed near the coast of southeastern Mexico on June 2.