MITCHELLVILLE, Md. — 2020 was supposed to be Linda Harris' best year yet. Recently retired, the 65-year-old from Maryland couldn't wait to tackle a long list of personal hobbies.
But then the pandemic hit, cancelling both her plans and her enthusiasm for life as a retiree. Social distancing coupled with the social unrest across the country left her feeling "very, very depressed."
That is, until she noticed something standing out on her bookshelf one day: a book about Underground Railroad hero Harriet Tubman, a gift from her father at age 6.
"I felt her spirit, felt her calling me," Harris said.
On a whim, Harris drove to Cambridge, Md. the very next day to see Tubman's birthplace. The unexpected trip sparked a personal passion unlike anything Harris had experienced before.
Harris connected with historians who helped her learn more about Tubman's life and map her route along the Underground Railroad. Suddenly, a plan came to Harris. She felt moved to honor Tubman's legacy by walking that path.
She knew it would be difficult to do alone, so Harris posted a message on Facebook asking if anyone wanted to join her. Six women ranging in age from 36-65 answered the call: Joann Yelverton, Jennifer Bailey, Diane Wilson, Pauline Dunn, Kim Smith and Tracey Clarke.
Though they had never met previously, the seven quickly bonded during regular training walks.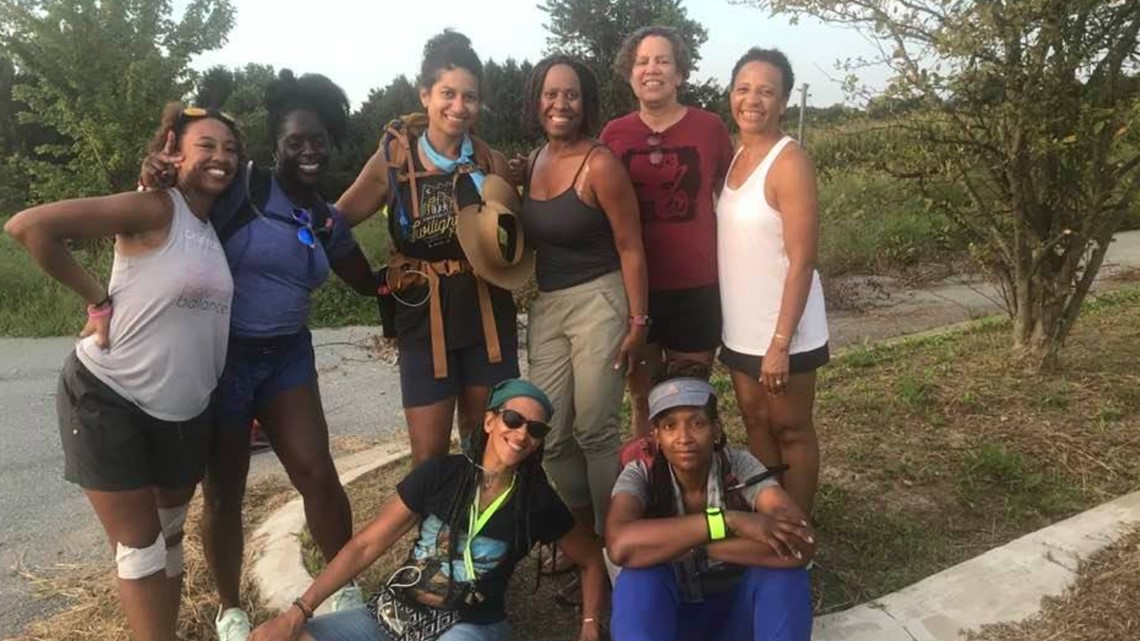 For months they trained in preparation for their walk. Then, from Sept. 5-10, with a support crew driving along with them, the seven women hiked 20 miles each day from morning until evening along the historic route.
As they hiked mile after mile through busy streets, small towns, and rural countryside, they shared laughs, tears, and plenty of reflections on Tubman's historic legacy.
"I could not have done it without them," Harris said.
During their trip, Harris started a Facebook page called We Walk with Harriet. Originally, she intended to use the page as a safety measure so friends and family could keep tabs on the group. But the page quickly gained a following of supporters who provided food, money for meals and encouragement for the women.
Harris also used the attention as a way to raise money for the Harriett Tubman Museum and Educational Center in downtown Cambridge via a GoFundMe. So far, she's raised more than $5,000 for the museum.
At the end of their journey, they were greeted by a group of 300 people at a welcome reception hosted by the mayor of Kennett Square, Pa.
Harris was shocked by how many people were moved by their undertaking.
"We just did not understand the magnitude," she said.
Harris said the walk was an inspiring and healing experience and helped her shake her quarantine depression.
"Walking frees up your spirit," she said.
She's since purchased a home she intends to turn into "Camp Harriet," an educational facility for children and adult and she and her walking partners already have a reunion hike planned for next year.
"We intend to walk until we can't walk anymore," she said.
HeartThreads are the best stories about the best of us. Want more? Follow us: