Four years ago, the UNF Men's Lacrosse team had 12 players.
This week, they're headed to their first National Tournament in program history.
Thanks to a strong, core nucleus of players -- including 10 from the First Coast -- and dedicated, volunteer coaches, the Ospreys won the SELC Conference Championship 9-7 on April 28 to punch their ticket to the MCLA National Tournament.
Only one problem: the UNF Men's Lacrosse team is not a varsity sport. Because it is technically a club sport, the team does not receive funding from the University. Member dues and fundraising efforts throughout the year help meet the ever-rising cost of lacrosse equipment and team fees.
Flying across the country for a week is a whole other ball game.
That's why the team has started a GoFundMe page (that has raised over $10,000 as of Friday, May 3), and the University of North Florida has created a Giving site. The University encourages supporters to use this page, as 100% of the funds will go to the team, and it is a charitable tax donation.
Expenses will go towards reimbursing the team for flights, accommodations, and food expenses. Any additional funds will go towards the team's 2020 season.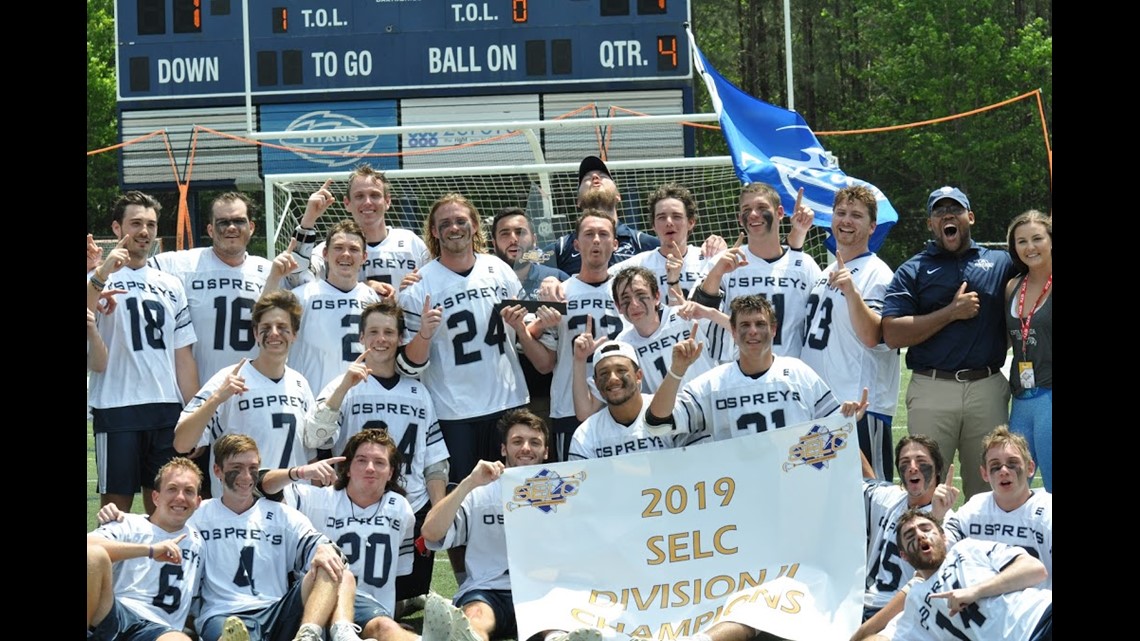 The Ospreys will depart May 4 for Salt Lake City for the MCLA National Tournament, and open play Monday, May 6 against Utah State at 3:45 P.M. EST (1:45 P.M. local time). UNF is seeded fifth. It is a single elimination tournament. Monday's game is available via live-stream and the following link:
All games of the 2019 MCLA Tournament will be broadcast online.
The Ospreys finished the regular season with a 12-1 record, including five top-25 wins -- including a win over #3 Kennesaw State in the SELC Conference Championship. The program includes 24 players and four volunteer coaches.
The team would also like to thank Providence School and the Episcopal School of Jacksonville for allowing them to use their fields for practices throughout the season.