BEIJING, China — The United States has won its second speedskating medal of the Beijing Olympics, taking the bronze in men's team pursuit.
With 36-year-old Joey Mantia leading three American skaters through all eight laps, the U.S. denied Sven Kramer of the Netherlands his 10th career medal.
The U.S. finished in 3 minutes, 38.80 seconds, nearly 3 seconds ahead of the Dutch. The U.S. set the world record in Salt Lake City at a World Cup event in December.
Also winning bronze with Mantia are Ethan Cepuran, Casey Dawson and Emery Lehman. Cepuran skated in the semifinals, then was replaced by Mantia for the bronze-medal race.
Meanwhile, for the second straight Olympics, Norway is the gold medalist in men's team pursuit speedskating.
Norway won the gold-medal final with a time of 3 minutes, 38.08 seconds — nearly 2 1/2 seconds ahead of the Russian Olympic Committee.
The Norwegian trio of Hallgeir Engebraaten, Peder Kongshaug and Sverre Lunde Pedersen defeated the Netherlands in the semifinals, then led all the way in the final against the Russian Olympic Committee.
The Russian team settled for the silver.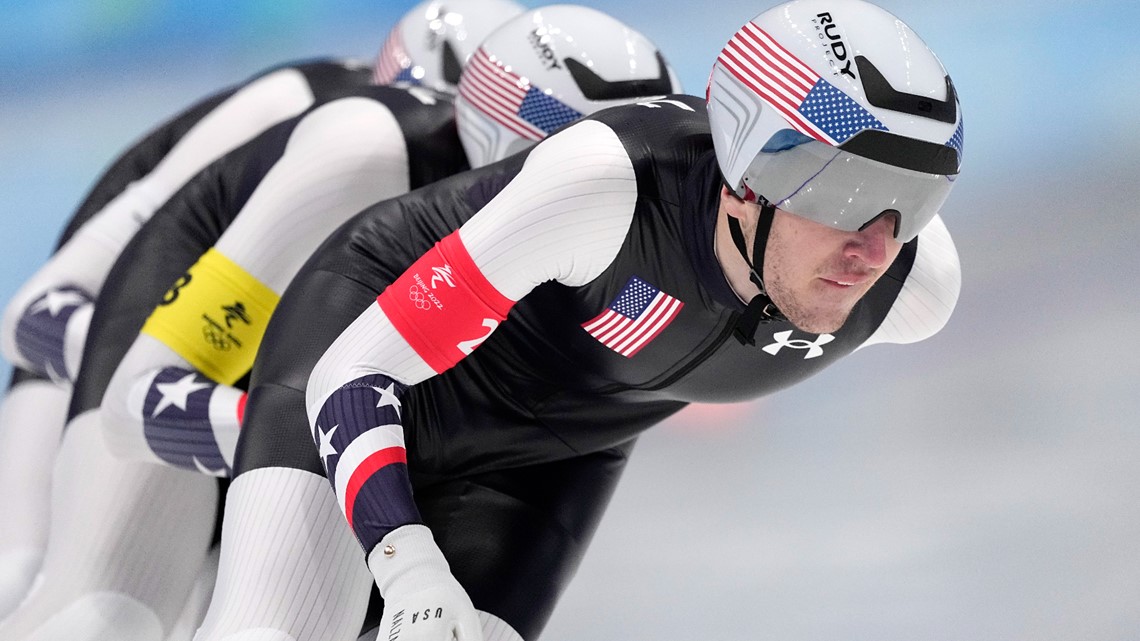 Why do speed skaters wear glasses in the Olympics?
According to NBC Olympics, the answer for the first question is pretty simple: The athletes are going extremely fast, so they need some extra eye protection to help them see and keep their eyes from tearing up in the wind.
So how fast are they going? The record for men in the 500 meters, which is the shortest race, is 33.61 seconds. That was set in 2019, according to Guinness World Records. That makes the average speed 33.3 mph. The men's 1,000-meter world record is 1:05.69 set in 2020. Since the skater spends more time closer to full speed than accelerating from a dead stop, that brings the average speed up to 34.1 mph.
The world record for women's 500-meter speedskating is 41.936 seconds (26.7 mph) set in 2019. For 1,000 meters, it's 1:11.69 (31.2 mph) also set in 2019.
But because of wind resistance and the turns on a skating oval, skaters can't reach their maximum possible speed. Dutch skater Kjeld Nuis, a two-time gold medalist, took on this challenge in 2018 with Red Bull. Nuis skated at full speed on a long, outdoor straightaway. In front of him was a pickup that was pulling a large windshield meant to eliminate any wind resistance. Nuis reached a speed of 57.788 mph.