JACKSONVILLE, Fla. -- Only four undrafted rookies have made the Jaguars' initial 53-man roster since 2015. Cornerback Tre Herndon is aiming to be the next overlooked rookie to find a role on the team's Week 1 roster.
While he was mostly seen as an afterthought during rookie minicamp in May, Herndon has produced one of the strongest training camp performances of any defensive back on the roster. He also has a major supporter within the Jaguars' front office: Tony Khan.
Serving as the team's Senior Vice President of Football Technology & Analytics, Khan has developed a reputation for finding diamonds in the draft rough. Khan discovered undrafted success stories, running back Corey Grant and safety Jarrod Wilson, in 2015 and 2016, respectively. Herndon is now looking to follow in the footsteps of Grant and Wilson, who both made the team's Week 1 roster after solid performances in training camp and the preseason during their respective rookie years.
Herndon's journey to Jacksonville started with Khan identifying the Vanderbilt cornerback through analytics and film work. Eventually, Khan convinced the front office to take a shot on the 5-foot-11, 185-pound cornerback.
Defensive backs coach Perry Fewell called Herndon after he went undrafted in April. The coach said he saw promise in the overlooked defensive back and wanted to add him to his secondary group.
"[Fewell] was just saying I've got a shot here," Herndon said to First Coast News on Saturday. "So my mindset was to come in ready and compete and try to find a home."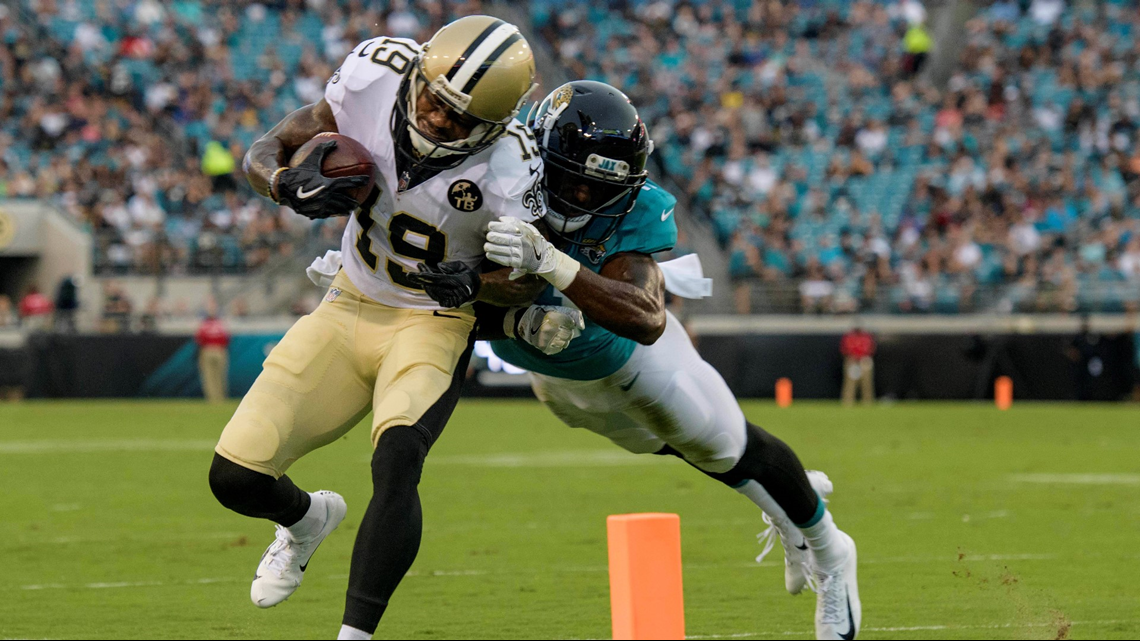 Herndon, a three-year starter at Vanderbilt, took on the mindset of most undrafted rookies. He wanted to immediately prove that he belonged in the NFL. That proof would be provided by outworking his fellow rookies and making consistent plays.
"Definitely because you come in with a chip [on your shoulder]," Herndon said regarding his need for a strong work ethic. "You feel like teams looked over you as far as the draft process, which after the draft I really wasn't worried about that. I was just blessed with the opportunity to come here, so I just try to make the most out of every day here that I get. Hopefully, I'll end up somewhere in September."
While Herndon is hoping to be on a Week 1 roster, he's not overlooking the remainder of training camp or the preseason. Despite being featured heavily against the New Orleans Saints in the preseason opener, Herndon still has a lot of work to do when it comes to earning a roster spot.
Herndon stood out against the Saints, leading the team in tackles. In practice, Herndon has been making plays with the ball in the air. His summer success has led to praise from his coaches and teammates. Still, Herndon isn't dwelling on his daily pass breakups.
"I definitely see some of my hard work paying off on the field," Herndon said. "But once the play is over, I try to move on and try not to get too hyped off a big play because I know things can switch around at any time. So I just try to stay focused, be in the moment with a good play and then when that play is over, it's back to normal."
Herndon's first NFL game action offered some ups and downs. It was a solid debut for the young defensive back and he took a lot away from the experience. That early exposure to the speed of the league should help Herndon moving forward.
"It was definitely an experience," Herndon said. "It was way different from college. Getting in during the first half, there were still guys [in] who started in the game, their receivers, so it was good to get out there with them. I got a little confidence to know I can play in this league. Now it's just getting the experience and getting reps and relaxing [Saturday against the Vikings] and making plays."
Herndon is part of one of the strongest cornerback groups in the league. He entered a cornerbacks room that already features first-team All-Pro Jalen Ramsey and second-team All-Pro A.J. Bouye. He has been learning from the pair since Ramsey returned to training camp in July.
"It's great because obviously, they're two Pro Bowlers," Herndon said, referring to Ramsey and Bouye. "To come into a system with two Pro Bowlers at your position is great for learning and competition. Obviously, I want to try to get to their level, and they're leading the way for me, so it's definitely good to see them on film, ask them questions about certain techniques that they use and try to implement it in my game."
Along with Ramsey and Bouye, Herndon is competing with a talented group of undrafted defensive backs in practice. Quenton Meeks, C.J. Reavis and Dee Delaney were all viewed as high-profile undrafted free-agent additions. Herndon has grown close to the trio but still wants to be the top undrafted defensive back on the roster.
"Well, as close as we are, we know when we touch that grass, it can't be buddy-buddy," Herndon said. "We're all trying to find a spot on this team or hopefully get noticed somewhere else. We push each other every day but at the end of the day, we're all in the same class so Meeks, Reavis or Dee make a play, I'm right there to congratulate them and the same thing vice versa. As much competition as there is, we still are one group."
Herndon has been a fixture of the second-team defense throughout training camp. Defensive coordinator Todd Wash recently named the rookie when discussing candidates for the starting nickel cornerback job.
Herndon has been able to show he has the versatility to play inside and outside in coverage. That versatility could pay off during his quest for an elusive roster spot.
"That definitely helps me, not just in the competition, but around the whole league if Jacksonville isn't the place for me," Herndon said of his versatility. "Getting looks at - making plays - inside and outside, that definitely helps. I have to thank [head coach] Derek Mason at Vanderbilt for trying me inside and setting me up for the future. That was definitely useful and I love that factor about me."