JACKSONVILLE, Fla. — After four years of ups and downs in Jacksonville, wide receiver Allen Robinson signed with the Chicago Bears in free agency earlier this month.
The former second-round pick agreed to a three-year, $42 million deal during the league's legal tampering period prior to free agency.
Prior to receiving the deal from Chicago, Robinson had other options, which gave him leverage when it came time to make the decision on the big move.
He garnered early interest from the New York Jets and the Cleveland Browns, two teams with enormous amounts of cap space. The Green Bay Packers also entered a bidding war for Robinson's services.
In the end, it came down to the Packers and the Bears. Robinson chose the Windy City.
"With all things being equal, Chicago was a place I had my eyes on from a football standpoint," Robinson said during a phone conversation with First Coast News.
"It's a spot with a lot of benefits as far as it being close to home. The close-to-home thing was a very minimal factor but it was still a factor."
Along with the geographical benefits of playing near his hometown of Detroit, Michigan, Robinson's interest in Chicago was heightened by the hiring of new head coach Matt Nagy.
The wide receiver was a fan of Nagy's work as an offensive play-caller in Kansas City. Robinson would have also considered the Chiefs in free agency had Nagy stayed put in the AFC West.
"For me, going into the whole free agency process, Chicago was definitely a team I had my eye on, from the standpoint that they had just hired Coach [Matt] Nagy," Robinson said. "Coach Nagy was a big part of it ... I'm a big fan of his system and his offense."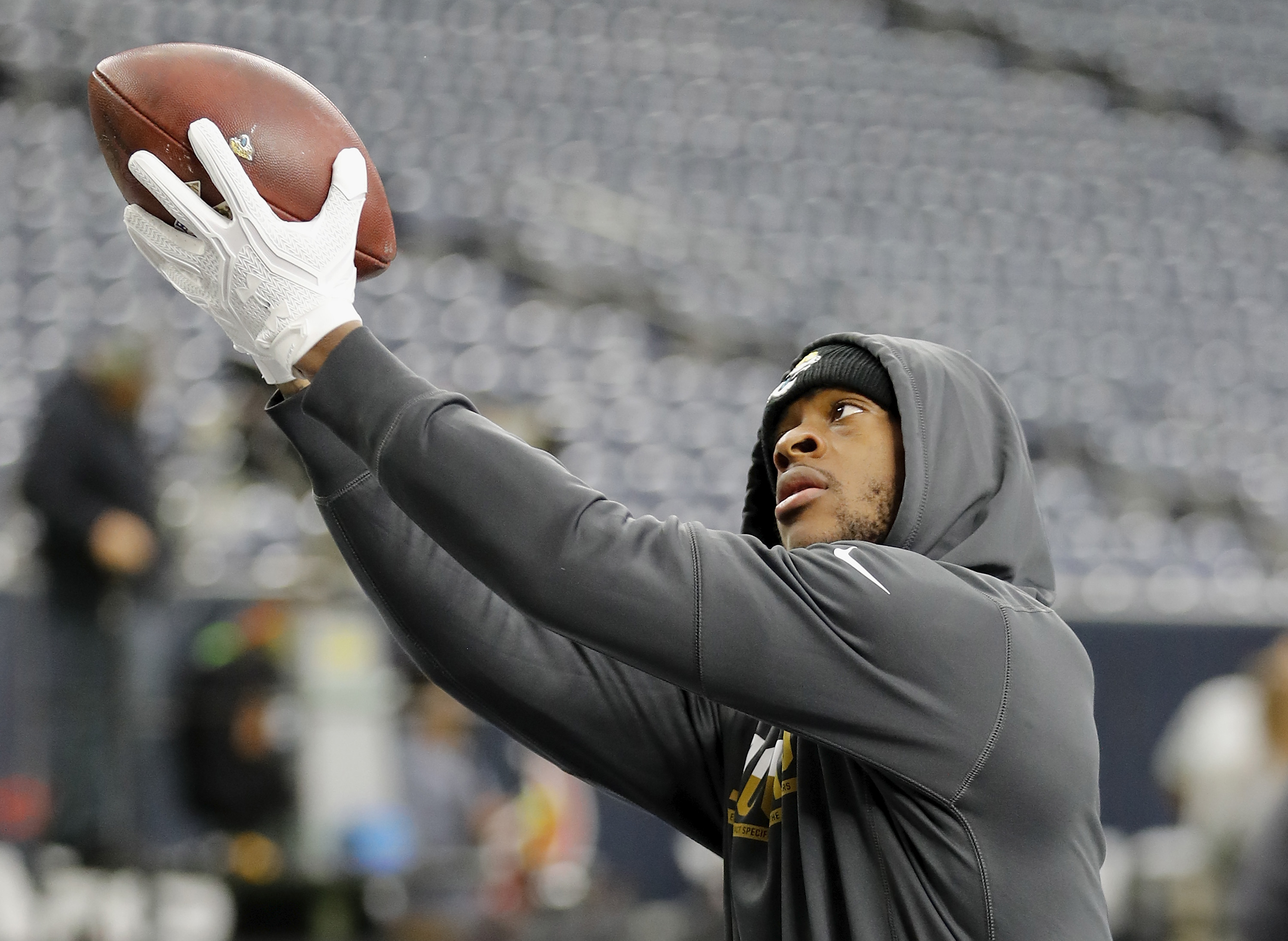 Robinson was able to sign with the Bears because the Jaguars passed on using the franchise tag on the wide receiver. The Jaguars still wanted to retain Robinson, but the one-year, nearly $15 million salary associated with the tag was too rich for the organization.
The wide receiver wasn't itching to leave Jacksonville but understood the Jaguars' perspective on his value.
"The drift that I kind of had is that they [weren't] going to franchise [tag] me and if the number reached over a certain number [in negotiations], then we just weren't going to get a deal done," Robinson said.
"They did end up making an offer the night before [the legal tampering period], but we were just on two totally different pages, which I understand."
Robinson made the most of his ability to freely negotiate with other teams during free agency. He felt like he received proper compensation from the Bears organization.
"I am very comfortable with the situation that I'm in," Robinson said. "Like I said, I wanted to be in Chicago."
During free agency, the Jaguars' roster went through even more turnover.
The team brought in a free-agent haul that was highlighted by All-Pro guard Andrew Norwell and wide receiver Donte Moncrief. The Jaguars also re-signed Robinson's fellow 2014 draft classmate Marqise Lee.
Moncrief's arrival and Lee's return eventually led to the release of fellow wide receiver Allen Hurns. Following his release, Hurns quickly signed a two-year deal with the Dallas Cowboys.
Robinson, Lee and Hurns all entered the league together in Jacksonville. Now all three are set to play in different cities this season.
"We may not all be on the same team but we're all more than excited for each other," Robinson said. "At the end of the day, we understand where each one [of us] is at in [our] careers and everybody is more than excited about where they ended up."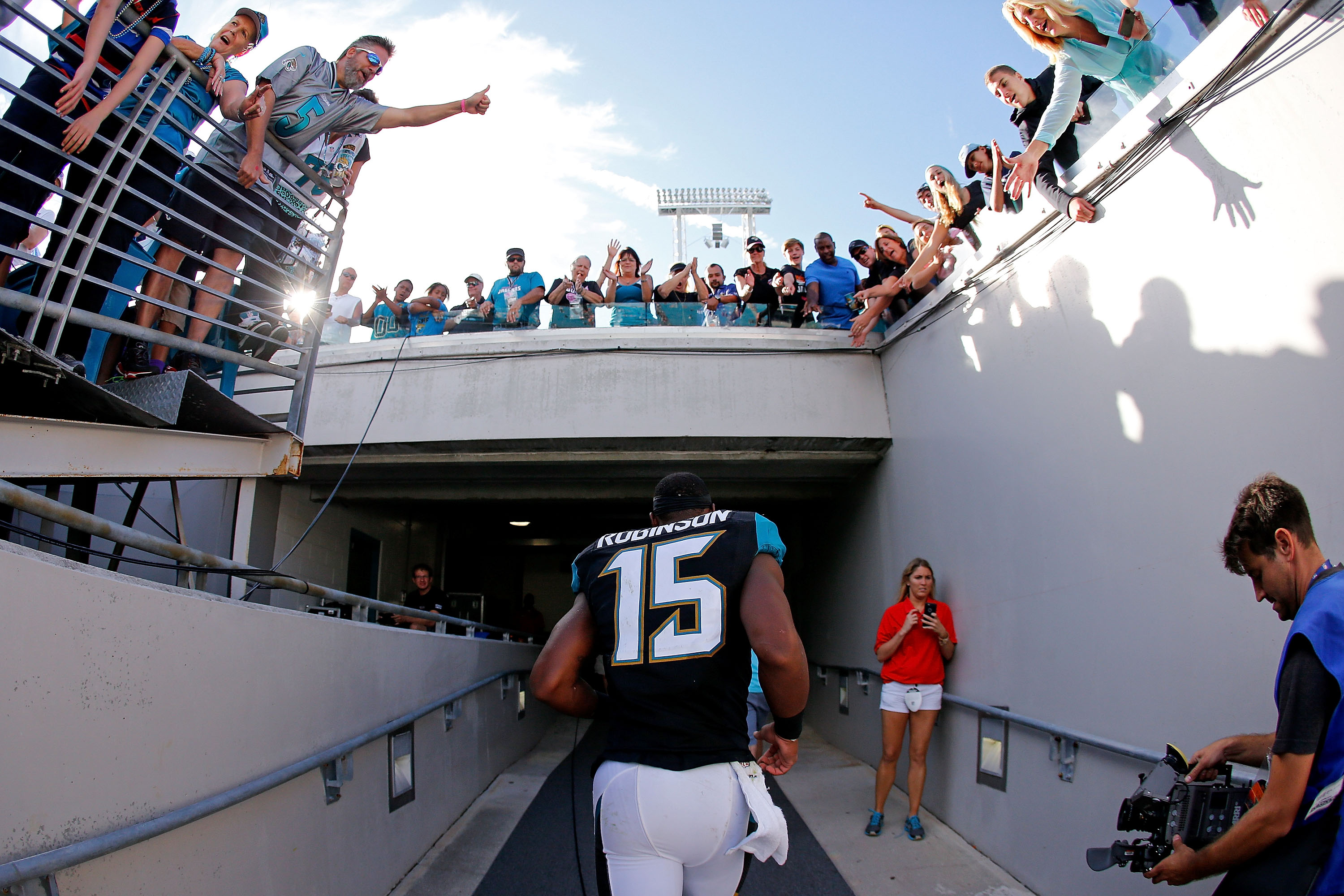 Despite all of the change in Jacksonville, Robinson still thinks the Jaguars are a team on the rise. While he is no longer with the organization, he still sees a squad with a lot of upside.
"That's a very good team," Robinson said.
"I'm not going to try to downplay it by any means. [There is] definitely a lot of talent on that team. They brought it this [past] year, so I think if they bring it again, they will definitely be in contention as far as competing down the line in January."
Much like his feelings toward his former franchise, Robinson has a lot of positive things to say about his former NFL city.
He understands that some fans were frustrated by his recent exit. However, he won't let a social media backlash impact his feelings toward Jacksonville.
"I have nothing but love for Jacksonville," Robinson said. "I understand as a fan base, sometimes they don't really understand what all goes into these situations. At the end of the day, most of the fans have shown me nothing but love and I know they understand."
Robinson's time on the First Coast is over but his early NFL memories remain. His career hasn't always gone as planned but he can appreciate where it all started.
"For me, it was a great four years with [the Jaguars]," Robinson said. "It's just [my career] went in a slightly different direction."