JACKSONVILLE, Fla. — Allen Robinson will have the opportunity to test free agency this month.
Sitting on a chair on the top-floor balcony of his penthouse apartment, Robinson seems unfazed by the prospect of free agency. He is clearly excited about what the future holds, but he isn't anxious to get the process over with.
He is cool, calm and collected.
Robinson has a few weeks before his life is changed forever. He could stick around in Jacksonville with an enhanced salary or his NFL journey could lead him to a new town and a new team.
Still recovering from ACL surgery, Robinson is looking forward to playing football next fall, no matter where it is. The Jaguars have decided against using the franchise tag on the former Pro Bowl receiver and he could hit the open market if the player and his current team can't work out a deal before March 14.
Robinson passed on a long-term deal during training camp last year. The team and his agent didn't re-enter negotiations until last week's NFL Combine.
Robinson bet on himself last season and faced serious repercussions due to the major knee injury he suffered in Week 1 against the Houston Texans. Despite the setback, Robinson is willing to repeat those actions during free agency.
"When you're at this level, you bet on yourself your whole life," Robinson said during an interview with First Coast News last month.
"Somebody once told me that 'you've bet on yourself this far, why would you stop now?' For me, it makes all the sense in the world. There were times I recall – even being in middle school – somebody would tell me that being a professional football player was unrealistic and I was wasting my time. Even then, I've done that my whole entire life."
Robinson has been able to overcome being overlooked. If he makes it to free agency, he will be among the most appealing offensive players on the market.
The wide receiver isn't concerned about his potential appeal. Instead, he is focused on playing football this year.
"The reason I'm so comfortable with situations like that is because I know for me what's important," Robinson said. "For me, what's important is, one, my health and, two, getting on the field. But once I get on the field, [the goal is] elevating myself. I don't want to just get back to where I was at. I want to be better than that."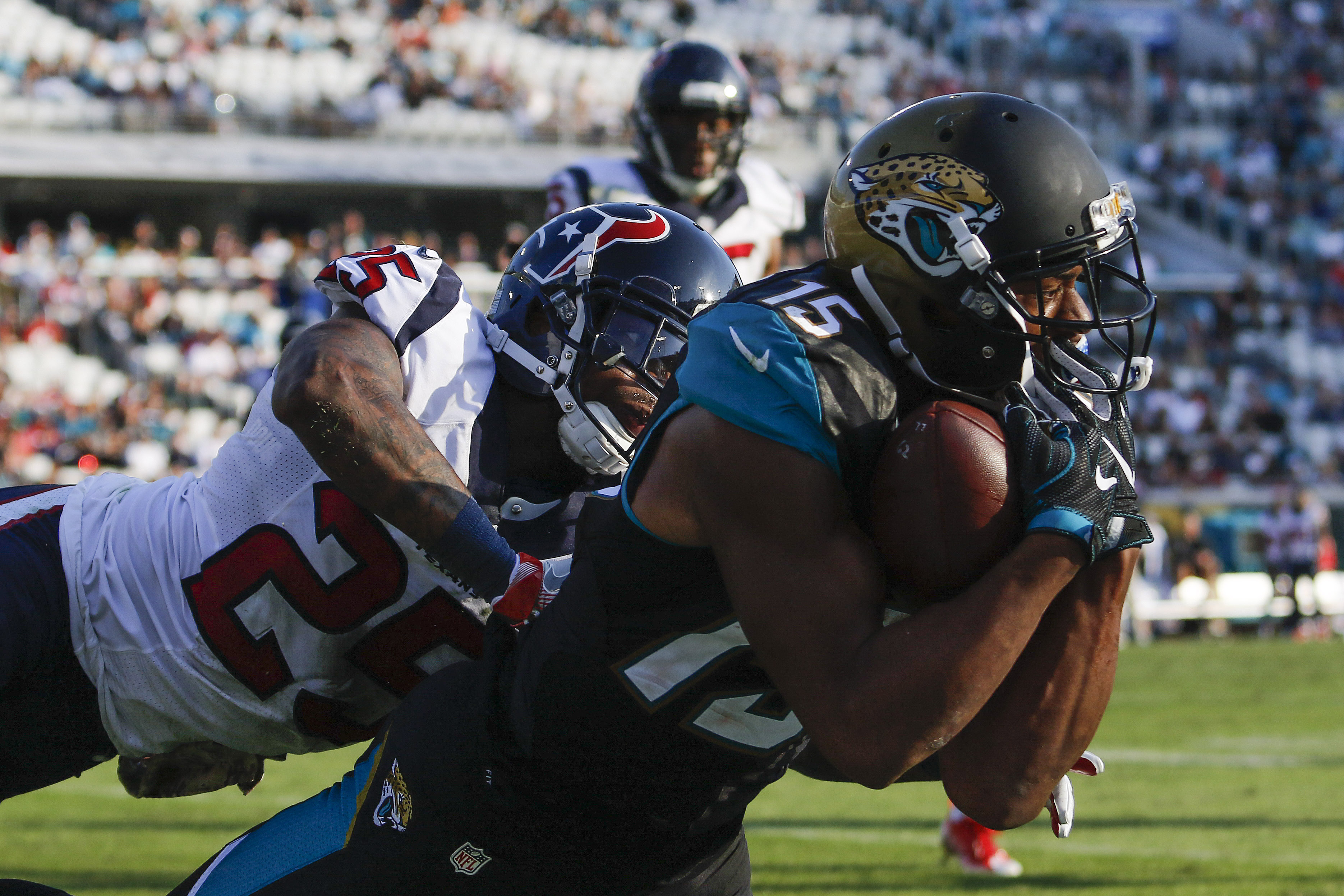 Robinson has been documenting his rehab process on Twitter and Instagram. He enjoys using social media to connect with fans across the country.
I have learned the true essence of time! A little over a month ago and today. Tell the 40 club the hiatus will be over soon lol pic.twitter.com/gOCO4Icb4e
The videos serve as motivational tools for Robinson. The images could also be seen as advertisements for potential future employers.
"A little bit of both," Robinson said. "For me, it's good to be able to say I'm not yet back but I'm getting there."
Social media has served as a blessing and curse for Robinson. Like his fans, Robinson enjoys weighing in on social debates on Twitter.
Robinson constantly sees speculation surrounding his impending free agent status.
"It's kind of hard not to [notice], especially for me, I'm a social guy when it comes to social media and that's kind of where you see everything at," Robinson said.
"I do see it, but for me, I know that whole standpoint is a lot of hoopla and a lot of hearsay that goes around with that. For me, I just mainly focus on the stuff that is communicated between me and my agent. That's my main focus because everything else is opinions and what people think and things like that."
Robinson's social media interactions are closely monitored by the Jaguars' fan base. His "likes" are frequently discussed by "Jaguars Twitter" fans.
Robinson is a fan of several fellow players, including soon-to-be-free-agent quarterback Kirk Cousins. He recently caused a stir online after he "liked" a tweet regarding Cousins' potential free-agent destination.
"Kirk is a guy who is from Michigan," Robinson said.
"I've spoken to Kirk before and I have a close buddy who is [also] pretty close to him, so I do know Kirk a little bit. For me, I'm literally a fan of the game of football so it's pretty safe for me to say that watching a guy like Kirk Cousins play, I want all the best for him. That's whatever. He's a good dude, a good player, so I think a lot of things like that, it's slightly reaching because I'm a pretty social person and when you play in the league, you grow to know a lot of guys in the league and when you watch certain games, you want to see these people do well. These are players as well, just like you."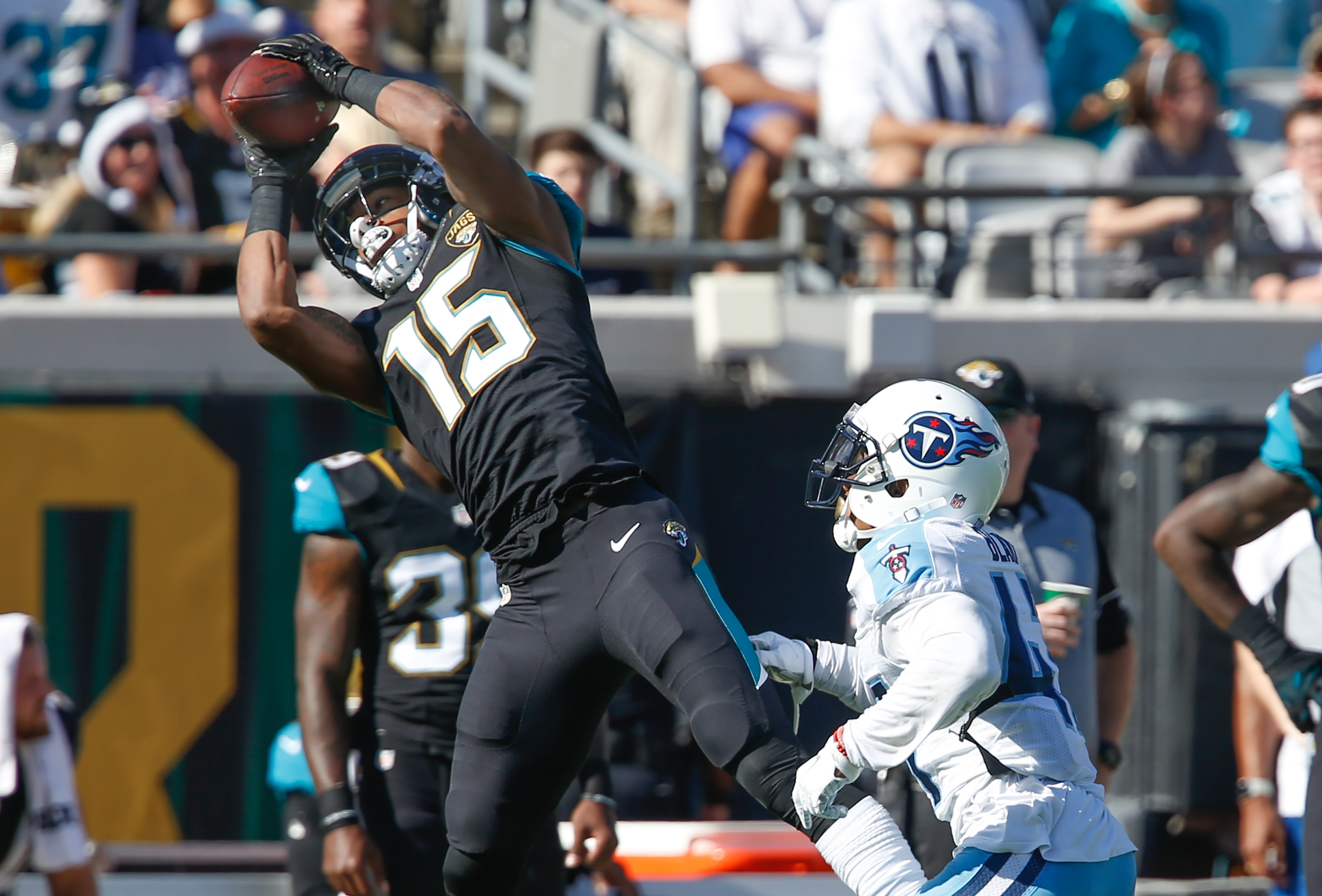 Robinson is also focused on the rest of the Jaguars' impending free agent class. He and fellow wide receiver Marqise Lee are very close friends.
Robinson has been monitoring Lee's situation throughout the offseason.
"He's a good player, he's a really good player," Robinson said. "I think that sometimes, his value is really undervalued when you watch him compared to other guys."
Robinson's future may be impacted by Lee's predicament and vice versa. The Jaguars are unlikely to bring back both players.
"Going into [this past] year, it was the elephant in the room," Robinson said.
"We knew that going into this season, [there] was a good chance this would our last chance to all play together. We didn't know how that may work out, we don't know now at this point if that'll be the case or not but we kind of knew that going into camp. We just wanted us all to have the best years we could have and whatever happened after that happened after that."
The wide receiver holds the cornerback in high regard.
"I think he's very good," Robinson said, regarding Colvin.
"I think he's one of those guys – I don't want to call him an unsung hero because I think he does a lot more than that to be able to be called that – but I think he has a lot of things that may not pop off the chart from a stat sheet but when it comes to a person who is very versatile. When I say versatile, I mean he's a guy who you can do a lot with from a team standpoint and he's a team guy."
Robinson understands that the Jaguars can't re-sign everyone. He knows he may be playing in a new city this season.
Still, Jacksonville will always have a special place in his heart.
Robinson grew as a football player at EverBank Field over the last four years. He matured as a man through his work with the community during that same timeframe.
"It was a slightly frustrating time being here [because of the losing seasons] but I think that made everything else that much better," Robinson said.
"After coming off [the losing seasons] to now, just the support I've had from everybody. From the community events [the Allen Robinson Foundation] has done, it's like wow, you may have some times when it comes to frustration with football and things like that, but from a city standpoint, it's been awesome."
Part 6 of 'The Evolution of Allen Robinson' will focus on the wide receiver's future in the NFL.