JACKSONVILLE, Fla. — With a new head coach in place, the Jaguars produced one of the strongest seasons in franchise history in 2017.
In his first year as the Jaguars' full-time head coach, Doug Marrone led the team to a 10-6 regular-season record. The franchise made the playoffs for the first time since the 2007 season and hosted a playoff game for the first time in 18 years.
It was an epic turnaround built on new ideas, developing talent and a few major additions.
Wide receiver Allen Robinson was among the few remaining players from the previous regime with obvious star power.
Robinson's 2016 campaign was a major letdown, but he was just a season removed from producing 1,400 receiving yards and 14 touchdowns.
Following the most frustrating year of his career, Robinson took some time to reflect during the offseason. He wanted to rework his technique and change his mindset.
He spent eight weeks in Arizona working out with fellow wide receiver Allen Hurns. Prior to training camp, he worked out with Pro Football Hall of Fame inductee Randy Moss in Charlotte.
In order to change his mental outlook, Robinson forced himself to focus on his goals instead of his frustration.
"Just sitting down in the offseason, reflecting on the direction my career had gone and where I wanted to take it, I knew there was a lot that I was going to have to change for myself to get to the next level," Robinson said in an interview with First Coast News.
"As a player, the maturity of being a professional athlete goes [a long way] with the success of somebody's career. You can't do the same things you did before and expect a different result."
Much like Robinson, the Jaguars were switching things up under Marrone.
The coaching staff designed a thorough training camp plan. The workouts were grueling and the practices were even harder.
The training camp period of the offseason was an essential tool for Marrone, his staff, and his roster. The team was battle-tested prior to the regular season. The players knew their jobs and understood what was at stake.
"We had a pretty tough training camp," Robinson said.
"That was the most football I'd played in a camp ever, so going into the season my body had a little wear on it but you think that anyway [after a training camp]."
Robinson also used training camp to improve his chemistry with quarterback Blake Bortles. The pair worked hard during and after practice to enhance their connection.
"It's one of those things that's always kind of been questioned," Robinson said, regarding his relationship with Bortles.
"I think this past year, for me and him, from a football standpoint, we really got better throughout the spring and throughout camp. It was one of those things where we just really wanted me and him to see everything through the same set of eyes. We really wanted to improve our game and we knew that if we took that extra effort that we didn't before, that would happen."
The months of preparation led to the team's Week 1 matchup against the Houston Texans. The last time the team played in Houston, former head coach Gus Bradley was fired before the buses left for the airport.
The Jaguars were looking for a more positive result this time around. It all started with the team's first drive on offense.
"First drive against Houston, third-and-7, this is going to be a three-and-out or we're going to move the chains," Robinson said.
"This was the first step, our first milestone of the season was that right there. Third-and-7, this wasn't going to determine the season but the rest of this game today. Everything we've worked for, the third-down percentages and everything we had talked about and it's third-and-7 and we were able to get [the first down]."
Bortles was able to connect with Robinson toward the sideline for a 17-yard gain. As Robinson's momentum led him out of bounds, Texans cornerback Kevin Johnson pushed the wide receiver to make sure he wouldn't take the ball upfield.
Robinson's first step on the Texans' sideline was awkward. His left knee buckled as he made his way through a handful of Houston players.
Robinson didn't know it then, but his season was over after just one minute and 12 seconds of action.
"I didn't know what it was," Robinson said, regarding his season-ending injury. "I didn't think it was the injury that I had. Coming into this year, I can honestly say I've never put in so much work."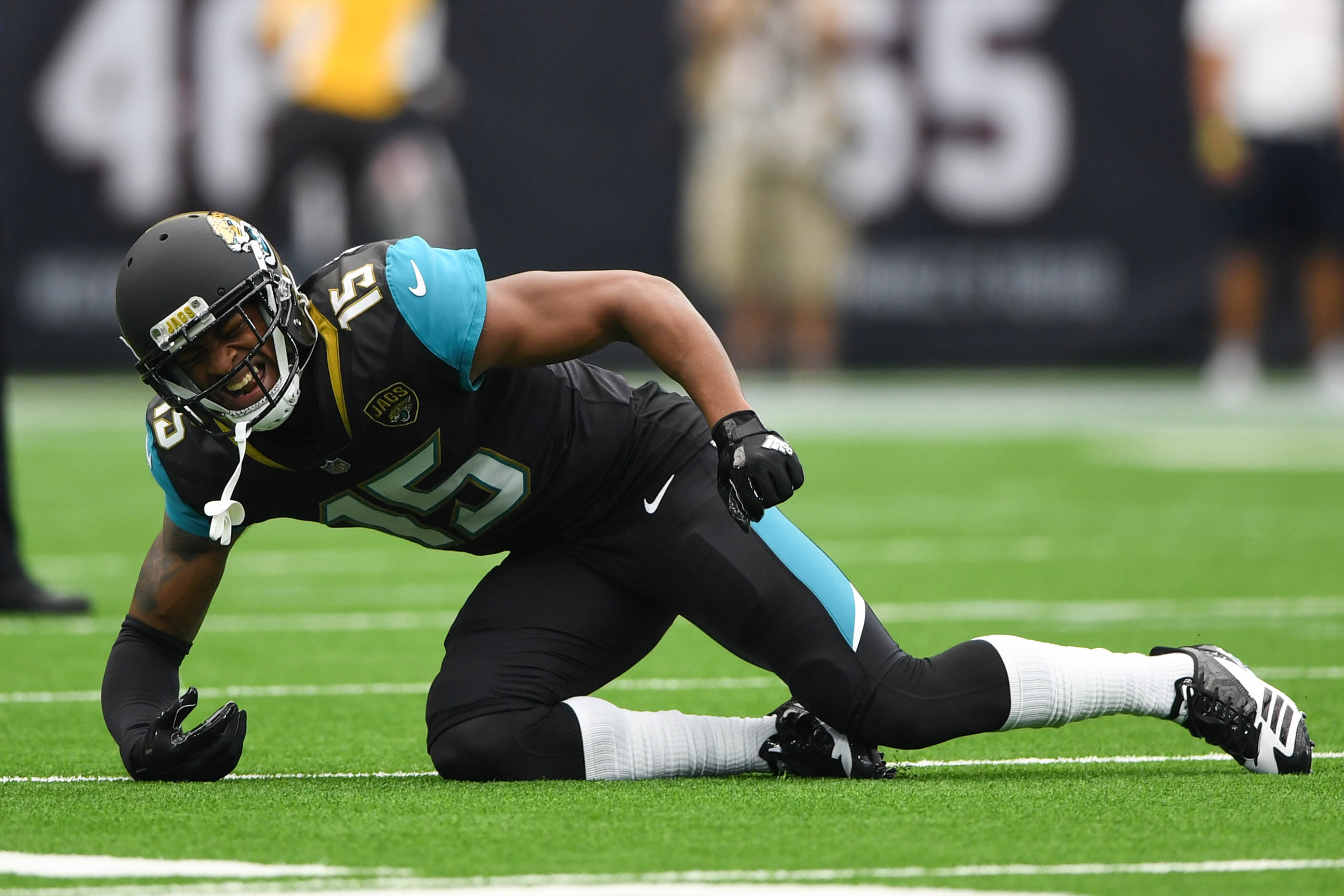 The Jaguars blew out the Texans, 29-7, after the defense produced a franchise-record 10 sacks. It was the first time the Jaguars had defeated the Texans since Robinson was drafted.
Jacksonville was 1-0 and Robinson's season was over.
A few days after the Week 1 win, Robinson underwent ACL surgery on his left knee. He still wears his hospital bracelets from the surgery, using the identification bands as motivation for his rehabilitation.
"I look at those every day," Robinson said. "It's just something for me that really reminds me [the ACL injury] was the biggest thing I had in my career since I've been playing sports."
The Jaguars won 12 games (including the playoffs) this past season. The team won 11 games during the first three years of Robinson's career.
While he was happy for his teammates, Robinson — like most competitors — wanted to have a role in the team's success.
"We had never been that good [as this past] year," Robinson said.
"That was pretty noticeable in camp. Everything in camp might not have been clear-cut because we're going against our own team, but from seeing our defense and going against our defense, we understood what the defense had."
Robinson watched as the defense set records and the offense made plays without him. He knew the team was good early on because of its talent and work ethic.
"Everything they worked for this year was earned and probably more," Robinson said dressed in a custom-made "Jacksonville" basketball jersey.
"From the time camp started, it was a rough camp, we were challenged but they put the work in. So even then, it wasn't a surprise or anything. I was just glad to see it pay off, all the hard work that everybody put in paid off. That was good to see."
While the team produced milestone after milestone, Robinson worked his way back from ACL surgery. His own weekly benchmarks were humbling.
Robinson had to reteach himself how to climb stairs. Initially, he used crutches to make the climb. He eventually shed the support of the sticks and made his way up slowly on his own.
"It's a mental battle along with a physical battle," Robinson said.
"Once you start taking those leaps and [going past] those boundaries and different things like that, a lot of it becomes a lot easier. You start to trust [the knee] more and your body starts feeling normal."
Despite the anguish associated with the injury, Robinson kept a positive outlook during his recovery.
"I wasn't going to let [the injury] eat at me," Robinson said. "I knew it was going to be a tough road ahead but it was a road that I was excited to go down to attack that challenge."
Robinson's rookie contract expires on March 14.
During this past season, the young wide receiver had to overcome the stress that comes with impending free agency. Robinson is coming off back-to-back disappointing seasons while also recovering from major surgery.
"I thought about it a lot," Robinson said, regarding his contract year.
"It's one of those things, you try to separate it. I didn't really let it affect me, but it's something that from having all the time that I'm not in the meeting rooms, I'm not playing; you're going to have certain things you're going to think about."
Robinson's concerns regarding future performance have been eased by his close friend, Los Angeles Rams All-Pro running back Todd Gurley. The former Georgia running back underwent ACL surgery in 2014.
Gurley was an MVP candidate this past season. He told Robinson that the wide receiver would be back to normal in due time.
Those words have encouraged Robinson to think about his performance in 2015. He believes he has shown the Jaguars and other NFL teams the caliber of player that he can be.
Robinson hopes his past performances resonate with his current and potential future employers as he heads into free agency.
Part 5 of 'The Evolution of Allen Robinson' will focus on the wide receiver's current offseason and his polarizing outlook in free agency.