JACKSONVILLE, Fla. — Allen Robinson became a household name during the 2015 NFL season.
The Jaguars wide receiver produced 1,400 receiving yards and 14 touchdowns, drawing the attention of fantasy football fans across the country.
As he sat in a chair on his top-floor porch — which overlooks the majority of Jacksonville's downtown area — Robinson couldn't help but smile when asked about his second season success. The 24-year-old acknowledged that his accolades in 2015 served as confirmation that he could play in the NFL.
Robinson's second-season surge coincided with the arrival of former Jaguars offensive coordinator Greg Olson. The wide receiver said Olson's aggressive play-calling enabled him to emerge as a playmaker.
"[Olson] wanted to push the ball down the field," Robinson said during an interview with First Coast News.
"That was his thing: 'let's make plays, let's attack teams.' We were just out there making plays. We had a lot of [opportunities] down the field to really make big plays and change games and things like that, so he really kind of wanted us to own the offense."
Robinson said then-head coach Gus Bradley believed in just letting his players make plays. Bradley wasn't a micromanager, which helped young players like Robinson and fellow wide receiver Allen Hurns find their grooves within the offense.
Robinson, Hurns and quarterback Blake Bortles put up huge numbers. Robinson set several team records and was voted to the Pro Bowl.
However, Jacksonville's offensive production was consistently panned because of the team's unimpressive 5-11 record. Critics often noted that Bortles, Hurns and Robinson benefited from facing prevent defense during blowout losses.
Robinson was quick to dismiss those evaluations.
"Allen Hurns and I talk about this all the time," Robinson said. "There were so many times that year that we opened up the game where me or Hurns had 50-plus yards in the first quarter."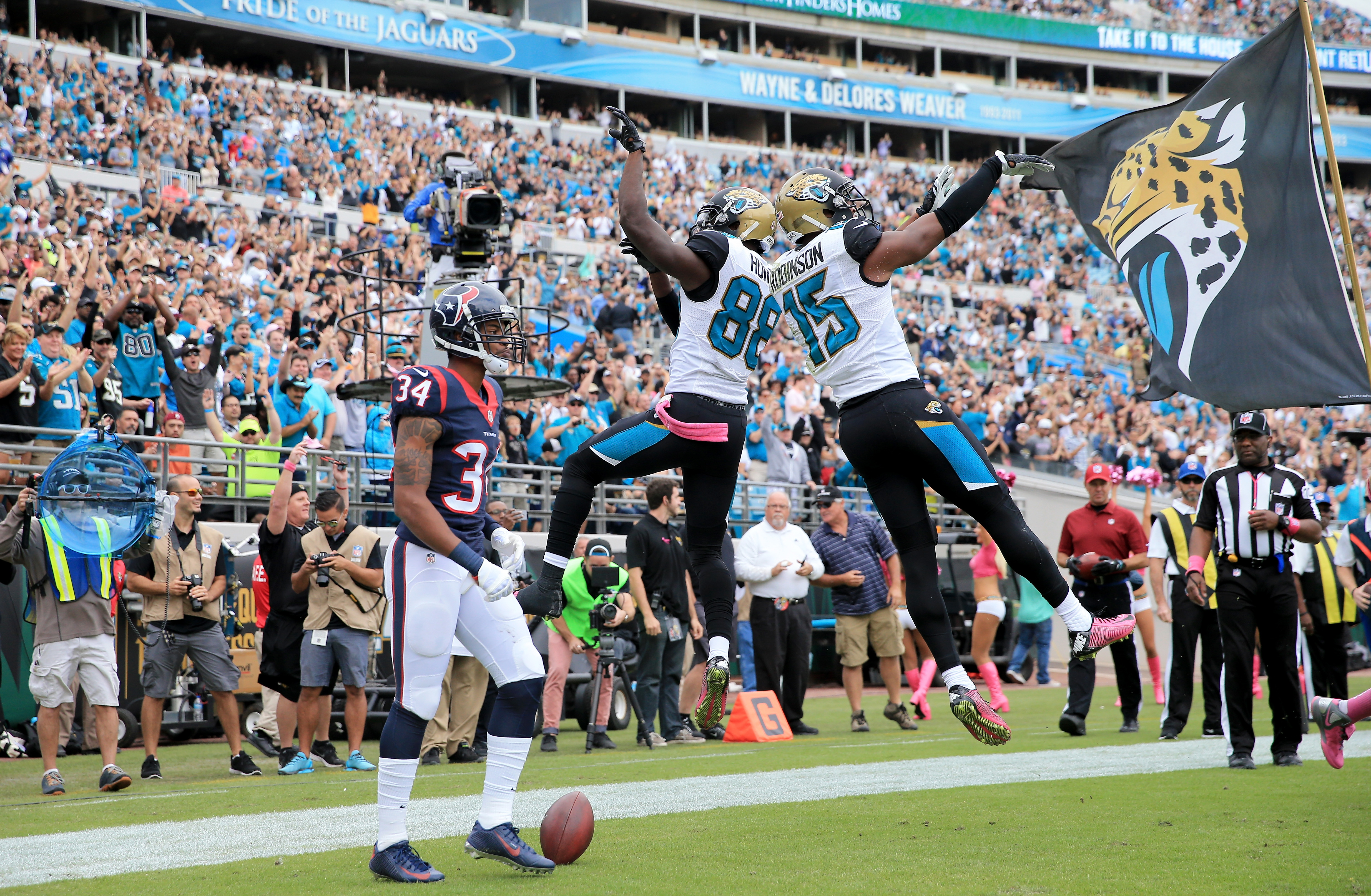 Robinson has a strong memory and a passion for game-planning. He enjoys watching game film and finding weaknesses in opposing coverages.
Those intangible qualities helped Robinson improve during his second season.
"I think for me, that's the fun part of the game, where you can see certain coverages and certain teams, where you can [study and prepare] to beat them," Robinson said.
"It just makes the game that much easier. You don't really want to get into too many things where it's like banging your head up against the wall. Like yeah, you can make plays like that, and the NFL is based on plays like that, but you want to make your job as easy as possible. One way to do that is from a mental standpoint."
Robinson and his teammates didn't dwell on the Jaguars' record in 2015. Instead, they focused on their growth as a team and as individuals.
Consistently losing games didn't wear on the Jaguars during the season, according to Robinson.
"To be honest, I don't think it ate away at us too much at all," Robinson said, regarding the team's losing record.
"It was one of those things where it was like, we see what we can do. It takes a lot to win games in this league and that's something that we know. Again, from a year-to-year standpoint, you cannot just wake up and win games in this league. It's not something that you can just turn on and turn off."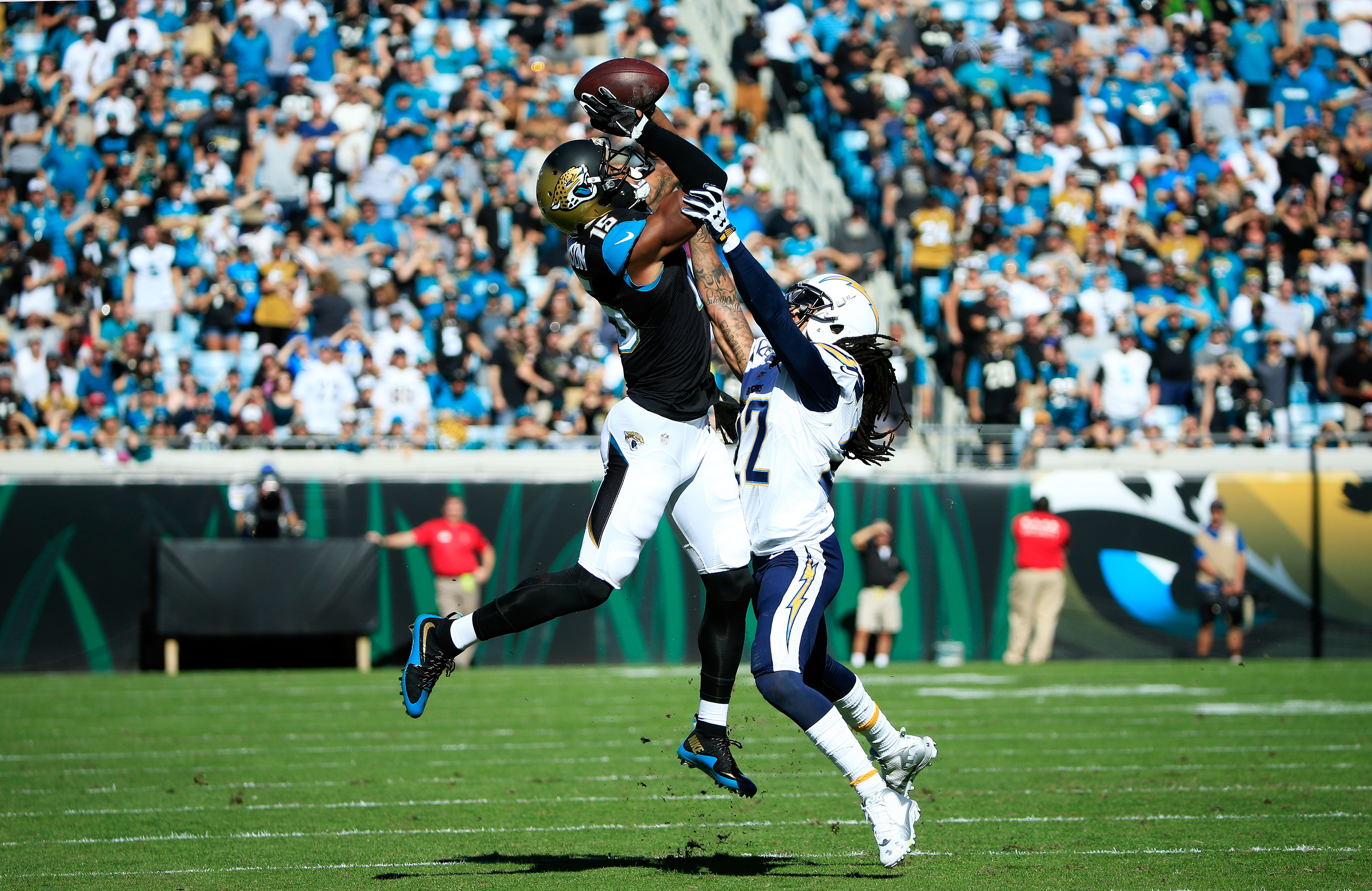 Robinson and his teammates felt like they had found a successful formula on offense. The team just needed to function well as a unit moving forward. There was a lot of room for optimism.
"From an offensive standpoint, we had some highs," Robinson said.
"Yeah, we had some lows as well, but it's like, polish the things we do well and let's improve what we're not doing well. That was our whole mentality. We understood it's a process. Granted, we had a really good year offensively but everything has to be put all together. We understood that."
Part 3 of 'The Evolution of Allen Robinson' will focus on the wide receiver's struggles and the Jaguars' offensive woes during his third season in the NFL.