The Jaguars received outstanding production from their 2017 rookie class during their playoff push to the AFC Championship game last season. With one year in the books, the class is expected to take its next step in development during this upcoming season.
As with any new campaign, some of the members of the class will have new roles, either increasing their importance or forcing them to earn excess playing time. The Jaguars still employ six of their seven draft picks from last season entering the group's second training camp and those remaining players are poised to battle for key jobs in August.
DOWNLOAD: The free First Coast Football App for Jaguars stats, scores, analysis, stories and more
Taking a look back at the Jaguars' 2017 rookie class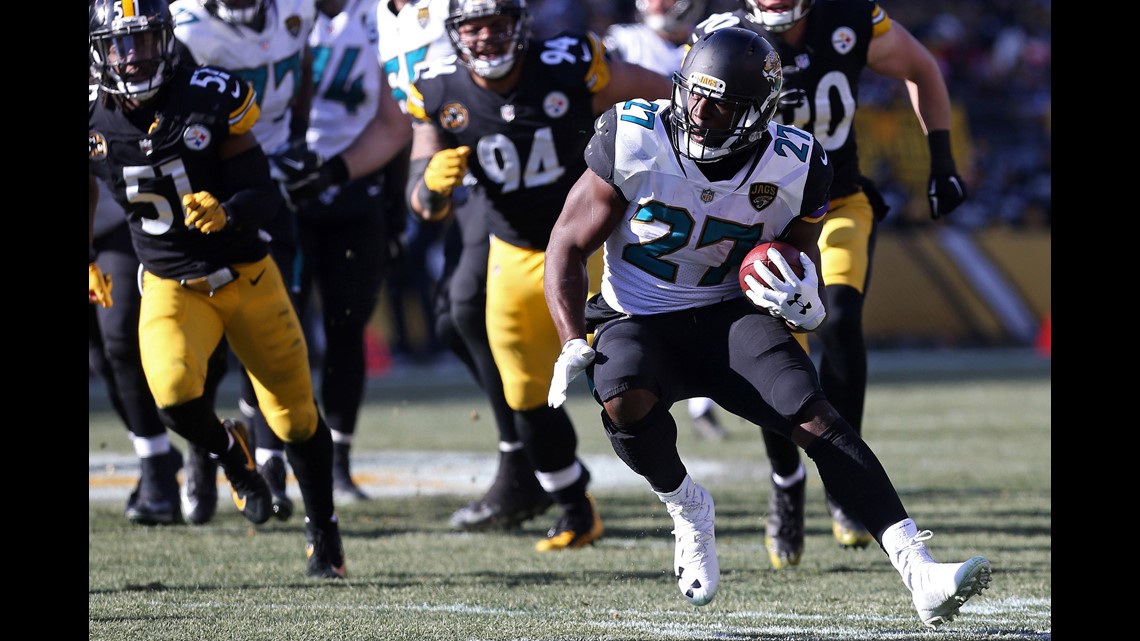 Leonard Fournette
Draft Pedigree: First Round, 4th Overall Pick
Position/Height/Weight: RB, 6-0, 224 lbs.
2017 Production: 1,040 rushing yards (3.9 yards per carry), nine rushing touchdowns, 302 receiving yards and one receiving touchdown
2018 Projected Role: Fournette will return as the team's workhorse back this season. After losing close to 10 pounds during the offseason, Fournette feels he is at his best weight and hopes to regain his explosive speed from his LSU days.
The second-year running back proved the doubters wrong as a rookie, showing ample ability as a receiver out of the backfield. Fournette's carry and reception numbers should increase this season if he is able to stay healthy. After missing three games last season due to ankle injuries and a benching, Fournette should be able to improve his profile with a full 16-game stretch.
Cam Robinson
Draft Pedigree: Second Round, 34th Overall Pick
Position/Height/Weight: OT, 6-6, 320 lbs.
2017 Production: Started 15 games at left tackle
2018 Projected Role: Robinson will return as the team's starting left tackle this season. While he did the best he could with the situation he was given last season, Robinson still has plenty of room to grow as a blocker.
With the Jaguars fixated on running the ball, Robinson should have plenty of practice when it comes to blocking for Fournette. Already a vocal leader on the field, Robinson's ascension into becoming a major voice in the locker room should continue now that he is a bit more experience.
Dawuane Smoot
Draft Pedigree: Third Round, 68th Overall Pick
Position/Height/Weight: DE, 6-3, 264 lbs.
2017 Production: 20 tackles and five quarterback hits
2018 Projected Role: Smoot's current role is uncertain at the moment. The team drafted Taven Bryan in the first round of this year's NFL Draft and have used him as the backup strong-side defensive end, which was Smoot's job last year. It's worth noting that Smoot was sidelined for the entirety of offseason program with an undisclosed injury, so that could have been the main reason for the Jaguars using Bryan in his role.
While Smoot wasn't a pass-rushing force last season, veteran Calais Campbell has taken him under his wing and sees potential in that department. Already a solid run-stopper, Smoot could potentially rotate with Yannick Ngakoue and Dante Fowler on the weak side of the defensive line. Either way, Smoot will have to earn his playing time during training camp and the preseason.
Dede Westbrook
Draft Pedigree: Fourth Round, 110th Overall Pick
Position/Height/Weight: WR, 6-0, 178 lbs.
2017 Production: 27 catches for 339 receiving yards and a touchdown
2018 Projected Role: Westbrook will be a key contributor in the Jaguars' passing game this season. While he isn't likely to start on offense, he should be a worthwhile rotational backup to veteran Marqise Lee. The Jaguars could utilize Westbrook in a gadget role while also using him as a punt returner to maximize roster numbers on game days.
Blair Brown
Draft Pedigree: Fifth Round, 148th Overall
Position/Height/Weight: LB, 5-11, 238 lbs.
2017 Production: 15 tackles and a half-sack
2018 Projected Role: Brown appears to be the favorite for the third starting linebacker spot. While he will compete against the likes of Donald Payne and Leon Jacobs during training camp, Brown is the only one of the three with actual experience in an NFL defense. Brown started two games last season but is still learning a new position, SAM, so there will be growing pains this summer.
Jalen Myrick
Draft Pedigree: Seventh Round, 222nd Overall Pick
Position/Height/Weight: CB, 5-10, 200 lbs.
2017 Production: One pass breakup
2018 Projected Role: Myrick may be used in a similar role to the one he had last season if he is able to make the Jaguars' 53-man roster. Myrick only appeared in five games as a rookie and barely saw the field on defense when active. Unless he can win the starting kick returner job, Myrick seems poised to be a deep reserve and a healthy scratch for the majority of the season.
THE UNDRAFTED TRIO
Keelan Cole
Position/Height/Weight: WR, 6-1, 194 lbs.
2017 Production: 42 receptions for 748 receiving yards and three touchdowns
2018 Projected Role: Cole blossomed as a rookie (out of nowhere) and could take on the starting slot job in his second season. Cole has the ability to play at all three wide receiver spots, making him among the most valuable players on the position's depth chart. With decent size and speed, Cole could be a movable chess piece in the passing game for offensive coordinator Nathaniel Hackett in Year 2.
Carroll Phillips
Position/Height/Weight: DE, 6-3, 242 lbs.
2017 Production: Appeared in six games (including playoffs)
2018 Projected Role: Phillips will battle for a depth defensive end role during training camp. While he was mostly used on special teams last season, Phillips will need to show improvement with his pass-rushing prowess during the summer to keep his job. Veteran special teams ace Lerentee McCray seems to be Phillips' main opposition.
Donald Payne
Position/Height/Weight: LB, 5-11, 217 lbs.
2017 Production: 13 tackles
2018 Projected Role: Payne is poised for the biggest role increase of the former undrafted free agents heading into training camp. The second-year player racked up over a dozen special teams tackles last season and shined at middle linebacker during the offseason program. Right now, Payne could either win the third starting linebacker job or back up Myles Jack in the middle of the Jaguars' defense.
Follow Mike Kaye on Twitter: @Mike_E_Kaye.