JACKSONVILLE, Fla. -- The heat was turned up for the Jaguars' second training camp practice on Friday. Hundreds of Jaguars fans withstood the hot weather, as they watched the early glimpses of the team's training camp transformation.
Below you'll find the news and notes from Day 2 of training camp:
- Calais Campbell on Dante Fowler's suspension:
"It's something that happens in football. Every year, there's going to be suspensions and [Fowler's arrest] was something that happened a long time ago and you knew that something might happen and when it did, you tell him to make sure that he comes ready for when that second game comes around. He's definitely a guy we know that when he's on the field, we're a better team. So we want to get him back out there but for that first game, the coaching staff [and] the front office have done a good job of preparing guys and we have a lot of depth, so that depth should really pay off.
Dante is a guy who has so much potential and he's been working really hard and so I tell him every day just to continue to understand and grow. Visualize what he wants to do and you see every day he's just getting a little bit better and right now being on PUP (physically unable to perform list) and having a little more time to visualize things and walk through things, hopefully he takes advantage of the opportunity and it makes him a better player."
- Jaguars second-year wide receiver Dede Westbrook was the standout of Day 2. The former fourth-round pick made a pair of impressive diving catches during team drills on Friday. Quarterback Blake Bortles zinged passes low for only Westbrook to receive and the wide receiver didn't disappoint. Westbrook lined up on the outside and in the slot during drills.
- Cornerback Jalen Ramsey remained in Tennessee with his newly expanded family on Friday. He has been absent for two practices due to the birth of his daughter on Wednesday. Fowler (shoulder), tight end David Grinnage (knee) and offensive guard Brandon Thomas (knee) remained on the PUP list. Offensive tackle Brandon Smith (hand) remained on the non-football injury list.
- Kicker Josh Lambo was 6-for-6 on field goals on Day 2. He hasn't missed a field goal yet during training camp, as he went 8-for-8 on Thursday.
- Speaking of special teams, rookie punter Logan Cooke has handled punt AND kickoff duties during training camp.
- There were quite a few drops during the practice. On back-to-back plays, wide receivers Keelan Cole and Marqise Lee dropped "on the money" passes from Bortles. The ball hit them in the hands during both plays and they couldn't haul the ball in. Tight end Niles Paul had a bad drop later in practice as well.
- Pro Bowl cornerback A.J. Bouye had a nice day. The highlight of the practice was a pass breakup by Bouye on a throw from Bortles to wide receiver Donte Moncrief downfield. Veteran cornerback Tyler Patmon also made a big play, as he intercepted a pass from Bortles to Moncrief. Bortles' blunder came on a throw that looked like it was meant for a different route. It may have been a miscommunication between the quarterback and wide receiver.
GALLERY: Highlights from the first week of Jaguars training camp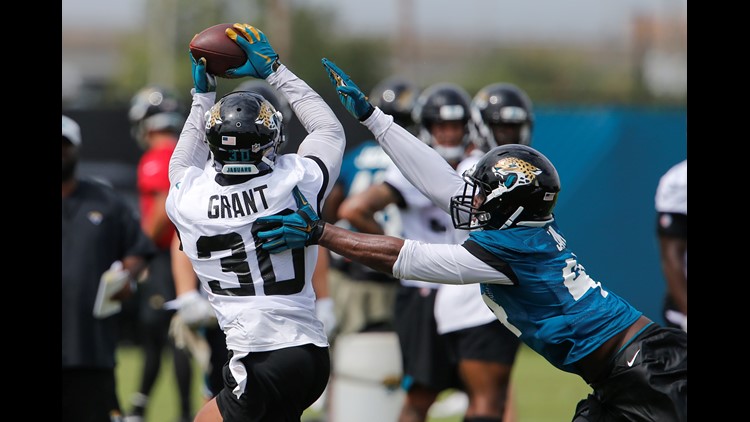 - For the second-straight practice, seventh-round pick Leon Jacobs lined up as the starting strong-side linebacker. Jacobs also played with the second-team nickel formation.
- If you're looking out for change along the offensive line, it's worth noting that A.J. Cann has been the starting right guard for both practices. The first-team has been as expected so far.
The second-team line has been Josh Wells at left tackle, Tyler Shatley at left guard, Chris Reed at center (Editor's Note: Hmm), Josh Walker at right guard and Will Poehls at right tackle.
- The Undrafted Rookie Report: Wide receiver Allen Lazard produced three catches on Friday, which was more than his entire total during the offseason program. Cornerback Quenton Meeks made an impressive leaping pass breakup for the second straight practice. Linebacker Manase Hungalu nearly picked off a throw from sixth-round quarterback Tanner Lee during team drills.
- Jaguars EVP of Football Operations Tom Coughlin was absent from the practice, as he attended former Vikings offensive line coach Tony Sparano's funeral in Minnesota. Sparano's son, Tony Jr., is the Jaguars' assistant offensive line coach.
- The attendance at practice was 2,817.
- Saturday's session will feature the first padded practice of training camp. The practice is only open to season-ticket holders, who can register for attendance at jaguars.com/trainingcamp.