The Jaguars should feel pretty confident about their roster moving forward, despite losing their preseason opener to the New Orleans Saints. The starters and backups built a 10-point lead in the third quarter only to have it squandered by potential practice squad additions and NFL short-timers in the final minutes.
Here are three players who helped and three players who hurt their roster statuses against New Orleans:
STOCK ON THE RISE
Cody Kessler
Key Moment: Kessler led three scoring drives, completing 14-of-17 passes for 139 yards and a touchdown.
Outlook: The Jaguars' backup quarterback seems to be having a career resurgence in Jacksonville. After two rough years in Cleveland, Kessler has bounced back, producing a strong start to training camp and offering a solid preseason debut. Kessler looks comfortable in Nathaniel Hackett's offense.
Shane Wynn
Key Moment: On second-and-6 from the Jacksonville 31-yard line, Kessler connected with Wynn for a 24-yard gain with roughly a minute left in the third quarter.
Outlook: Wynn caught three passes for 39 yards and ran for five yards. Wynn is a gadget player and he stood out with the second-team offense. Competing with Rashad Greene, Jaydon Mickens, Allen Lazard and others for the sixth and final wide receiver spot, Wynn is off to a good start in the preseason.
Andrew Motuapuaka
Key Moment: On fourth-and-5 at the Jacksonville 41-yard line, Motuapuaka sacked Saints quarterback Taysom Hill for a loss of eight yards, giving the Jaguars possession at mid-field.
Outlook: Motuapuaka started to gain some momentum during practice this week. That momentum paid off on Thursday, as the undrafted rookie made the most of his reps at middle linebacker in the second half. Motuapuaka is competing for a possible sixth and final linebacker spot. His performance in his NFL debut should help his chances.
DOWNLOAD: The free First Coast Football App for Jaguars stats, scores, analysis, stories and more
PHOTOS: Jacksonville Jaguars vs. New Orleans Saints Preseason Week 1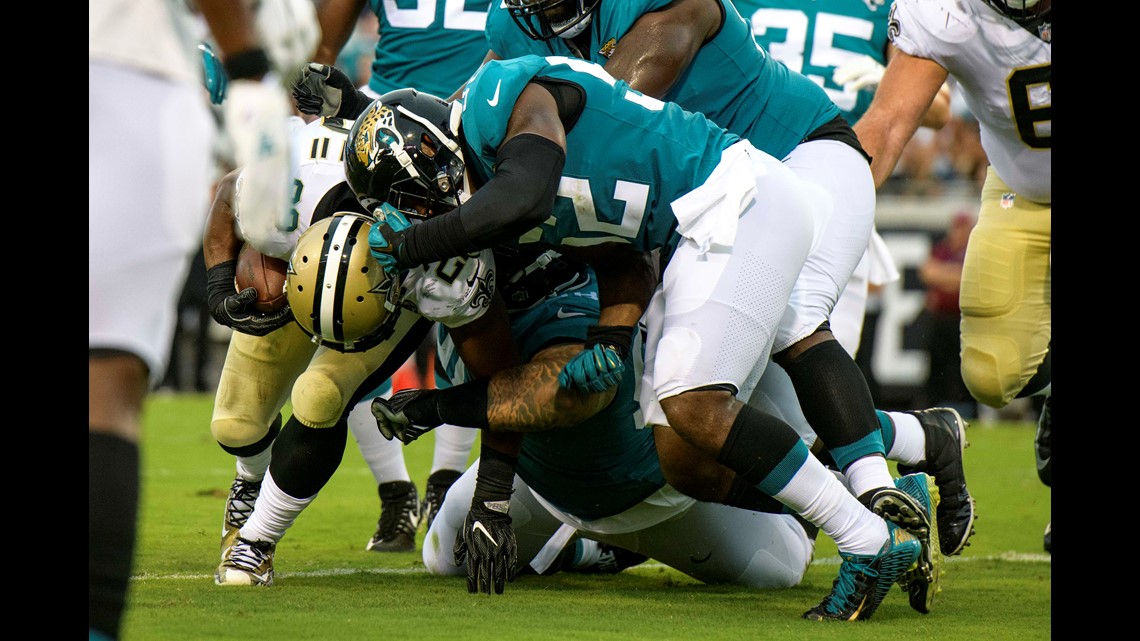 STOCK ON THE DECLINE
Tanner Lee
Biggest Mishap: Lee completed 4-of-8 passes for 37 yards, was sacked five times and fumbled twice in one quarter of action.
Outlook: Lee's NFL debut left a lot to be desired. He was inaccurate, looked skittish in the pocket and did very little to impress in the fourth quarter. Lee's deficiencies on offense helped the Saints erase a 10-point hole and win the game.
Brandon Smith
Biggest Mishap: Smith gave up two separate strip-sacks to Saints defensive end Jayrone Elliott in the fourth quarter.
Outlook: Smith built up some buzz as a run blocker during training camp but his performance in this game showed he has a lot of work to do in pass protection. He was beaten off the ball by Elliott multiple times and seemed to struggle mightily against the journeyman pass rusher. Smith still has three games to make up for his pass protection woes against the Saints. However, he is going to need a big week in Minnesota to earn some positive momentum.
Josh Wells
Biggest Mishap: On third-and-10 from the New Orleans 22-yard line, Wells gave a pressure to Saints defensive end Trey Hendrickson, who smashed into quarterback Blake Bortles as he threw a 16-yard strike to wide receiver Dede Westbrook. On the next drive, Wells was flagged for a false start on third-and-4 from the Jacksonville 47-yard line.
Outlook: Wells has produced up-and-down preseasons in the past. In fairness to him, Wells started the game at right tackle and then moved to left tackle, where he has seemingly always been more comfortable, on the next drive. Well is a veteran, so it's hard to write him off after one forgettable performance.
Follow Mike Kaye on Twitter: @Mike_E_Kaye.