The Jaguars are shuffling the lineup at linebacker.
On Tuesday, longtime middle linebacker Paul Posluszny announced that he will be shifting to strong-side (SAM) linebacker this season.
"We just got done meeting," Posluszny said. "They're going to have me learn SAM linebacker in the beginning and see how that goes. It's going to be a change, but that's what's going to be what's best for the team so we're going to give it a shot."
DOWNLOAD THE FIRST COAST FOOTBALL APP FOR MORE JAGUARS NEWS, NOTES AND ANALYSIS
The news wasn't necessarily earth-shattering, as there had been subtle hints by the team throughout the offseason.
Still, Posluszny knows he has to learn and make the adjustment in short order.
"It's going to be the biggest challenge of my career," Posluszny said.
Entering his 11th NFL season, the move to the outside will be a significant change for the veteran. He has never played this close to line of scrimmage in his career.
"For 10 years I've played middle linebacker," Posluszny said. "My entire perspective of how to play football in the NFL, my entire identity, has been that and now that's not the case."
Much like his change in perspective, the SAM position will also see a shift in responsibility from the last four seasons.
"So you guys remember OTTO," Posluszny said.
"It's too early to tell, I guess, and as far as everything that's going to be asked of that position but I think they'll take into account whose playing it, body types and everything like that. Traditionally, years past, that was a guy that was maybe more of a pass rusher, kind of an edge [player] Really it was a 3-4 outside linebacker. That's obviously not the case anymore, so I think as we get more and more in to it we'll have a better understanding of job responsibilities and what is going to be required for that position."
The move will not only impact Posluszny. His fellow starting linebackers will face some serious change as well.
Second-year linebacker Myles Jack will move to middle linebacker. It will be a much larger role for the young player, who sparingly played on defense as rookie. However, the coaching staff now wants to see him play on all three downs.
Veteran weak-side linebacker Telvin Smith will also experience something new. After playing next to Posluszny for his first three NFL seasons, Smith will now bookend Jack in the center of the Jaguars' defense.
"Me and Poz, we've grown close over my past three years being on the field," Smith said.
"He's probably one of the closest guys have when it comes to being on the field. It's going to be tough, but when he accepted it, I accepted. I appreciate him because he's, once again, he's not a selfish person as you all can see. And if he said that's going to make the team better and help us get to where we need to, then I'm with him all day."
Posluszny is expected to see a drastic reduction in workload at SAM. Against three wide receiver sets, the Jaguars will likely opt to replace Posluszny with a defensive back.
"That'll be another challenge as well, but with that, that's going to be if we take a linebacker off the field the best two guys are going to stay on," Posluszny said.
"And if I'm not one of those two guys, that's fine, do you know what I mean? Whatever we need to do to win, let's do it. Let's be honest. That's the most important thing, so yeah, if I'm not good enough to stay on the field then keep someone else on there so that we can win."
Jaguars begin workout program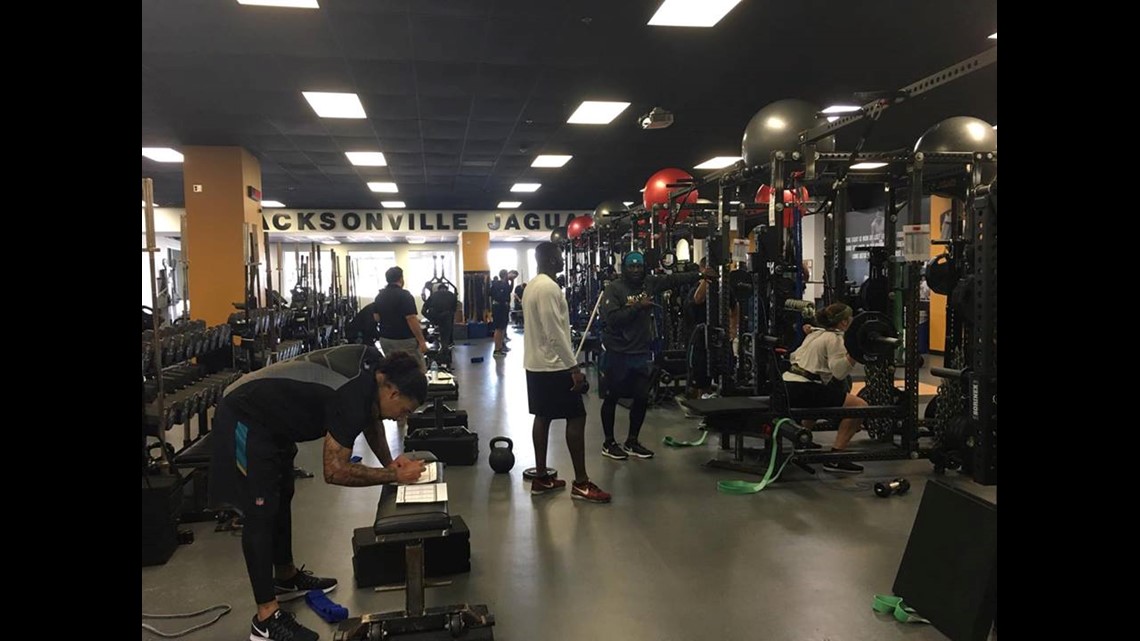 Smith waits on front office to make decision on extension
The Jaguars have several notable players entering contract years this offseason.
Smith seems to be the most deserving of the bunch when it comes to an extension.
He has clearly outplayed his fifth-round draft position. He has averaged over 100 tackles per season and shown the ability to make plays on the ball.
Still, the third-year player isn't forcing the issue.
"On the contract questions, I'm going to say this about the contract to address the whole issue: I like to focus on football, so when management decides what they want to do, they'll approach me and we'll go from there," Smith said.
"As a football player, I'm just here to help this team keep growing and continue to grow and achieve the success that we can."
Smith has a focus on winning. He wants to make the most of the changes around him and he continues to use a team-first approach.
"I want to show them it's not about me and the personal goals I have going," Smith said. "It's about this team and us trying to build something."
The Jaguars are dealing with a new sense of accountability and Smith has already bought in. The front office has changed things up in the locker room and gotten rid of distractions.
Smith has new locker room neighbors. He will also not hear the familiar sounds of the team's locker room ping pong table.
"I didn't play ping pong as much, you know, so it doesn't matter to me," Smith said. "But some of my teammate are really good ping pong players, so maybe they are, so for them, I feel sorry. But, hey, if it's a distraction, get it out of here."
More News and Notes
- New defensive end Calais Campbell described the similarities between Arizona Cardinals head coach Bruce Arians and Jaguars head coach Doug Marrone during a press conference on Tuesday.
"Tough, tough hard-nosed coaches," Campbell said. "They are no nonsense. The word accountability came up today. That's very similar in that mentality."
- Campbell also heaped praise on former Cardinals, now Jaguars teammate Earl Watford. He quickly made note of the offensive lineman's versatility.
"Oh man, Earl Watford is a beast," Campbell said. "He's a guy who can play every position [on the offensive line]. That's from tackle to center. I've competed against him a bunch. He's always just goes as hard as he can. He's a tough guy."
- Defensive tackle Malik Jackson will once again wear No. 97. He inherits the number from recently released defensive tackle Roy Miller. The number means a lot to him.
"It was very important," Jackson said. "Just personal for me. I've been 97 - the only time I didn't have it - I had it from Southern Cal to Tennessee, then my rookie year I got No. 70 and ever since then I've had 97. I was a pretty big deal for me."
- Posluszny is now sitting next to defensive end Dante Fowler in the locker room. Smith is sitting next to kicker Jason Myers. It's a far cry from former head coach Gus Bradley's position group stationing in the locker room.
Follow Mike Kaye on Twitter at @Mike_E_Kaye.