With the first week of organized team activities (OTAs) in the rearview mirror, this week's edition of the Jaguars Mailbag features questions about the running back position, wide receiver Keelan Cole and more.
Sigmund Bloom asks: How much can/will Corey Grant's role grow with his momentum from 2017 and the release of Chris Ivory?
Mike Kaye: This is a question that should be of heavy focus throughout the offseason. While Grant seems poised for a massive climb in carries, there are several factors playing both for and against that narrative as we enter the second week of OTAs.
Grant has received the bulk of the work with Leonard Fournette missing two OTA workouts and T.J. Yeldon missing all three. Yeldon and Grant are - in theory - competing to back up Fournette and/or claim the third-down back role. If Grant is able to cement a strong standing during OTAs, he will have momentum entering training camp, especially with Yeldon's absence, however long that may be.
The issue for Grant is his blocking ability. You have to be able to block to receive playing time in the Jaguars' backfield and Yeldon - his main competition - is the best blocking back on the team by a pretty large margin. The main hang-up with Grant over the last three years has been that whenever he is in the game, defenses have been tipped off that the ball is going to him because of his blocking ability (or lack thereof).
Obviously, it's hard to judge Grant's blocking prowess during OTAs so that leaves a major question to be answered during training camp and the preseason.
Grant was given a second-round restricted tender ($2.9 million in salary) this offseason, which should help him form some sort of role on offense. The Jaguars passed on adding to the position in free agency and the draft, which was a good sign for those looking at Grant in deep fantasy leagues. He is also probably the best special teams player on the roster, which should also help him earn looks based on Tom Coughlin's philosophies.
If the Jaguars decide to pass on aging vets like Adrian Peterson and DeMarco Murray prior to training camp, I think Grant - at worst - will be a consistent change-of-pace player for the Jaguars on offense. He could line up in the backfield or the slot, as we saw he can be a notable weapon as a receiver in the FIRST HALF of the AFC Championship Game.
Grant only received 33 total touches last season and two of his carries came on special teams trick plays (which worked flawlessly, by the way). He will no doubt see more touches this season if he stays healthy, as Ivory accounted for 133 touches last season. Yeldon likely sees an increase too, as he was inactive for the first six games of the season and only managed 79 total touches.
Love Hyphen asks: Who becomes the fourth running back on the roster? Depth at that position is fascinating to me considering we want to be a running team.
MK: I am intrigued by this battle as well. The coaching staff seems to be pretty high on Tim Cook, as he played well during training camp and the preseason last year. Cook's main competition is Brandon Wilds, who has some regular-season game experience.
Wilds has looked pretty good in the early stages of OTAs while Cook seemingly struggled during some individual drills. Cook strikes me as a gamer, as he posted decent numbers during the exhibition season last year. Most of our viewing time with Wilds has come through either the first week of OTAs or a few weeks of practice squad work last offseason.
It seems like a wide-open competition at this point but I would say Cook has a major advantage, as he fits the Fournette mold more than Wilds. The Jaguars have Yeldon (ideally a third-down back) and Grant (good change-of-pace option) but they don't have a clear-cut meat and potatoes grinder who can potentially fill in for Fournette during short-yardage looks. Cook, though, could be that guy.
Wilds will be a factor if Yeldon and/or Grant suffers an injury. His game is similar to Grant's and I believe he will have a clear shot at a roster spot if he plays well on special teams during the preseason and the depth chart faces some form of adversity.
@sdotkerlin asks: What's the outlook on Keelan Cole? Where does he end up by the middle of the season?
MK: As of right now, I would peg Cole as the starting slot receiver. His route-running ability and overall ball skills make him the most ideal player in the middle of the field. He isn't afraid of contact and his chemistry with quarterback Blake Bortles continues to blossom (Editor's Note: Shout out to Mayim Bialik).
Cole was unstoppable during the first week of OTAs and his team-leading yardage last year wasn't a fluke. While Dede Westbrook and DJ Chark were recent draft picks, Cole is seemingly the most capable route runner of the trio.
The Jaguars would probably be best served with Marqise Lee and Donte Moncrief starting on the outside and Cole in the slot, enabling offensive coordinator Nathaniel Hackett to pepper in Chark and Westbrook whenever he sees fit. Westbrook seems like the ideal backup for Lee and Chark could cut into Moncrief's snaps if he performs well during training camp.
Cole's backup in the slot should be pretty fluid, especially if the team keeps six wide receivers. Jaydon Mickens, Rashad Greene, Shane Wynn, Allen Lazard, Tevaun Smith and Dorren Miller are competing for that final job.
PHOTOS: Jaguars Organized Team Activities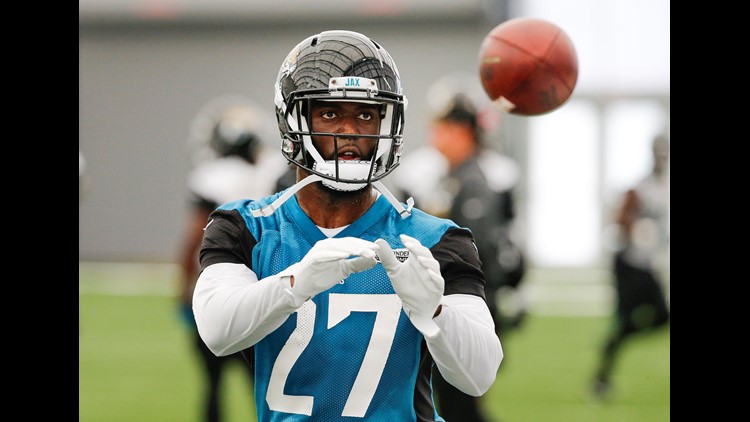 @MarronesNeck asks: Any chance they roster five at safety? Or will one of them get cut without playing a down?
MK: I think there's a very good chance the Jaguars stick with five safeties this year.
As of now, Tashaun Gipson, Barry Church, Ronnie Harrison and Cody Davis appear to be locked into the final roster count. Behind that quartet, the team has players like Jarrod Wilson (a coaching staff favorite), Don Carey (a veteran defensive back with cornerback ability), Charlie Miller (a former Ivy Leaguer) and C.J. Reavis (produced a pick during the team's first OTA workout).
Wilson and Carey are the most appealing players of the back-four group. Wilson has been on the team for two years, plays well on special teams and possesses great size for the position (6-2, 209 lbs.). Carey can play all five positions in the secondary and was brought in as a special teams ace during the first week of free agency.
Reavis and Miller - as of right now - appear to be fighting for a practice squad spot. Obviously, it's early in the offseason program and injuries happen, but as of now, it seems like a battle between Carey and Wilson for that last spot.
Keep in mind, with Carey's versatility, keeping him may allow the Jaguars to house just four cornerbacks on the 53-man roster. The numbers game is important because the Jaguars could dress just eight defensive backs on game day and having a player who can fill in at all the secondary spots is advantageous for the rest of the roster.
Jordan Harper asks: How has Allen Lazard looked in OTAs? Considering if Cole, Westbrook, and Lee take a step forward this year and factoring in Chark, could Lazard possibly be moved to tight end?
MK: As I touched on earlier, I think Lazard is competing for the sixth wide receiver spot. He has only been working at wide receiver during OTAs and I am not sure that a position change would help him make the 53-man roster.
Lazard is a rarity at the wide receiver position on the Jaguars' roster because of his catching radius and overall size. He has a better shot at the making the team as a red-zone specialist than he does as a third or fourth tight end where tenured players like James O'Shaughnessy, Ben Koyack and David Grinnage are competing for one or two spots.
Follow Mike Kaye and ask him about your Jaguars Mailbag questions on Twitter: @Mike_E_Kaye.
PHOTOS: Day 3 of Jaguars' 2018 Organized Team Activities