The Jaguars' offseason roster is nearly complete following this past weekend's NFL Draft. Jacksonville added several intriguing pieces to the puzzle during the selection process, improving depth and the team's long-term outlook.
As with any major event in the NFL, the fallout of the draft will have a major impact on the Jaguars' roster and its individual players. With the dust settled, a few major questions have been answered.
Myles Jack is definitely moving to middle linebacker
Jaguars head coach Doug Marrone discussing his comfort with Jack at middle linebacker:
"I think last year, one of the big things I tried to say was that we never felt that Myles couldn't play MIKE, and I mean that. We just knew that, hey listen, [Paul Posluszny] being in there playing MIKE and us moving Myles to SAM was the best combination versus 21 personnel and 12."
Thoughts: This is the move we've all been waiting for. While some took last season's role as a slight toward Jack, the coaching staff was clearly looking out for the best interest of the team. With Posluszny retired, Jack will now take his rightful place at middle linebacker.
Jack has improved greatly over the last two years and he is clearly talented enough to play on all three downs. His move to full-time MIKE linebacker could lead to a massive breakout season.
Blair Brown is in the driver's seat for the SAM linebacker job
Marrone on the strong-side linebacker position:
"I think Blair has done a good job. Now is SAM his more natural position? I think he can play all three. What is he going to be the best at? I don't know but for us, what's best for us is for him to play SAM."
Thoughts: Brown impressed during his time in the starting lineup last season. While some may have felt he deserved veteran competition for the SAM job, Brown has clearly won over Marrone with his play. The second-year player will have an advantage over his rookie competition.
Brown is the lone experienced 4-3 linebacker outside of incumbent starters, Telvin Smith and Myles Jack, so it makes sense to give him the first shot at the job.
The punter position was a priority for the Jaguars
Football executive Tom Coughlin on why the Jaguars drafted a punter over signing one in undrafted free agency:
"Because you watched the punters go. That's why."
Thoughts: The Jaguars released veteran punter Brad Nortman on Monday. The release came after the Jaguars selected Mississippi State punter Logan Cooke in the seventh round of this past weekend's draft. The move saves $2.25 million in cap space for the Jaguars.
Jacksonville's front office clearly wanted a change at punter. The team drafted Cooke to take over for Nortman, placing their faith in the hands of a rookie. Cooke will be under heavy pressure to deliver early in his career.
PHOTOS: Jaguars' 2018 NFL Draft class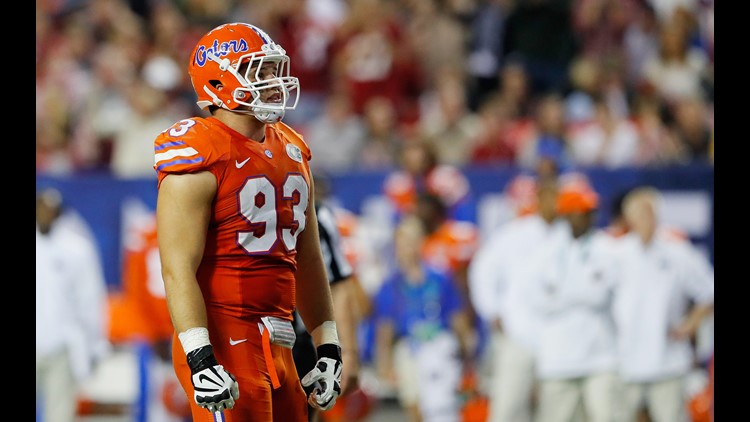 The Jaguars were interested in adding to the tight end group but came up short
Coughlin on passing on the tight position in the draft:
"Tight end was something we were very interested in and I'll be honest with you, when [Miami tight end Christopher Herndon] went at the top of the fourth [round] that was a blow to where we were trying to line things up. There were some good tight ends in this draft, there was some depth at tight ends we were interested and then all of a sudden they were pretty much gone."
Thoughts: The outside opinion of the Jaguars' tight end group clearly didn't match the front office's feel for the position. While several pundits and fans thought the Jaguars should invest heavily in the position - even after signing Austin Seferian-Jenkins - the team stayed put in the draft.
However, the Jaguars did want to add a tight end in the later rounds. As Coughlin said above, they targeted specific tight ends but were unable to select them because of the pecking order. The Jaguars could still add to the group before training camp begins.
It will be tough to make the Jaguars roster
Marrone on the difficulty of making the team as an undrafted free agent:
"It's interesting. A lot of its going to depend on what the mindset is of people. I think if you are a player on this team and you come in with the mindset, 'Hey listen, we've arrived and we've done this and we've done that and this is what I've done,' you can be in trouble quite quickly, I would say. People coming in here, young guys come in here hungry and they are looking to earn their position and earn a job. The one thing that I hope that through a couple of letters that I've written to this team or the way I'm speaking to this team, we're not taking anything for granted. We've put this away and we understand that we have to come in and we have to work extremely hard to earn a position on this team. And that starts with me. I have to come in here with that type of attitude every day, the coaches, and then it goes on to the players, the equipment room, the training room and hopefully the PR staff that are usually the last to get it."
Thoughts: Marrone said the entire roster will need to compete for work this offseason. While the team isn't likely to cut any Pro Bowl players or high-priced veterans, playing time could be altered with the arrivals of Taven Bryan, Ronnie Harrison, DJ Chark, Leon Jacobs and Will Richardson.
The added talent could push its way into heavy snaps this season.The veterans will need to hold off their younger competition. The same could be said for the lower-round draft picks who will be competing with more than a dozen undrafted free agents for roster spots.
Coaching connection leads to quarterback selection
General manager Dave Caldwell on the appeal of sixth-round pick Tanner Lee:
"He's big. He's got a big arm, really strong arm, quick release. You saw it at the Senior Bowl. You see it on Nebraska film. Coach [Eric] Price, our assistant wide receivers coach, coached him at Tulane so we know the kid very well, his makeup, his intelligence, his drive, his attitude. He's going to fit in well with Blake [Bortles] and Cody [Kessler] and that quarterback room. He's an accurate passer when he has time like most of them. He was under a lot of duress this year at Nebraska. We feel like he can come in and he's got a high ceiling because of the arm strength at the accuracy and the quick release."
Thoughts: Price was Lee's offensive coordinator at Tulane before both left town due to a coaching change. Having familiarity with Lee's character, work habits and ability, made the Jaguars comfortable with selecting him in the sixth round. Lee only spent one season at Nebraska and having Price on the staff helped Jacksonville's front office collect data on the young quarterback.
Lee will now compete with veteran Cody Kessler for the backup job behind the starter, Blake Bortles. Kessler probably has the advantage in the competition, but Caldwell said the team is open to keeping three quarterbacks on the active roster this season.
Competition is the key for Coughlin
The Jaguars' EVP of Football Operations discussing the depth added in the draft:
"Well, we want the competition. We want it as much as we can get it. That's the one thing in our game that makes everybody better. These people were drafted to be football players whether it's starter or whatever, and it takes everybody. It takes everybody and at some time in the course of the season, God willing health being a key factor, these guys will all make us better and make strong contributions as we go along."
Thoughts: The Jaguars' draft class may only have one rookie starter among the bunch: Cooke. That's the sign of a stacked roster. The Jaguars drafted for short-term depth and long-term success this year.
Bryan, Harrison and Chark are pegged as starters of the future, while Jacobs and Richardson could easily earn some major playing time over the next few years. The Jaguars have a solid mix of young standouts and proven veterans. This draft class allows the roster churn to feature both for years to come.
Richardson has the opportunity to be a long-term starter at multiple spots
Richardson on his positional versatility:
"The way I look at it, I will play whatever the team needs me to do and I am willing to learn. I played a lot of right tackle, but definitely still comfortable on the left side. I have been down in Dallas training at APEC and I practiced all left tackle. As far as guard, I never played it in college."
Thoughts: The Jaguars and Richardson feel like the fourth-round offensive lineman gives them several options. Richardson is 6-6 and 306 pounds, which makes him a proper fit for tackle or guard. While his experience in college was mostly at right tackle, Richardson has put in the work to play on the left side.
The Jaguars are big on offensive line versatility and Richardson clearly offers that in their minds. If he isn't the right tackle of the future, he could take over the right guard reigns if A.J. Cann isn't re-signed next offseason.