The Jaguars are finally set to enter the exhibition season following 11 grueling training camp practices. The preseason will be the true test for the majority of the roster battles, as some players will be competing for starting spots while others will look to earn jobs at the bottom of the depth chart or the practice squad.
While the preseason will be the determining factor for about a dozen roster spots, the majority of the depth chart has largely been established by incumbent talent, strong new additions and lofty contracts. With the knowledge of the roster and the team's first 11 training camp practices, we have compiled a 53-man roster as we see it ahead of the preseason.
The Jaguars won't need to make the cut down from 90 to 53 players until September 1. We've decided to make the move a bit early to see where the roster stands less than a month before some big decisions are made.
Bold = Starter, Italics = Rookie
Blake Bortles, Cody Kessler (2)
Thoughts: Bortles is the clear-cut starter after receiving a three-year extension this offseason. The starting quarterback has put together the strongest training camp of his career and he will look to carry that over into his fifth NFL season. Kessler has looked very consistent throughout training camp and has created plenty of separation from sixth-round rookie Tanner Lee. Barring injury, Kessler will be Bortles' backup this season, unless the team decides to look elsewhere for a proven veteran.
Leonard Fournette, T.J. Yeldon, Corey Grant
Thoughts: This is the one spot on this list where we think the Jaguars will look to add an extra player through the waiver wire following final cuts. Right now, the top three running backs form a very strong group but the Jaguars need a big-bodied bruiser on the depth chart in case Fournette goes down for a game or two. The Jaguars' hard-nosed style needs to be replicated if Fournette isn't in the lineup and Yeldon and Grant offer different skill sets.
Thoughts: Bohanon had a solid first season in Jacksonville. He is currently competing unopposed, so he will probably be a safe bet to return.
Keelan Cole, Marqise Lee, Donte Moncrief, Dede Westbrook, DJ Chark, Rashad Greene
Thoughts: The Jaguars are so stacked at wide receiver that they are going to have to cut a few guys who will be on other squads this year. Cole and Lee were listed as starters on the unofficial depth chart and we think that falls in line with the actual thinking of the organization. Cole and Lee could start and then Cole could move inside to the slot when Moncrief comes in for three-receiver sets. Westbrook and Chark may be having the best training camp performances of the group and should see quite a bit of playing time this year. Greene has a background as a punt returner and he has performed well throughout training camp.
Austin Seferian-Jenkins, James O'Shaughnessy, Ben Koyack, Niles Paul (16)
Thoughts: Seferian-Jenkins has been the clear starter at tight end throughout the offseason while the immediate backup spot has remained up in the air. O'Shaughnessy and Koyack seem to be battling to be the second tight end in 12 personnel looks. O'Shaughnessy is probably the best receiving option while Koyack is the better blocker. Paul is a special teams ace who has plenty of experience on offense if needed.
Cam Robinson, Andrew Norwell, Brandon Linder, A.J. Cann, Jermey Parnell, Josh Wells, Tyler Shatley, Will Richardson, Will Poehls
Thoughts: The Jaguars' starting group was set during free agency when the team signed Norwell to a massive deal in March. The rest of the starters are returning from last season. Robinson and Cann look improved from last season and Parnell has been a solid right tackle when healthy. Linder anchors the group and does it well. Wells and Shatley have been long-time top backups for the team and it's hard seeing the squad move on from either. Poehls offers versatility, as he can play both guard and tackle positions. Richardson's training camp has been quiet but his fourth-round pedigree should keep him on the main roster.
GALLERY: Highlights from the first week of Jaguars training camp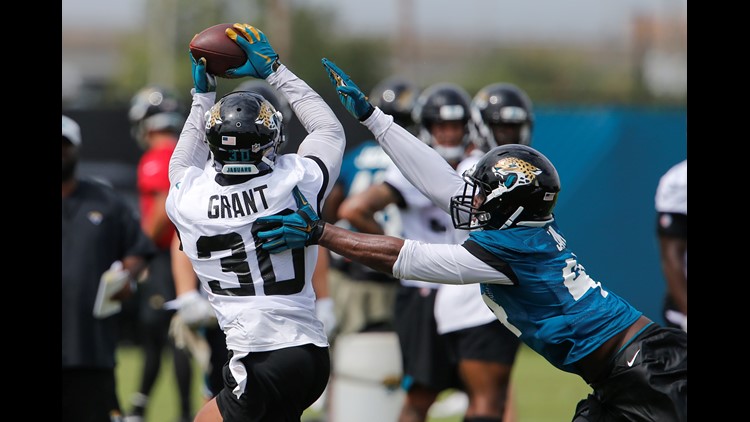 Yannick Ngakoue, Malik Jackson, Marcell Dareus, Calais Campbell, Abry Jones, Taven Bryan, Dawuane Smoot, Lerentee McCray, Michael Bennett, Carroll Phillips, Dante Fowler (suspended list - doesn't count against roster total)
Thoughts: The Jaguars' biggest strength is its defensive line depth. Ngakoue, Jackson and Campbell were all Pro Bowl selections last year while Dareus is a former All-Pro in his own right. Jones, Fowler and Bryan will form a key trio of depth behind the starters. McCray and Phillips will be asked to play a lot of special teams while also rotating into pass rushing situations. Bennett may be a surprise to some here, but he was listed as the backup three-technique on the team's unofficial depth chart. The former sixth-round pick is having a nice training camp. UPDATE: With Fowler on the league's suspended list for one game, Smoot makes the cut. Smoot needs to have a strong preseason with the arrival of Bryan.
Telvin Smith, Myles Jack, Leon Jacobs, Donald Payne, Blair Brown
Thoughts: Smith and Jack are pegged as the starters at weak-side and middle linebacker. They are also the top nickel linebacker duo. Jacobs, one of the team's two seventh-round picks, has been lining up as the starting strong-side linebacker for the entirety of training camp. Payne and Brown can back up Smith and Jack and have flashed ability as off-the-ball linebackers. With McCray and Phillips on the roster as potential backup SAM linebackers, the Jaguars only keep five guys at the position.
Jalen Ramsey, A.J. Bouye, D.J. Hayden, Tyler Patmon, Tre Herndon
Thoughts: Ramsey and Bouye are returning as arguably the top cornerback duo in football. Behind the Pro Bowl tandem is a trio that offers versatility. Hayden, Patmon and Herndon can all play inside and outside. Hayden will inevitably get the first look at the nickel cornerback spot due to his experience and contract. Patmon and Herndon should be standouts on special teams. Herndon is the lone undrafted free agent to make the 53-man roster on this list after putting together an impressive start to training camp.
Tashaun Gipson, Barry Church, Ronnie Harrison, Cody Davis, Jarrod Wilson
Thoughts: Gipson and Church are firmly established as the starting safety duo heading into their second season together in Jacksonville. Harrison, the team's third-round pick, should be Church's immediate backup at strong safety. Davis has shown off his athleticism and coverage ability since joining the team in free agency and he is likely to be a special teams ace and backup free safety this season. Wilson gets the nod over veteran Don Carey due to his youth and upside.
Josh Lambo (K), Logan Cooke (P), Carson Tinker (LS)
Thoughts: Lambo, Cooke and Tinker are competing against the rest of the league at this point. As long as the trio performs well during the preseason, the group of specialists should have jobs on the main roster. Cooke, a seventh-round pick, has recently shown his big leg in practice and his directional punting has been strong throughout training camp. Lambo has missed very few field goal attempts and it seems like his consistency from last season has carried over. Tinker appears to be fully recovered from his ACL surgery from a year ago.
QB Tanner Lee, RB Tim Cook, WR Shane Wynn, LB Andrew Motuapuaka, CB Quenton Meeks, CB Dee Delaney, TE David Grinnage, DT Lyndon Johnson, WR Allen Lazard, OT Brandon Smith
Thoughts: The Jaguars signed a handful of talented undrafted free agents this offseason but the main roster is just so stacked with proven commodities that a good portion will be cut in September. Luckily, the Jaguars have 10 spots on the practice squad and they can stash a decent chunk of talent - in this case, six undrafted rookies and a sixth-round quarterback - within that unit.
Lee has put forth a strong week of practices heading into the preseason but his initial sessions left a lot to be desired. Out of all the players on this list, Lee has the best shot at the main roster, as a sensational preseason could force the Jaguars to stash him on the main squad. Meeks, Delaney and Lazard joined the roster with plenty of hype from the draft community but they play at incredibly deep positions on the Jaguars' roster. Lazard and Meeks may have a tough time passing through waivers if they flash during the preseason.
Cook and Wynn were tough cuts, as they are good enough to be on a 53-man roster. Cook has a shot of making the team as the fourth running back but he needs to show he belongs during the preseason. Wynn has been a training camp darling for three years and injuries have played a factor in stunting his success. He is competing with Jaydon Mickens and Rashad Greene for the sixth wide receiver spot.