JACKSONVILLE, Fla. – Faith can be shaken by adversity, especially when faced with heavy burdens to overcome.
For Jaguars cornerback Aaron Colvin, adversity has only made his beliefs even stronger. The 24-year-old has been through a lot in his football career, especially during his three-year NFL journey. Through it all, Colvin has kept perspective through his religious beliefs.
The former fourth round pick began his rookie season recovering from ACL surgery, but was able to will himself back onto the field for the final six games of his first year. His performance during those six games, along with his work in the following offseason made the coaching staff take notice and name him the starting right cornerback last season.
Colvin started 15 games in his second season and everything seemed on upswing. However, in the middle of his third offseason, Colvin found out he was being suspended for four games for violating the league's policy on performances enhancing substances.
Colvin quickly admitted he made a mistake and took something he shouldn't have. The four-game ban was a setback for an up-and-comer like Colvin, who led all NFL defensive backs with four sacks last season.
Still, Colvin kept his faith.
Understanding that he would be gone for the first four games of the season, Colvin accepted the cards he was dealt and made a decision that could go a long way in making the Jaguars successful early on this season.
Colvin met with head coach Gus Bradley and volunteered to take a backseat to newly-added players like Prince Amukamara and Jalen Ramsey, so they could prepare themselves for big roles to start the season. Colvin's belief system helped him deal with the drop-off in playing time.
"At first it was pretty tough – I can't lie – and as a competitor, I'm sure any of these guys would feel the same way," Colvin said. "When you have to take a step back, when you know you can help this team and this defense, it can be challenging at times but you can try to find the silver linings in any situation. That's what I'm doing right now and I know this defense pretty well, so I'm just helping the new guys and the younger guys to help them go out and do some of the things that I did."
Colvin hasn't just helped his new teammates take more ownership of the defense, he has also provided educational support as well. The Oklahoma alum is constantly explaining concepts and techniques to Ramsey after practice and is one of the most approachable veterans in the locker room.
"He has been unbelievable," Bradley said. "He came to us and talked to us about, 'I understand the situation I am in and I understand what we need to do as a team. These guys need to get ready to play and if it means I have to cut some of my reps or get them in different places to do that then I understand that.' He has been phenomenal. He has been phenomenal. I have seen him helping guys. I think he has had a good couple of days too."
Even with the step back in playing time, Colvin has been able to show off his skills in camp. His play hasn't dropped off in the slightest, as he has still been effective on cornerback blitzes and breaking up passes in coverage.
While Ramsey, Amukamara and Davon House have taken the majority of the first team reps, Colvin has helped his teammates and focused on the mental aspects of practice. A young veteran, Colvin is still adjusting to being a guy that is looked to for leadership and advice.
"It's weird man, it's crazy because I'm only going into my third year," Colvin said. "But I'm mentoring a rookie and it's different. I take it as a challenge."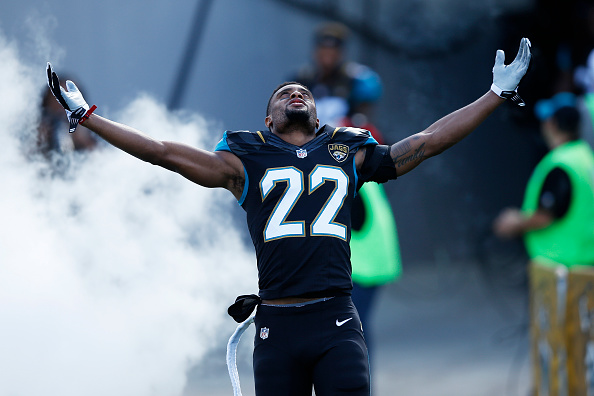 Colvin realizes that once the preseason concludes, he will have to distance himself from the team. While that will obviously be a difficult process, Colvin is doing everything he can to prepare himself for post-suspension play.
"Right now I'm just going balls to the wall on everything, just trying to stay as mentally and physically prepared as I can because I can't be around for four weeks," Colvin said. "I have to take advantage of these reps but when I get back I don't want to miss a beat."
Colvin has remained upbeat about the difficult process. He knows he is being tested but realizes that a four-game suspension will not ruin his season or his career. He will serve his time and make the most of his opportunities when he gets back.
Every day before practice, Colvin takes a knee on the practice field and prays. Despite having his faith tested, Colvin continues to dedicate his life and career to something bigger than him.
"I try to pray every time I step on his field and it's really just to give God glory," Colvin said. "I'm not playing [football] for myself, I'm playing for him, so my situation now or any situation I might go through, I'm always going to be alright because he's got my back."
Colvin is expected to make his regular season debut on October 16 during the Jaguars' Week 6 matchup against the Chicago Bears.