The Jaguars added some major talent to the defensive line during the first round of the NFL Draft.
Jacksonville selected Florida defensive tackle Taven Bryan with the 29th overall pick on Thursday night.
DOWNLOAD: The free First Coast Football App for Jaguars stats, scores, analysis, stories and more
The 6-foot-4, 291-pound defensive lineman produced 67 total tackles (10.5 for loss), 5.5 sacks, seven quarterback hits and two forced fumbles during his three-year tenure at Florida.
The Casper, Wyoming native ran an impressive 4.98-second 40-yard dash at the NFL Combine in Indianapolis in February. He also produced 119-inch broad jump and 35-inch vertical jump.
Bryan will now look to earn his way into the Jaguars' talented defensive line rotation. The Jaguars' lineup already features Pro Bowl defensive tackle Malik Jackson at three-technique. Jackson is flanked by well-paid nose tackles, Abry Jones and Marcell Dareus. Jacksonville also has Eli Ankou and Mike Bennett as deep reserves at the position.
The Jaguars view Bryan as an ascending player, who can work at a few different spots. Bryan played mostly at three-technique for the Gators but could line up at the big end or nose tackle positions for the Jaguars.
The first-round rookie is likely to be heavily involved in the team's pass rushing situations. While he has work to do from a technique standpoint, his athletic ability should help him get on the field quickly.
Executive VP of Football Operations Tom Coughlin said Bryan was the top-rated player on the Jaguars' draft board. The team chose not to address more pressing needs at linebacker, tight end and guard in order to select Bryan.
This marks the 10th time in franchise history that the Jaguars have selected a Florida Gators prospect. Jacksonville has selected an in-state college prospect in each of general manager Dave Caldwell's six years with the franchise.
KAYE'S TAKE: While the Jaguars had needs elsewhere, they continued to build on a strength, which was the defensive line. As I said in my pre-draft thoughts, good teams continue to build on the spots they are already good at. Bryan is a developmental interior pass rusher with a lot of upside.
In both of my mock drafts, I had Bryan going much earlier than the 29th overall pick. He could start on teams like the Dallas Cowboys and Atlanta Falcons. Instead, he will serve in a rotation behind one of the strongest trios of defensive tackles in the game.
Bryan is a pick with an eye towards the future, as the Jaguars are likely to part ways with at least one of their high-priced defensive tackles after this season. Bryan would seemingly serve as Jackson's main backup, which should keep the veteran fresh for the playoffs.
While this pick may have come out of left field, it's hard to openly groan about Bryan's selection. He makes the defensive line rotation stronger now and in the future.
Jaguars Draft History: Jacksonville's first-round picks through the years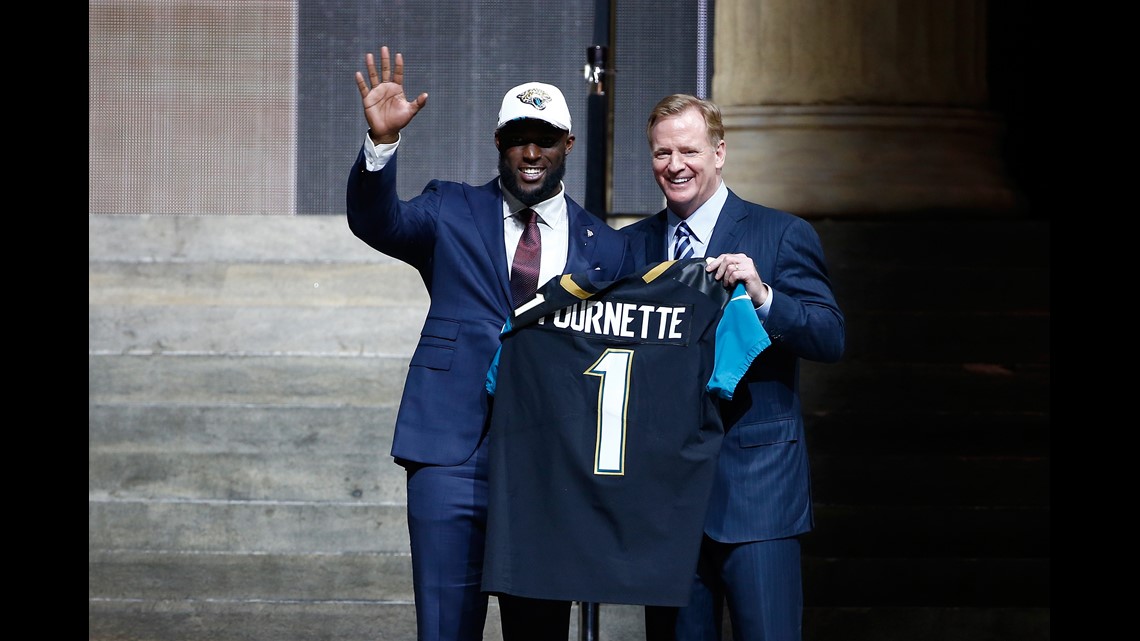 JAGUARS REMAINING PICKS
First Round: 29th overall: Taven Bryan, DT, Florida
Second Round: 61st overall: DJ Chark, WR, LSU
Third Round: 93rd overall: Ronnie Harrison, S, Alabama
Fourth Round: 129th overall: Will Richardson, OT, NC State
Sixth Round: 203rd overall: Tanner Lee, QB, Nebraska
Seventh Round (2): Leon Jacobs, LB, Wisconsin (230th overall), Logan Cooke, P, Mississippi State (247th overall)
Follow Mike Kaye on Twitter at @Mike_E_Kaye.