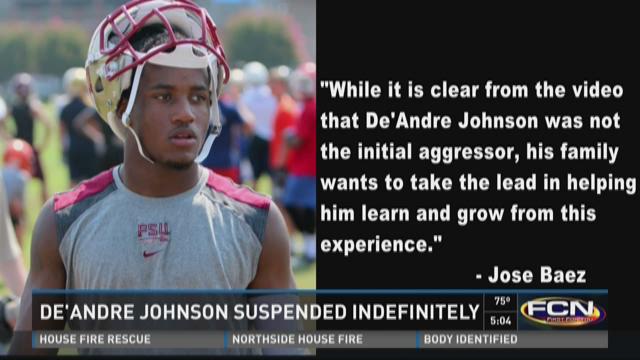 TALLAHASSEE — A probable cause affidavit has revealed new information on Tuesday in the arrest of former Florida State University quarterback De'Andre Johnson.
FSU football head coach Jimbo Fisher announced that freshman quarterback De'Andre Johnson had been dismissed from the team Monday.
The announcement came a few hours after the State Attorney's Office in Tallahassee released surveillance video of a recent altercation that the First Coast High School graduate had at a Tallahassee bar last month. The video shows Johnson punching the woman after a brief scuffle.
Johnson, the 2014 Mr. Football award winner in the state of Florida, turned himself in to police and was arrested last week on a charge of misdemeanor battery.
FSU President John Thrasher released a statement Tuesday in regards to the dismissal from the football team.
In the statement, Thrasher said,
I fully support Coach Fisher's decisions to immediately suspend and subsequently dismiss De'Andre Johnson from the football team. While it is always important to adhere to due process, having now seen the physical altercation captured on video, there is no question in my mind that Coach Fisher made the correct decisions. I expect all students at Florida State University, including student-athletes, to adhere to the highest level of conduct. I have no tolerance for the kind of behavior exhibited in this case. Florida State University was forged from an outstanding college for women and has a long tradition of being a caring community that demands students be treated with dignity and respect. All students must know their university will do everything it can to ensure a safe, healthy and positive environment in which they can learn and enjoy their college experience. As president, I am committed to maintaining such an environment at FSU.
According to the arrest affidavit, the incident took place around 11:30 p.m. on June 24 at Yianni's nightclub in Tallahassee. The affidavit states a woman was waiting to order a drink at the crowded bar when she felt someone pushing her from behind. After a verbal altercation, the woman raised her right arm to defend herself when Johnson grabbed her arm and pushed her. The woman then knee'd Johnson in attempt to shove him away and he then pulled her arm down at the same time. That's when the woman attempted to hit the Johnson and he retaliated by punching her in the her face.
The affidavit states a witness heard the woman yell "no" to Johnson twice before he punched her in the face. The woman suffered bruising under her left eye, swelling to the left cheek and upper lip and a small cut near the bridge of her nose. The woman did not know Johnson, according to the affidavit.
Johson's lawyer, Jose Baez, released a statement Tuesday in regards to the now former Seminole quarterback's dismissal from the FSU football team following Monday's release of surveillance video that allegedly shows Johnson punching a woman in the face at a Tallahassee bar last month.
In the statement sent to First Coast News, Baez stated:
While it is clear from the video that De'Andre Johnson was not the initial aggressor, his family wants to take the lead in helping him learn and grow from this experience. He is currently participating in community service, and faith-based programs focused on battered women, substance abuse, and the empowerment of children. De'Andre is extremely embarrassed by this situation and would like to express his heartfelt apologies to everyone, including those who were directly affected, Coach [Jimbo] Fisher and his teammates, the entire Florida State University community as well as his family and friends.