Wednesday was team picture day and the Jacksonville Icemen were in a good mood. The team, while not as successful on-ice as some would have hoped, has been a smashing success in their first year on the First Coast. The team ranks 4th in the 27 team ECHL in attendance going into the regular season's last weekend, an average of nearly 5,700 fans packing the lower bowl at Veterans Memorial Arena in a city not known as a hockey hotbed until now.
"A lot has come together and there are a lot more hockey fans than most people thought living in this area." Icemen president and part-owner Bob Ohrablo told me just after he posed for pictures with his team.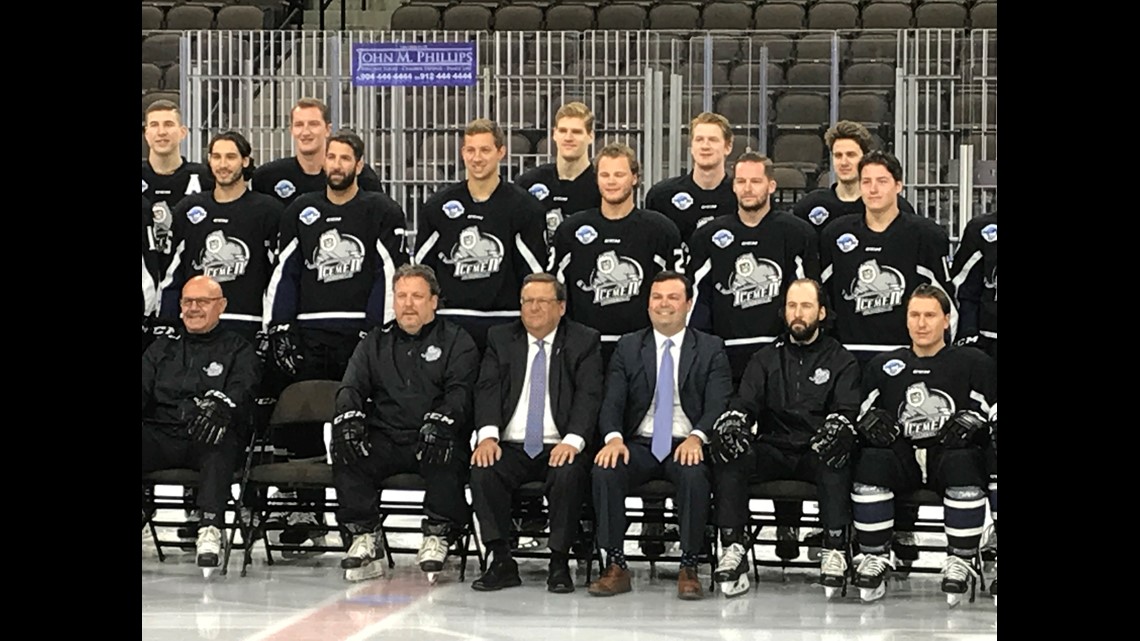 "The experience in Jacksonville is amazing, the fan support. We struggled at the start of the year and they still stood by us. I thought it was one of the best rinks I've ever played in." Icemen captain Garrett Hunt told me.
The Icemen franchise itself took last year off. Before that, they had played in the Evansville, Indiana area before Ohrablo's group decided to bring the team to Jacksonville.
"A lot of players that we play against that come here and play always tell me Wow ... what a great atmosphere it is here." Hunt said.
It's not just the fans that have embraced the move.
"The business community has been outstanding. We have a large segment of our season ticket base that are corporate season tickets. We do a lot of work with the businesses that buy sponsorships and corporate season tickets to make sure they start doing business with eachother." Ohrablo said.
Ohrablo also cited the success of the team's promotions including a "Military Weekend" and "Faith and Family weekend" for bringing out big crowds. He also talked about their unique partnership with their neighbors from across A. Phillip Randolph Boulevard, the Jacksonville Jumbo Shrimp. The team hosted a Jumbo Shrimp night and sold out of "Jacksonville Frozen Shrimp" t-shirts.
"That was a great night here. Ken Babby's a huge hockey fan as are most of the guys that work at the Shrimp. We are looking forward to them having a great season and for Icemen night at the Jumbo Shrimp."
While admitting year one exceeded his expectations, Ohrablo says they are just getting started and are expecting even bigger crowds in year two. Once the offseason starts, his focus will be on making the Icemen an even stronger presence in the community.
"This is my 33rd season in hockey and I gotta tell you, I'm not just saying this, this is the most fun I've ever had." Ohrablo said.
Speaking of the Jumbo Shrimp, Jacksonville's baseball team opens the season on Thursday in Jackson, Tennessee with a road series against the Generals. Their home opener at the Baseball Grounds is Wednesday April 11 against Mobile with a fireworks show to follow. Last year's home opener sold out and the team expects to sell out again. Tickets start at $5 and are available here. The 2018 edition features several top Marlins prospects including the team's #2 prospect Monte Harrison, an outfield they received as part of the trade for all-star (and former Jacksonville Suns player) Christian Yelich.
Its playoff time for the Jacksonville Giants as the team participates in the ABA championship tournament in Austin, Texas. The ABA tournament started Tuesday and the Giants were set to play their quarterfinal game on Wednesday evening. The ABA title game is Saturday.
The Jacksonville Sharks also get their season started this weekend with a Saturday road game at the Carolina Cobras in Greensboro. The arena football team opens their home season on Saturday April 14 against Massachusetts at 7 p.m. at Veterans Memorial Arena. Tickets are available for the Sharks 2018 season here.
Its been a big week for the Jacksonville Armada as well. The team, which will compete in the National Premiere Soccer League this season, will get to compete in the U.S. Open Cup tournament. The Open Cup features teams at all levels from Major League Soccer to amateur leagues. The Armada will participate in a play-in game against Villages FC from near Orlando in early May. The Armada's participation was not a sure thing until last Friday, when U.S. Soccer announced Jacksonville, along with fellow former NASL franchises Miami F.C. and New York Cosmos, would be allowed in to the annual Cup event.