The West Mims fire has burned about 152,000 acres and is 60 percent contained. As of Friday, 804 personnel are on the scene fighting the fire.
Thunderstorms on Saturday afternoon brought rain and cooler temperatures, helping firefighters improve containment lines and treat hot spots in all areas of the fire.
Highway 121 and Highway 94 have reopened as well.
The evacuation order for Georgia Bend, St. George, Canaday Loop, and Moniac residents was lifted on Saturday, May 13.
Residents in parts of Western Nassau County have also been told to be prepared to leave if the fire spreads across the state line.
Fire Map Update 05/13/2017 https://t.co/lCNvdGnRp9 pic.twitter.com/ndzTO13W7i

— NassauEM (@NassauEM) May 13, 2017
The fire line has jumped Highway 94 again and is headed towards the Canaday Loop, Moniac, and Georgia Bend communities.
A Charlton County representative said, "first responders are not coming door to door because they are fighting this approaching fire to try to save homes."
One man who lives near evacuated area tells us he's monitoring the fire to see if he has to leave. He has a wife and 3 little girls @FCN2go

— Juliette Dryer (@JulietteDryer) May 8, 2017
There are no mandatory evacuations in Nassau County.
PHOTOS | West Mims Fire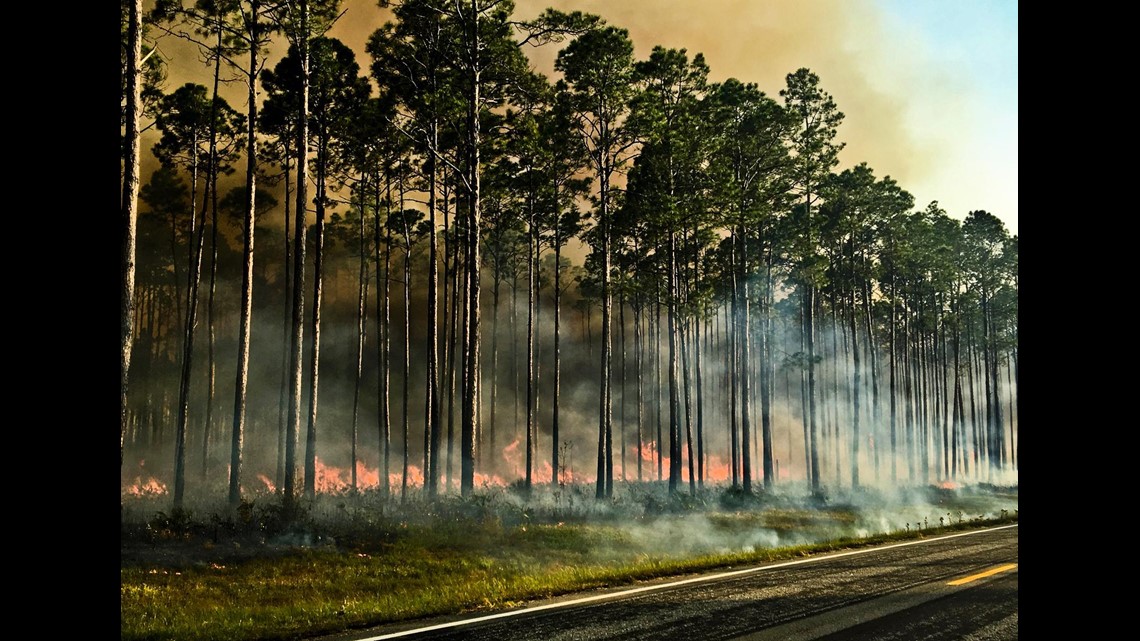 Over 800 firefighters and emergency workers are assigned to the fire. Crews from 36 states plus Puerto Rico and Washington, D.C. are helping fight the fire.
The US Forest Service is no longer proceeding with temporary operations at Cecil Airport due to fire activity being minimal over the last several days. A VLAT will be based in Chattanooga ready to respond to the West Mims Fire, according to a Forest Service spokesperson.
If fire conditions change, the Forest Service said it could get a temporary station up and going at Cecil Field within about a week time period.
Smoke from the fire can be seen all over the First Coast, ranging from Nassau County to Duval to Clay County. First Coast News viewers said they saw ash falling in those areas as well. Residents were urged to not breathe in the smoke or ash and to stay indoors if possible.
%INLINE%
West Nassau residents advised to make preparations in case an evacuation becomes necessary. #WestMimsFire https://t.co/zeiOiZoObI

— NassauEM (@NassauEM) May 7, 2017
Nassau Emergency Management advised residents along County Road 121 and the St. Marys River to make preparations now in case an evacuation order becomes necessary.
PHOTOS | West Mims Fire smoke seen from the First Coast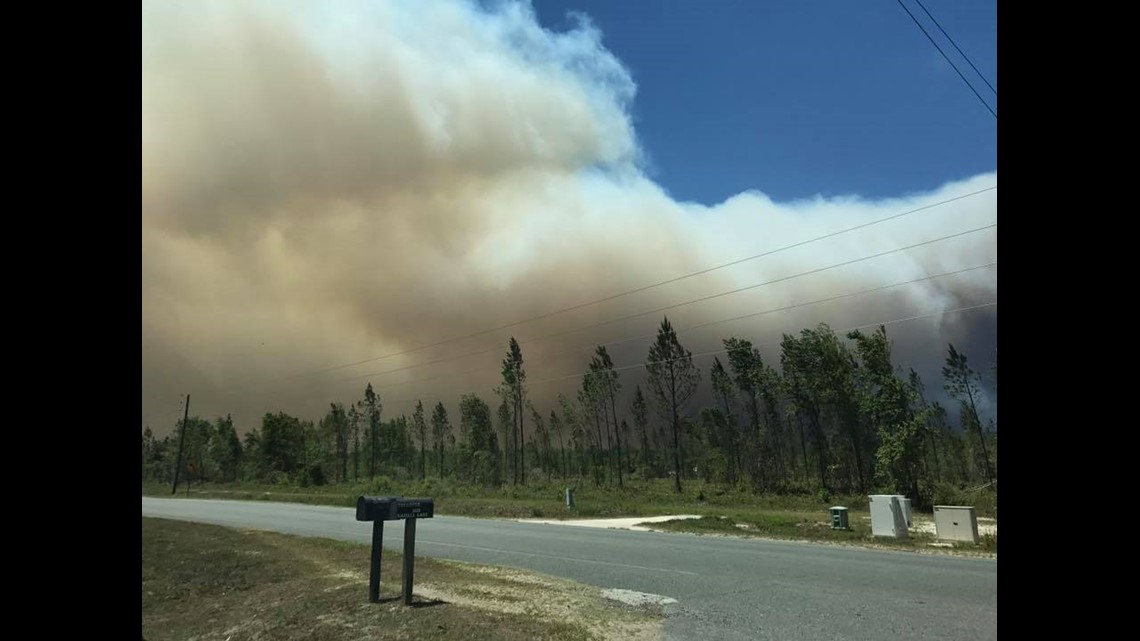 Burn permits are not being issued in Clinch or Ware counties due to high fire danger.
Bradford County Emergency management warns there will be heavy smoke throughout Bradford Co for the next several days due to wind shift from the West Mims Fire.
Nassau County Emergency Operations Center is open. If you have questions, please call 904-548-0900, option 1.
Current evacuations and road closures:
The Charlton County evacuation area has now been expanded to include the entire southern half of the county, including Canaday Loop, Georgia Bend, and all locations with an address in Moniac or St. George. A shelter is open at the Camden County Recreation Center, 1050 Wildcat Drive in Kingsland (912-729-5600).
Hwy 177 is closed 11 miles north of the intersection with GA 94 at the entrance to the Stephen C. Foster State Park
Roads may be temporarily closed, as needed, due to smoke or equipment movement.
Burn bans are in effect for the entire First Coast area; southeast Georgia and northeast Florida.
Charlton County school schedules:
Charlton County High School, Bethune Middle School, and Folkston Elementary School resumed classes Tuesday, May 9. (Students who attend Charlton County High and Bethune Middle who live in St. George will be excused from school.)
St. George Elementary School is closed for the rest of the week through the end of Friday, May 12.
School transportation won't be available for south of Ruth Petty Road.