KNOXVILLE, Tenn. — A veteran of the Air Force in East Tennessee served six presidents, more than any other Air Force One crew member.
"Just because you start somewhere, doesn't mean you have to end up there," said Kim Johnson, who recalls naysayers telling her growing up in Louisiana that she would be barefoot and pregnant by age 15.
Service and Sacrifice: Air Force One veteran 
Service & Sacrifice: A veteran's historic service aboard Air Force One
"I'm the only one who served under six presidents. No other crew member can say that through the history of Air Force One."Author: John BeckerPublished: 11:38 PM EST February 20, 2020Updated: 4:39 PM EST February 21, 2020
KNOXVILLE, Tenn. — A veteran of the Air Force in East Tennessee served six presidents, more than any other Air Force One crew member.
"Just because you start somewhere, doesn't mean you have to end up there," said Kim Johnson, who recalls naysayers telling her growing up in Louisiana that she would be barefoot and pregnant by age 15.
"My long-term goals were to travel, get an education, and have a family," said Johnson sitting in a room full of memorabilia from her decades of service on Air Force One. 
She accomplished all three goals. She became a mother to six children, 13 grandchildren, and two great grandchildren, plus she earned a couple of administrative and paralegal degrees. She also received a series of decorations during her 26 years of service in the Air Force and 22 years with the federal government.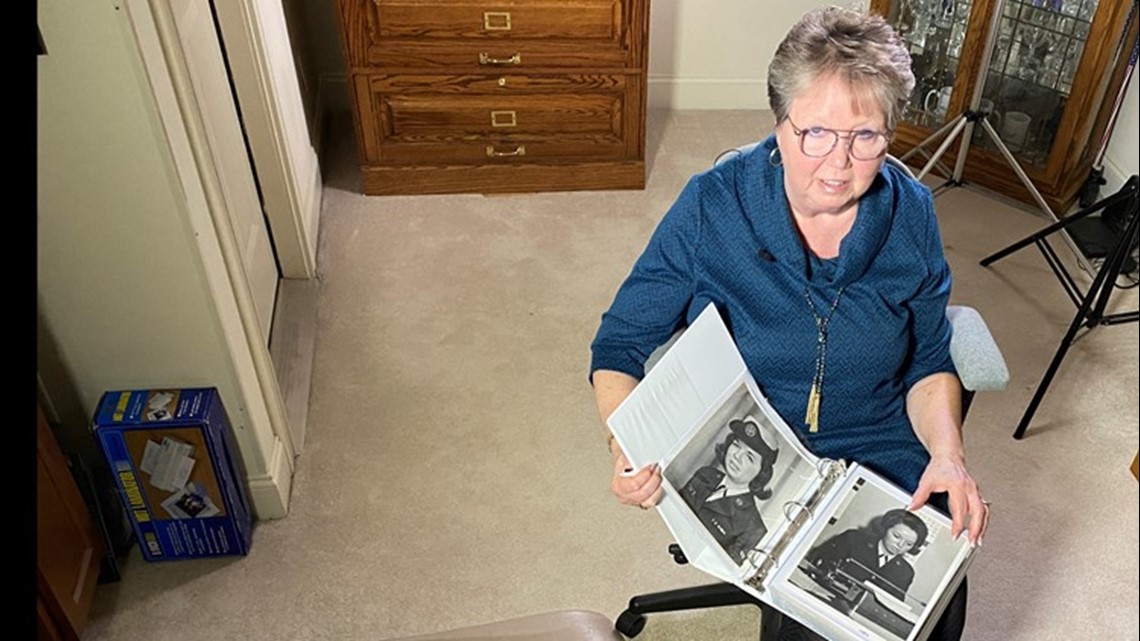 "I've been all around the world…probably easier to count the countries I haven't been to than the ones I have," said Johnson turning the pages of a scrapbook binder holding signature photos of presidents: Nixon, Ford, Carter, Reagan, Bush, and Clinton.
"My plans were to go to cosmetology school, get my degree," said Johnson who saw the Air Force as her ticket to higher education and joined at the age of 17 — heading to Vietnam in September of 1969.
"I had only been in country two months and a truck was blown up in front of our hotel…and I was like, I'm ready to go home," said Johnson, who stayed almost two years and credits her experience and contacts during that time in her life with helping her land the job on Air Force One.

Aboard that famous plane Kim Johnson served as administrative assistant to the president. That meant whenever a president stepped aboard the airplane without regular staffers, Johnson was his direct administrative support.
"You would think they would have the latest and greatest technology, no we had a selector typewriter," said Johnson recalling what it was like to take down dictated campaign speeches from President Jimmy Carter as he crossed the country campaigning.
n addition to sharing memories about individual presidents in our on-camera interview, Kim Johnson took time to answer the following 10 questions about the impact of her military service on the rest of her life.
1. What one person influenced you most in life?
Actually, I had three – two while growing up in Louisiana – my 7th grade history teacher and basketball coach, (the late) Prentiss Ferguson, who never let me give up and pushed me through trying times when growing up. My 4H Extension Agent, Carolyn Phillips, my mentor and friend who challenged me to enter different competitions of leadership, sewing baking, etc. and always ensured I had the materials required. Phillips was responsible for my winning almost every competition entered and resulted in my attendance at Short Courses at Louisiana State University during summers between Freshman and Sophomore; Sophomore and Junior years; and, in June 1966.
After joining the Air Force, I was assigned to Southeast Asia at MACV Headquarters in Saigon (now Ho Chi Minh City) with orders to work for USAF Brigadier General James VandeHey who was the Deputy Chief of Staff for MACV. He took me under his wings, was a mentor and taught me to always do the best you can at whatever task assigned. He pushed me to begin sooner than later to get my education and provided the means to do so. He taught me the politics of the military, served as my sponsor (so to speak) and followed my career providing guidance as needed and/or requested. Once I decided to make the Air Force a career and I wanted to be a CMSgt the best advice he gave me was to not lay my Professional Military Education materials down until I had a Line Number for CMSgt. I followed his advice literally. By law, only one percent of the total force can hold this rank and at the time I received a line number there were only 113 females holding the rank and ten or eleven had submitted retirement papers. This individual was also somewhat responsible for my making the Air Force a career and an opportunity for a career that most people only dream of and that is being assigned to the Presidential Aircrew under six different administrations, flying all over the world and getting paid for it.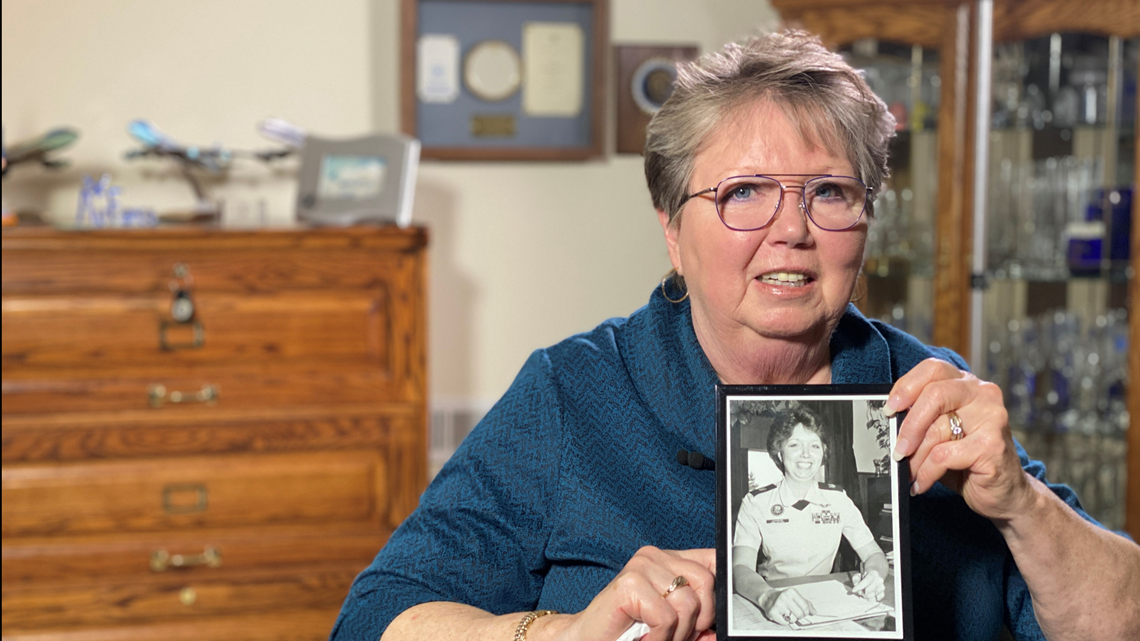 2. Do you feel honored and respected for serving your country?
Yes, I do. When individuals find out I have served, most of the time they shake my hand and thank me. There are also plenty of organizations who show their appreciation in other ways. Usually during special events, concerts, etc., military are recognized. I feel very honored to stand up for my service and my country.

3. How can people thank you for your service?
I don't feel that people need to thank me. I made the choice to serve for my own personal reasons; however, I still get that proud "blue feeling" when I'm thanked for my service.
4. How do you honor your fellow service men and women?
I try to offer my help to older veterans. Pretty much 99 percent of the time if someone is wearing a hat with a military designation, I will ask them their affiliation, introduce myself and thank them for their service. I am a member of the VFW and participate in fundraisers. When someone is in uniform, I will always try to shake their hands, thank them for their service and offer my assistance if ever needed.

5. How do you think this generation of military men and women is different or similar to yours?
The current generation of military men and women don't have a clue. They come into the military for the benefits and with the belief they will never get deployed, and, when ordered on a deployment look for reasons not to go and how to get out of the deployment. I believe or think the new generation is not being brought up to respect our country and therefore, the pride in defending our country is missing.
6. What influence did your military service have on the rest of your life?
My early supervisors put me on a good path in being a good mentor and leader. My first OJT (On The Job Trainer) was a Radar Operator and my AFSC (Air Force Specialty Code) was Administration. During my six months of training, he knew my materials as well, if not better than me. I never forgot this and throughout my career applied the principle of caring and leading. The different styles of leaders I worked with and observed have served me well in both my professional and personal life.
7. Does your family have a history of military service?
No, I was the first from my immediate family who joined. Three years later, my sister joined and after a couple of years hated it and began looking for ways to get out. I had one uncle and cousin from my Dad's family who served in the Marines and one uncle from my Mom's family who served in the USAF. My son served in the USAF for one term of four years.

8. Would you encourage younger generations in your family to join the service?
Yes, I would and I have. I have also encouraged them to look at national service organizations in service to our country.

9. How has your opinion of war changed?
It's actually scary. Our wars throughout the world have changed and are now much more dangerous. We lost many in World War II, the Korea and Vietnam war and military members were returned in body bags. Although we have also lost many in the current war for different reasons, I believe it is now more chemical in nature which causes long-term care. I don't think our leaders look as closely at alternatives or other options to war versus stronger negotiations and alternatives. We should have been out of the current war at least ten years or more.
10. How did your military experience shape your religious faith?
My faith as a Southern Baptist never wavered. Although my father was an alcoholic, my mother always made sure we were involved in church. As I made the different moves in the military, I always sought out a nearby small baptist church and worked with the youth programs. While overseas, I attended and worked with the chaplain's program.