Few people know Florida's gubernatorial candidates better than their wives. Both Casey DeSantis and R. Jai Gillum are forces to reckon with on their own. They're strong, educated and resilient.
Casey DeSantis has been called Republican candidate Ron DeSantis' secret weapon. The award-winning journalist and once champion equestrian could potentially become the next First Lady of Florida.
During the political season, we all expect things to heat up. Ads get nasty and some take a seemingly odd turn. Casey and her children took center stage in an ad that gained attention and criticism.
Mason, 6 months, and Madison, nearly 2, appeared on camera reading a "Make America Great Again" book and with toy blocks in hand, Madison could be seen building a wall, suggesting to support President Trump's agenda.
"You have to look at it in perspective," Casey said. "There were millions of dollars in negative attack ads against Ron, special interests. That was kind of where we were and we said well how do we respond? We responded with humor. We had fun I think a lot of people liked it and they got the joke."
She's no stranger to the spotlight. For years, her inviting smile graced local airwaves in Jacksonville. Casey hosted shows on the PGA TOUR and at First Coast Living.
Her entrance into television news was a detour for the College of Charleston grad who majored in economics and minored in French.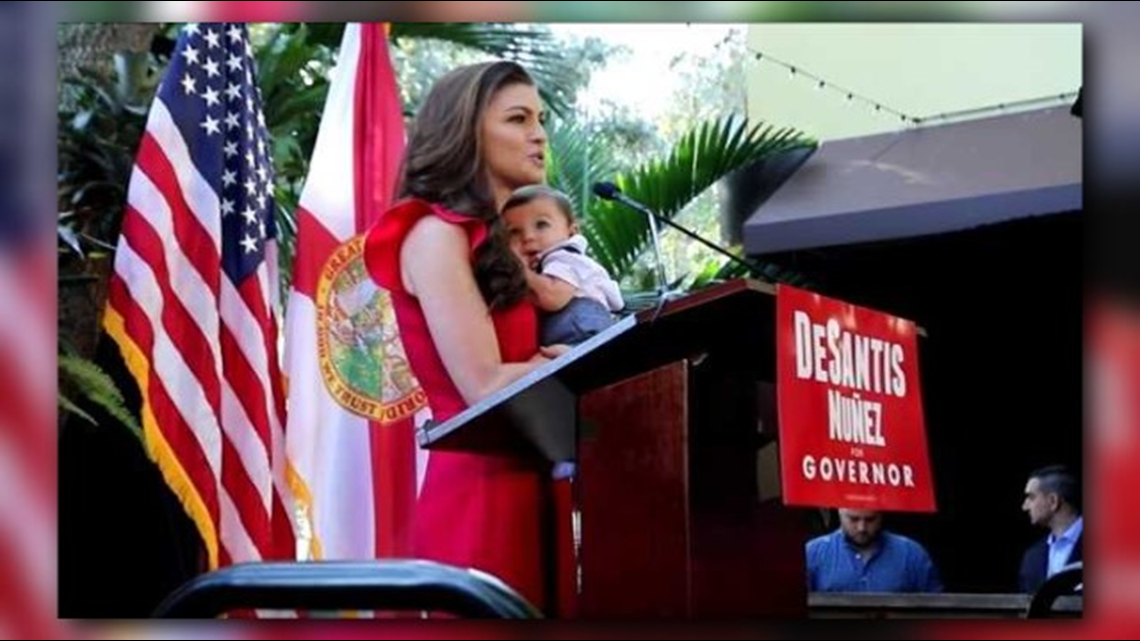 Raised in Troy, Ohio it was television news that brought Casey to the Jacksonville, Fla. and a game of golf that landed her in Ron DeSantis' sights.
"We met at the University of North Florida at the driving range off Kernan," Casey said. "I kept looking over my shoulder because I wanted the bucket of balls that somebody had left because my swing was so terrible. I needed as much practice as I could possibly get. As I'm looking over behind me, Ron is over there. He thinks I'm looking at him. I was really looking at the balls. Long story short we started to talk and that's how we met."
She lights up talking about her Navy man and recalls the day she feared losing him. On June 14, 2017, there was a shooting in Washington at a congressional baseball game where Ron was in attendance.
"I was here at the station that morning when I look up and I see our news covering a congressional baseball shooting and I knew that my husband was there," she said. "I don't think you can put words to what that does. I mean that's your husband, that's your family and you think about something like that happening. Beyond words to decribe, it was one of the most difficult days of my life."
She's had many proud moments by his side supporting his dreams and says he, in turn, has done the same.
"He's always been a guy that's been pushing me in the right direction to succeed and I think that's very special," she said.
When he's home she says her husband is a hands-on dad. He washes dishes, changes diapers and allows her to enjoy time away from the seemingly never-ending duties of motherhood.
"He does a good job," she said. "I'm very appreciative of the job he does when he gets the chance to be home."
Life on the campaign trail has been hectic with two kids in tow but Casey says she's learning firsthand about issues affecting Floridians such as the toxic algae crisis.
"When I hear stories of mothers saying they don't want their kids to swim in the water because they're afraid of what could happen to them or worse my child went into the water and I wound up in the emergency room the next day, to me that's not ok, that's not Florida," she said. "We have to fix this problem and I know that Ron is very committed to fixing it and so am I."
When asked about the conversation between her and her husband when he decided to run for Florida governor, she says it was quick. She believes in him, knows he's in it for the right reasons and was instantly ready to back his decision to run.
Friday night at 11, you'll meet R. Jai Gillum. She opens up about infertility issues, life on the campaign trail and the possibility of her husband potentially became the first black governor of the state of Florida.