King is a registered therapy dog who visits both Community Hospice and Baptist Beaches where he spends time with patients cuddling them and providing that big pit bull smile.
When his owner, Carol Altieri, heard that Nemours Children's Hospital needed more therapy dogs from a volunteer, she thought she would apply.
She said he was denied based on his breed.
In a phone conversation in January, Altieri said she was told that she and King would not be accepted as a therapy team because he was a pit bull. She provided First Coast News with an email she sent in January the day after she said she was told this, addressing the issue. In part, Altieri writes:
I wanted to follow up on our conversation yesterday regarding your decision that King would not be allowed to do therapy team visits at Nemours based on his breed (Pit Bull) even though he is a registered Therapy Dog through Alliance of Therapy Dogs, a Nationwide therapy dog association.
As we discussed yesterday, choosing a Pit Bull as my therapy dog was very purposeful as I strive to help curb the false and negative stereotype that the media unjustly portrays. King is a gentle, loving dog and a wonderful ambassador for his breed. His therapy dog evaluator called him "a natural therapy dog".
I offered to bring King to meet you and the committee and also offered to have him temperament tested by anyone of your choosing. It is very concerning to me that he was denied solely based on his breed and not on his individual character and merit. You (and the committee) never even met him.
In the email, Altieri included statistics like this one from the American Temperament Test Society that shows that of the 931 pit bulls (American Pit Bull Terriers) tested for temperament, 814 passed which is a success rate of over 87 percent.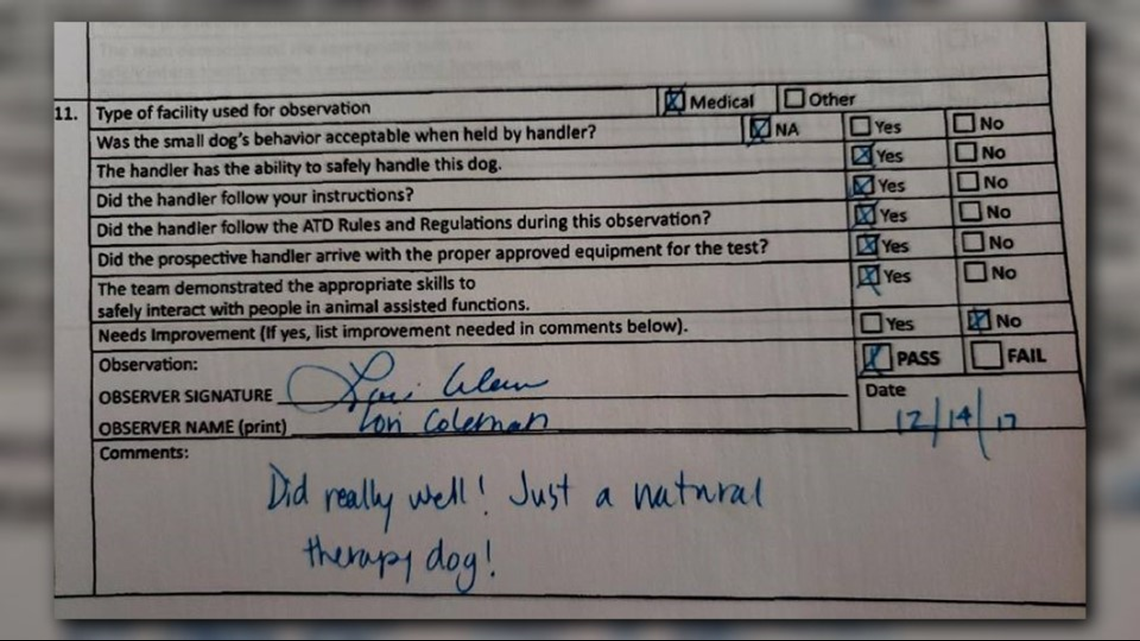 King has been certified with the Alliance of Therapy Dogs since December of 2017. He has been temperament tested by the Alliance and by an additional tester with the Baptist Beaches location in order to be cleared to be a therapy dog at the hospital.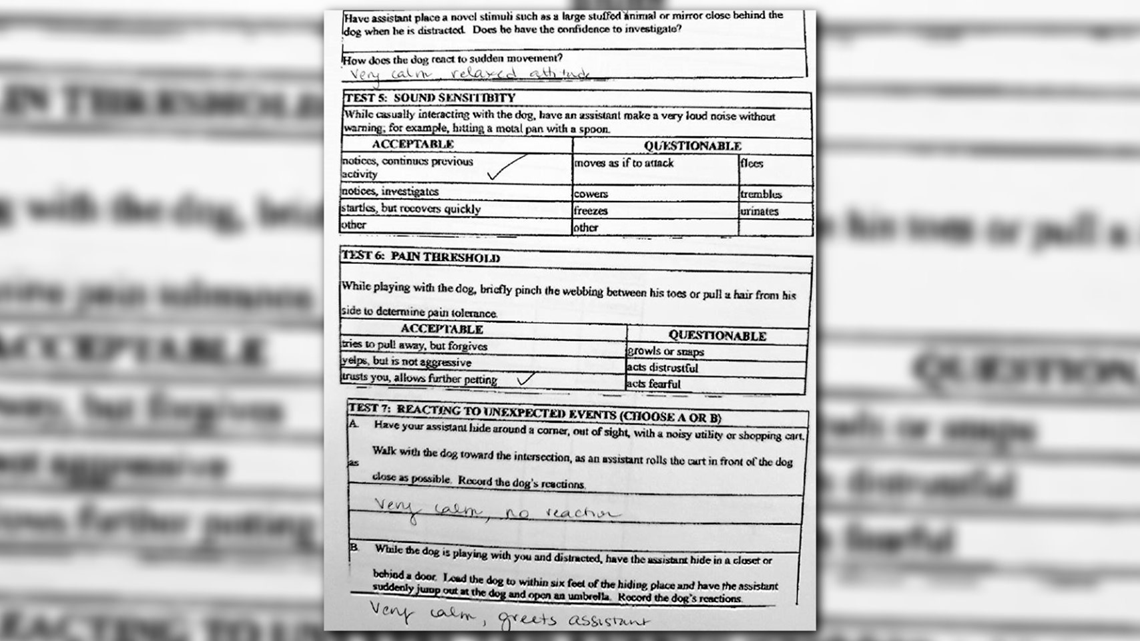 He is a calm dog and only gets excited when his owner gets his vest and asks him if he is ready to go to work. "He does so much good for so many people," Altieri said.
King visits Hospice patients and despite having arthritis in all four legs, Altieri said that he greeted a patient with stage four brain cancer by putting his front paws on the bed. King laid with the patient for nearly thirty minutes. She said that she had to help him get down because he didn't want to leave.
"They had this eye-to-eye connection," she said. "It brings tears to my eyes to see him work."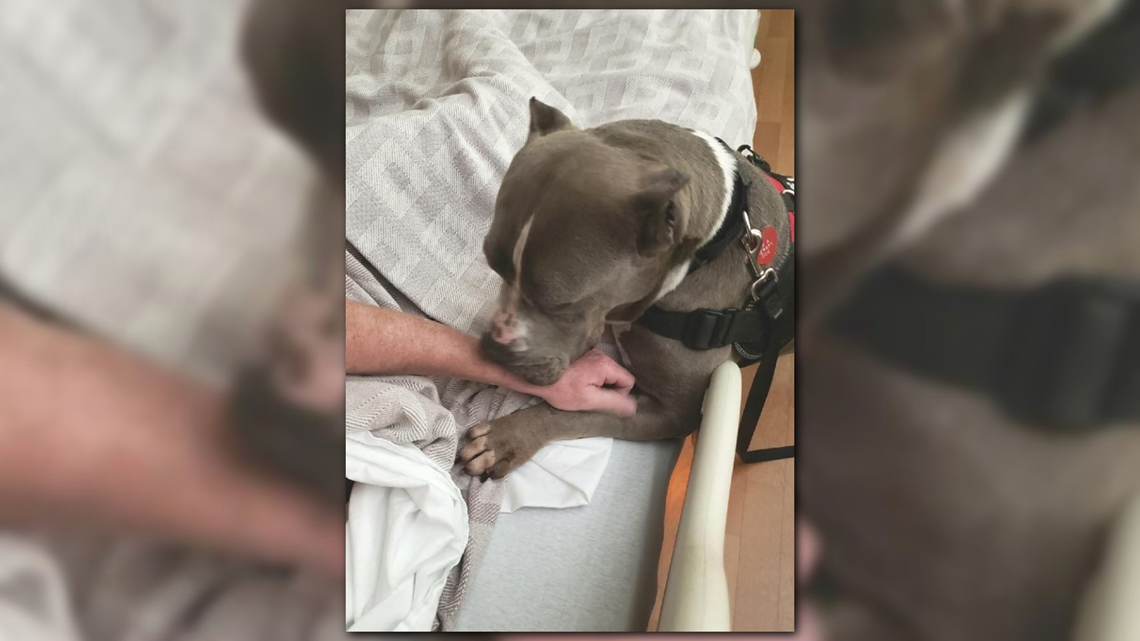 "He's an amazing dog and he has an amazing gift," Altieri said.
It was months later, in March, when King and his owner were granted what she said was a two-hour interview. "I cannot imagine any other therapy team has gone through this firing line to help other people, especially children."
Then, in April, Altieri said she received a call stating that Nemours would not be accepting her and King as a therapy team. She said when she asked why she was not provided with an answer.
"It's sad more than anything to me because he has such a gift," said Altieri, "It's not right, it's why the breed has the reputation it does. I was really surprised at this day and time we can't accept him for his breed."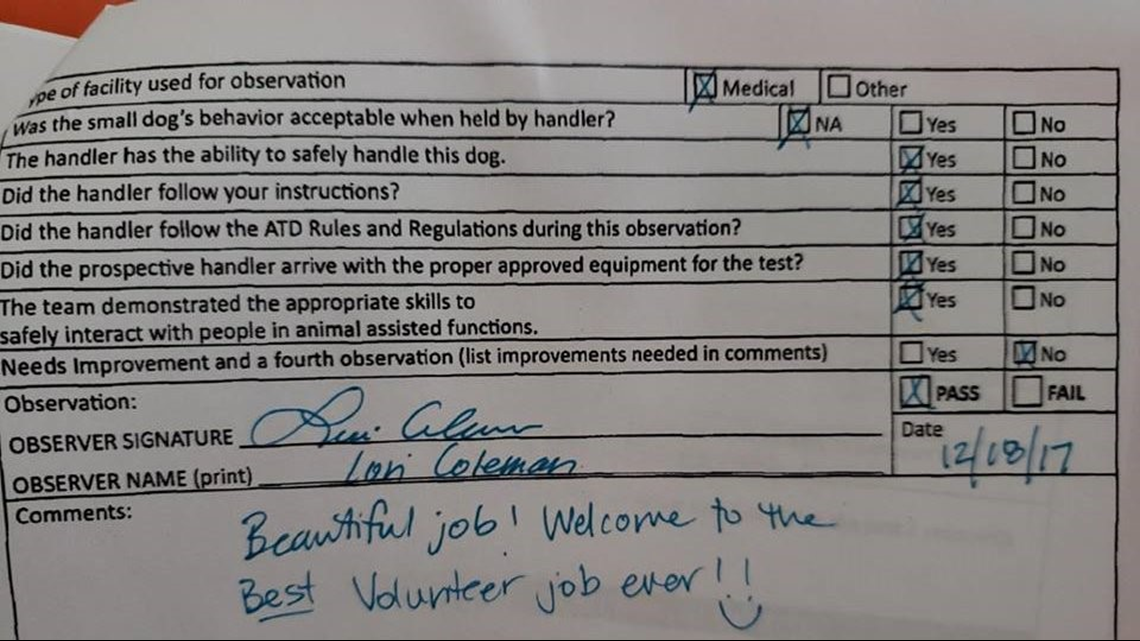 According to Nemours, there are many reasons a therapy team might not be a good fit for the hospital.
"We don't always go into the details as to why a volunteer doesn't meet the criteria," said spokesperson Erin Wallner. "Our patients and families are always our priority."
As to whether Altieri was told King could not be a therapy dog at Nemours due to his breed, Wallner said she was not present for that conversation and could not comment on it, and all official comments from Nemours must come from the spokesperson.
The Nemours in Delaware does have a pit bull therapy dog named Alfie, who is highly praised for his work with the hospital.
A post shared by Nemours (@nemourschildrens) on
When asked if other pit bulls would be turned away from being therapy dogs at the Jacksonville location, Wallner said, "We will screen animals and their owners just as diligently as we would any volunteer."
Wallner wants to encourage all therapy teams to apply as volunteers to the hospital.
The hospital has a policy, which was emailed to Altieri in January, which states that the qualifications are: any animal that has passed stringent medical and behavioral screening by a group as sanctioned by a national organization whose mission is to promote the human-animal bond and maintains current registration and current dues with that group.
Altieri feels the hospital went against its own policy.
Nemours is the first place that has denied King the opportunity to become a therapy dog.
"Everybody just loves him who meets him. A dog shouldn't be judged on his breed but on his merit."