ST. SIMONS, Ga. — Hotel drop-off was a little different Sunday for Seafarers' volunteer Rick Hindery. He dropped off the 20 rescued crew members from a capsized cargo ship in St. Simons.
"I wish we didn't have a ship sitting on its side, but the next thing we did with everything, with everyone gathering together to solve this problem as best we can," he said. "That's the good part."
Four of the crew members are still missing.
"We hope that there will be a really positive outcome for those people and that's the gray shadow with all of this," Hindery said.
The rescued crew members spent most of their day at the Port of Brunswick's branch of the International Seafarers. It's a volunteer, donation-based group that cares for anyone who may come through the port and who needs clothes, food or other supplies.
According to Hindery, most of the supplies at the center are donated by the community. A local restaurant also donated dinner for the crew members.
"With the generosity of hundreds of people, we would not be able to do anything," he said.
"They walked in with nothing," Hindery said. "They walked in with enough clothes for their immediate needs. If we could all make this problem not happen, we would all do it in a heartbeat, but to watch those guys come in and get the clothes and find shoes and all of that, I mean, certainly they'd rather be in their staterooms with their own shoes and clothes that fit, but just to go in and see a situation where people really needed something and you were able to respond quickly it just fills you with joy."
Although he and other volunteers helped the crew members call and email their families and got them extra clothes and supplies, Hindery said he doesn't see what he did as a big deal.
"My wife and I slept in this morning and got there a little before nine o'clock, so what we did was very minor considering what support was given immediately by all organizations [helping in the rescue efforts]," Hindery said.
Hindery said he wasn't sure if he would see the crew after he dropped them off at their hotel Sunday evening, but won't forget them.
"We're going to remember this for the rest of our lives, but we're going to remember the guy we took to the emergency room. We're going to remember the Sweedish cadet that said 'you would give me this book,'" he said.
"I mean, what is more trivial than giving someone a book and yet to them it touched them to a degree, and it touched them to a degree and it touched me equally," Hindery said.
The crew members said they were fine with telling their stories. First Coast News was setting up an interview with one of the men when the ship's owners said they didn't want any of those rescued to talk on camera.
One man told First Coast News off camera he fractured his foot trying to get off the ship. He was heading to bed when everything happened and was rescued by the Coast Guard by helicopter.
Some of the crew members told First Coast News off camera they were tired, shaken up and worried about the four missing crew members.
PHOTOS: Aerial view of overturned cargo ship leaking fluid into the St. Simons Sound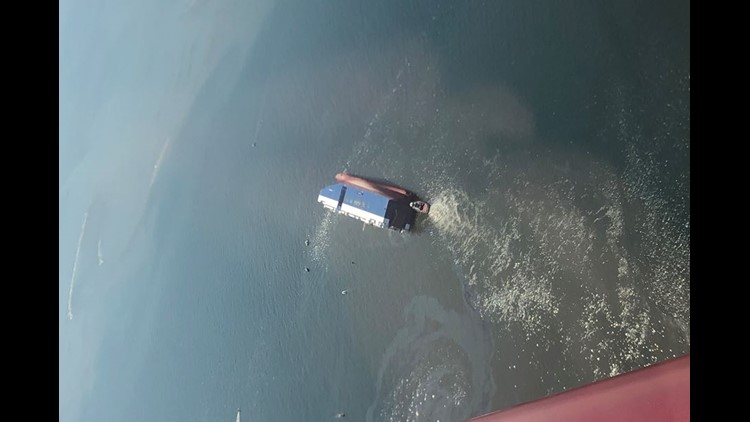 PHOTOS | Coast Guard responding to overturned cargo ship in St. Simons Sound