Dead for 30 minutes, but this COVID-19 survivor's fight still isn't over, 20 months later
Tionna Hairston has to relearn how to walk, talk, and write with no guarantee she will recover completely.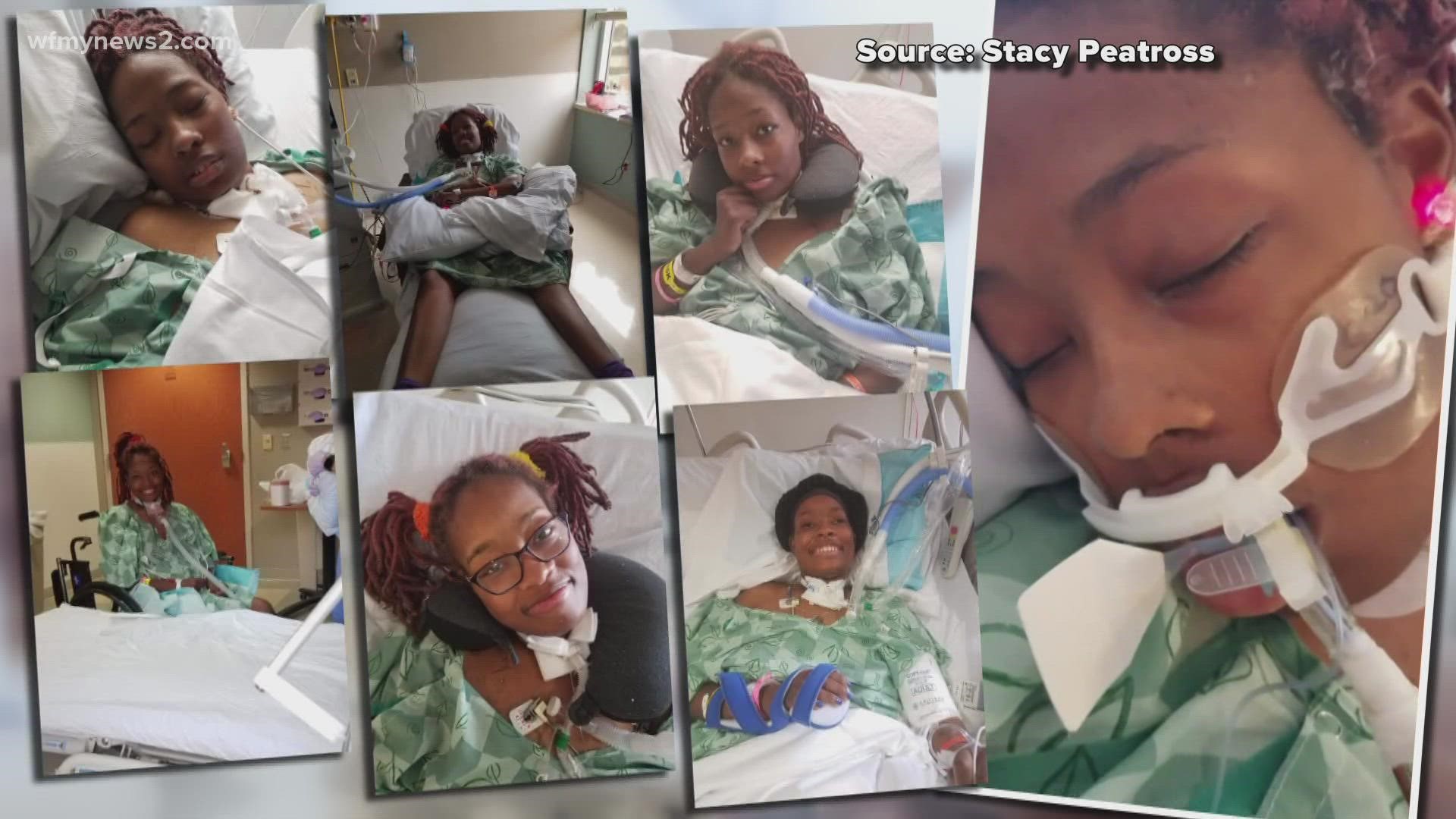 A Triad woman nearly died from COVID-19 at the start of the pandemic. Tionna Hairston's lungs, heart, and brain stopped working while she was being treated at Novant Health Forsyth Medical Center last May. Doctors say it is a miracle she survived and her quality of life has suffered tremendously and Hairston faces several more battles ahead.
This is an in-depth timeline of Hairston's story, from diagnosis to treatment and her hopes for the future.
April 2020
:
"Look what I caused!"
Tionna's mom is home fighting COVID-19
Stacy Peatross, a nurse during the height of the pandemic, contracted COVID-19 at work. Peatross received excellent care from her daughter, who nursed her back to health at home. What Peatross didn't know is that she transmitted the virus to her daughter.
Peatross returned to good health within days, but Hairston's health took a dramatic turn. What started as a cough, turned into a sudden and desperate need to get air. She was taken to the hospital immediately.
The guilt Peatross said she felt every day since then is immense.
"Watching her having to go through this struggle of not being able to tie her shoes, button her pants, not being able to fix her own meals, it's tough," Peatross said. "I watch her struggle daily and fight from a virus that I brought home. Look what I caused!"
May 2020
:
"She died for 30 minutes!"


Tionna flatlines, but her mother never gives up hope
Hairston's COVID-19 sickness was much worse than the symptoms her mother experienced. Hairston is received care at Novant Health Forsyth Medical Center and was placed on a ventilator. Hairston suffered several strokes and a heart attack before she flatlined.
"She stopped breathing. She stopped everything," Peatross said. "She died for 30 minutes!" Peatross witnessed a miracle as her daughter slightly moved her leg, showing the doctors she was alive and still fighting.
In a video Peatross recorded at the hospital, you can hear her saying, "There it goes. Halleluiah, wake on up girl!"
October 2020
:
"God had a different plan!"
Tionna is released from the hospital, but the fight is not over
Hairston's grueling six-month stay in the hospital was over! WFMY News 2 was there as the same hospital nurses, doctors, and staff who treated Hairston back to health surrounded her with cheers and applause as she left the hospital.
"Some doctors tried to prepare me and said she wasn't going to make it, but God had a different plan," Peatross said on the day she drove Hairston home from the hospital.
February 2021
:
"My daughter is a miracle!"


"They called in hospice. They said she was not going to survive and if she did, she was going to be a complete vegetable," Peatross season. "They said she was never going to smile again, would never breathe on her own again, she would never walk again. My daughter is a miracle!"
In February, Hairston was sent back home with her mom. Her road to recovery is long, but underway. She participates in outpatient physical therapy to help her get stronger. Peatross drives Hairston from their home in Rockingham County to a rehab center in Alamance County three times a week as she works to rebuild the muscles in her hands and learn how to talk and walk again.
October 2021
:
"The fight is not over!"


The long-term effects of Hairston's COVID-19 diagnosis are noticeable and long-lasting. Hairston has permanent damage to her heart. Peatross said the aneurysm she suffered at the hospital will eventually require surgery. Her ability to form sentences is noticeably slow.
"I had several strokes. My whole entire brain was affected," Hairston said.
During the interview, Hairston took 10 to 20 seconds to think about her next word or thoughts at times.
More than brain fog, her x-rays show severe trauma.
:
God's Gift


COVID-19 stole most of Hairston's talents but God left a special gift. A singer and poet before COVID-19, Hairston would perform at small venues across the Triad, at church, and with family at home. It is remarkable Hairston can sing, since the college student before COVID-19, must learn how to read and write all over.
:
Challenges After COVID-19


Before COVID-19, Hairston was studying culinary arts at a college in North Carolina. She loved to cook, meal prep, and create her own recipes. Now at 26 years old, the former aspiring chef struggles to cut bananas.
She went from reading recipes to learning how to read Dr. Seuss.
Every day, Hairston fights to do more than the day before. A home health aide works with Hairston on basic quality of life abilities, including walking, reading, writing, and therapy to restore her vision.
"Sometimes, I have to cross my eyes," Hairston said.
She's doing the hard work to get her life back and she has her sight set on recovery.
"Maybe 20 pounds lighter, fully recovered, talking better, and overall in a good place," Hairston said. "I'm grateful that I get to see another day!"
:
Tionna's Future


Hairston has plans to one day write a book about her COVID-19 journey with the title, "The fight is not over!"
Her recovery has taken a physical, mental, and financial toll on the family. Right now, they're saving money for a ramp they hope to build at the front of their home to provide safer access.
You can learn more about their need and provide help here.