Around 9 p.m., Sgt. Kunovich made contact with a man sitting in a dark parking lot outside of a business near the 2500 block of SR16 in St. Augustine. The man was later tentatively identified as Vergilio Aguilar Mendez, SJCSO said.
Mendez was being patted down for weapons by Sgt. Kunovich when he pulled away and attempted to flee. Additional deputies arrived to assist with the struggle before Mendez attempted to grab Sgt. Kunovich's taser. The struggle lasted for around 6 minutes, officials said.
Once the man was handcuffed, he pulled out a pocket knife, which was forcefully removed by deputies.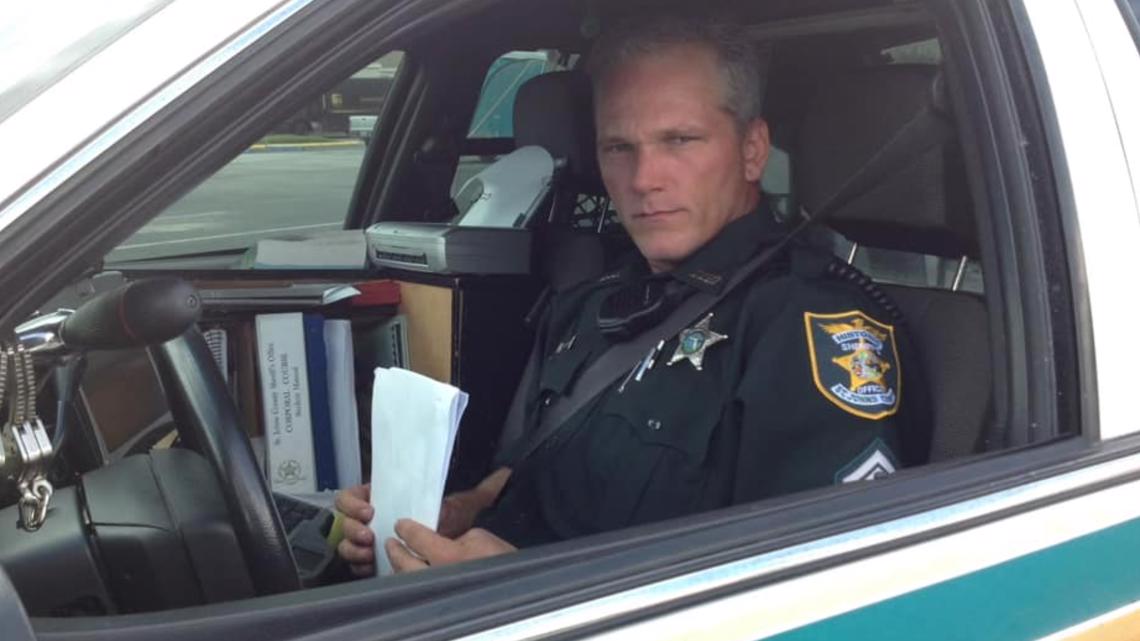 Sgt. Kunovich experienced "medical distress" and collapsed at the scene just moments after Mendez was disarmed, according to a Facebook post made by the Sheriff's Office.
Life saving measures were performed before Sgt. Kunovich was rushed to the hospital where he was pronounced dead. The SJCSO Major Crimes Detectives are actively investigating the incident.
"This has been a difficult time for our agency with the loss of one of our own. I want to thank St. Johns Fire Rescue, Flagler Health+, and our agency personnel for their lifesaving efforts on Sergeant Kunovich. I ask that you please respect the family and members of the St. Johns County Sheriff's Office as we mourn the loss of Sergeant Kunovich," said Sheriff Robert Hardwick.
First Coast News crime and safety analyst, Kim Varner, said a police officer's death is felt across the entire department.
"If you've been on for that long, 20 plus years, obviously you've made your mark on the department and you've probably built numerous relationships. A sergeant easily mentors officers into making them what they become," Varner said.
Sgt. Kunovich was with the Sheriff's Office for 25 years. Funeral arrangements will be announced soon, according to SJCSO.
Mendez is facing charges for resisting with violence and felony murder. He is being held in the St. Johns County Jail on a $50,000 bond.
Read statements made by local law enforcement agencies:
Sheriff Waters' Statement on the Passing of Sergeant Michael Kunovich:
"On behalf of the men and women of the Jacksonville Sheriff's Office, I want to extend our deepest condolences to Sergeant Kunovich's family and friends and our brothers and sisters of the St. John's County Sheriff's Office. Sergeant Kunovich's line of duty death is a tragedy that we all feel and sends ripple effects in our Northeast Florida law enforcement community. While our prayers and thoughts go out to Sergeant Kunovich's loved ones at this difficult time, JSO also vows to provide any needed resources and support to Sheriff Hardwick and his agency. At time of great sadness, we honor Sergeant Kunovich's life of public service and his commitment to serve his community until his end of watch."
"On behalf of the Board of Directors, we send our heartfelt condolences to the family, friends, and co-workers of SGT Michael Kunovich with the St. Johns County Sheriff's Office. After 25 years of dedicated services, Sgt Kunovich died last night. He was a member of the Fraternal Order of Police St. Johns County Lodge 113 and a strong leader in the agency." - Fraternal Order of Police St. Johns County Lodge #113
"We stand with and embrace our brothers and sisters from the @SJSOPIO during this difficult time. Our thoughts and prayers go to the Kunovich Family for peace and healing." - FHP Jacksonville
"Our thoughts and our prayers are with this family and the @SJSOPIO… please join us in supporting all those in need now." - JFRD