FERNANDINA BEACH, Fla. — "I think it saved my life," Mary Lou Tompkins says. She's talking about the mammogram she got that picked up a cancer she couldn't feel.
And for any woman reluctant to get a mammogram? Tompkins says, "It pinches. It's uncomfortable. But it does not hurt, and it lasts for only a few seconds."
Tompkins was thrilled to ring the victory bell at Baptist/MD Anderson after her chemotherapy was complete. She had a mean type of breast cancer, triple negative.
If caught late, she could have been in a dangerous position. But she found it early enough to avoid that trauma.
Medical oncologist at Baptist/MD Anderson, Dr. Lara Zuberi, says, "With breast cancer you can find it super early with a simple test."
That test is a mammogram.
Zuberi says, "It's important. It can save your life, really."
She says the earlier you find a cancer, the less intense the chemotherapy might be, making the treatment much easier to handle.
Tompkins says she feels blessed she follows Buddy Check 12.
"I always think about it when the 12th comes. It's Buddy Check 12," she says about the reminder system sponsored by First Coast News and Baptist Health.
Tompkins and her family own Island Falls Adventure Golf, a miniature golf course on Sadler Road in Fernandina Beach. They've owned the family place for 32 years. And, yes, they do have bright pink balls for Buddy Check 12.
Now free from chemotherapy, Tompkins likes to play mini golf with her grandson and walk the beach.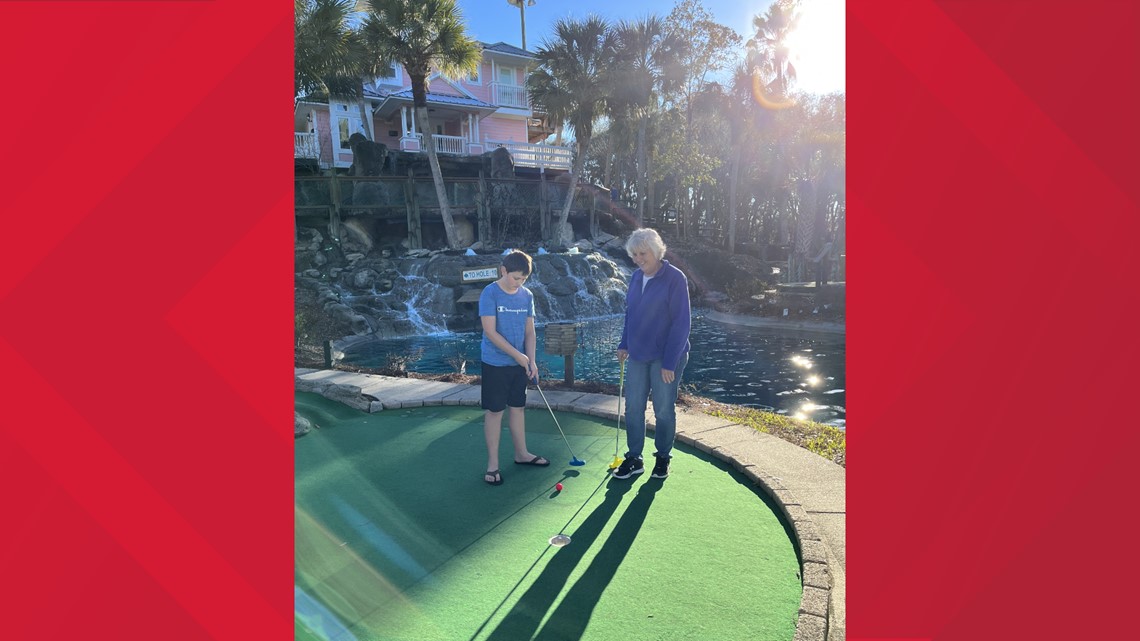 Tompkins is a also big supporter of the brand new Buddy Bus, a mobile mammography unit, a project of First Coast News and Baptist/MD Anderson.
Sign up now to bring the Buddy Bus to your group or your church, school or office.
The Buddy Bus makes it easy to get your mammograms. The Buddy Bus pulls up in your parking lot and it's quick. You can get your mammogram in about 15 minutes.
Radiologists recommend every woman over 40 gets a mammogram.