JACKSONVILLE, Fla. -- There is a vest that can simulate the feeling of a gunshot wound, using varying levels of pain and frequency. It is, of course, only intended for military and security use.
Now, Naval Air Station Jacksonville has 20 of these high-performing "stress vests" to use for training purposes, like for Wednesday's active shooter drill.
First Coast News reporter Shelby Danielsen tried one of the vests on for size to test out the high-powered "gunshot" zap and she says she can vouch for anyone who says it indeed causes "high stress," even if only momentarily.
NAS Jax is the only Navy installation to be using these stress vests.
"It takes your abdominal muscles because the sensor is across your abdomen and it causes that muscle to singe on you," said Jim Butters, the Training and Mission Readiness Officer at NAS Jax. "There are six levels depending on your training."
These vests are just one example of how the military continues to develop and improve their training and technology, adapting and learning from real life tragedies, like the Navy Yard shooting, so they can be more prepares should it ever happen.
In an active shooter drill the vests, true to their name, cause high stress to the person wearing it, simulating pain while the wearer tries to concentrate on their mission.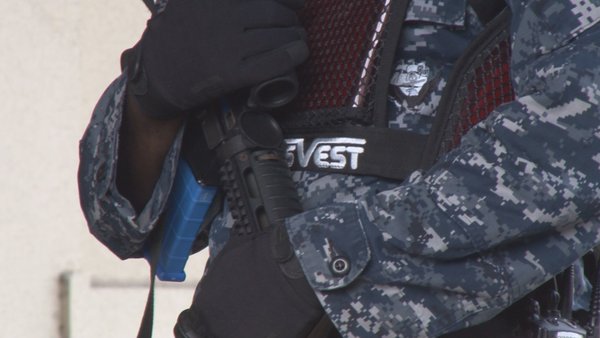 Whoever holds the small, portable computer and follows the trainees controls the level of pain initiated by the vest. The highest level of pain can continue random shocks or a vibration for 10 to 30 seconds after the initial hit. These are intended to mimic real life conditions, but the shocks only last a few seconds.
Most drills take months to plan, involve multiple agencies, including employees who may be caught off guard and asked to evacuate, and last for about an hour.
"We try to do them as realistic as possible," said Captain Select Wesley Joshway, a Production Officer at NAS Jax. "So that they will automatically respond in that area, we've done the training, and we've seen the training, now we're getting able to witness the real time events of the drill."
Not only are they calculating the real-time response efforts, they are doing so with the added burden of the vests.
NAS Jax reports Wednesday's drill it took two minutes to call 911 from the time the shooter entered the building and started firing. It took four minutes for security to arrive.