The Jacksonville Transportation Authority says they will hand out flyers and inform the community about proposed fare changes, which could be as little as 25 cents for some fares.
JTA says fares have not changed in seven years, but some frequent riders are not happy with a proposal to increase.
The smallest increase across the board is 25 cents for a single trip fare from $1.50 to $1.75.
A day pass could increase from $4.00 to $4.50.
Below are some of the other proposed fare changes: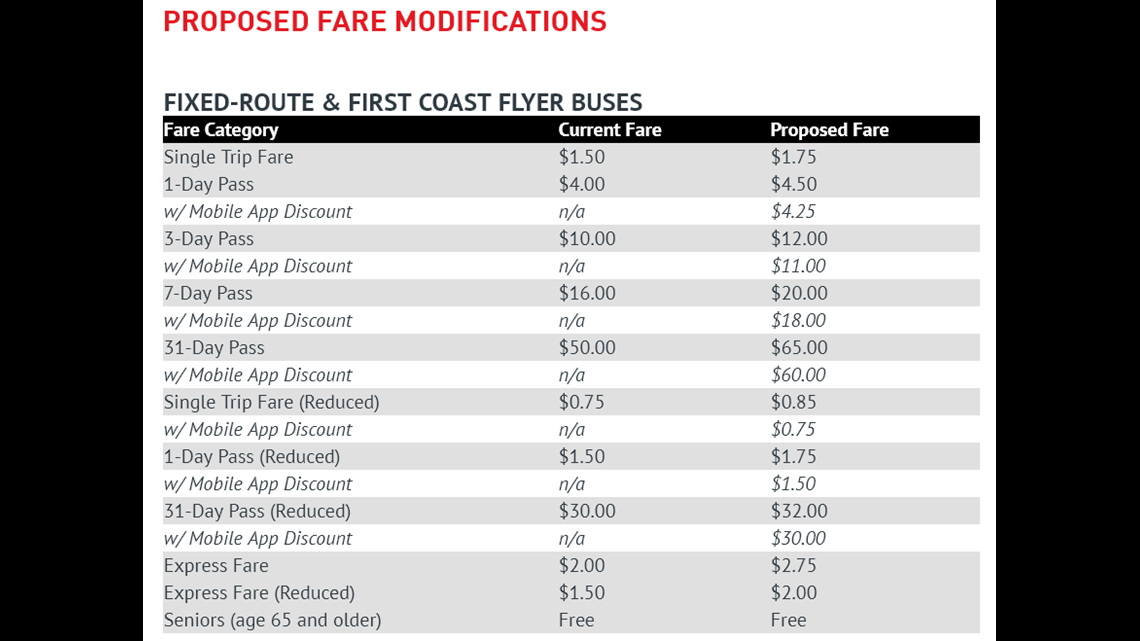 The Rosa Parks Transit station along Union Street is the busiest stop with the most routes throughout Jacksonville.
A sign is on display saying that a proposed fare change is being discussed. Outreach teams are also handing out flyers to JTA customers.
Daily riders like Aaron Parsons are not on board with an increase.
"I'm able to buy a day pass for four dollars, which is a great price don't get me wrong," Parsons said, "so why increase prices to make things harder?"
If the fare increase happens, it would be the fifth time in JTA's history that an increase would be made.
"Since the last time we had a fare modification in 2012, we've improved our operations, we've expanded our services, and now we feel it's at least time to have the conversation," David Cawton, Media and Public Relations Manager for JTA said.
Cawton says this fare increase will not impact senior citizens 65 or older, Skyway fares and paratransit or disabled customers.
Last week, JTA CEO Nat Ford said in a video statement that their recent changes and improvements led to this decision.
"Our farebox revenue is a critical portion of our operational sustainability, and frankly we can't continue to move forward on a nearly decade-old fare structure," Ford said.
That farebox revenue goes towards JTA's bus operations and maintenance, or around 13 percent of their revenue.
The fare increase would not go towards any capital projects, Cawton said.
But for people like Parsons with no other means of transportation, every nickel and dime matters.
"It's hard enough for people to afford bus rides anyway," Parsons said. "Raising prices that are going to make it harder on them -- less people can get where they need to go."
The public meetings will be held next week starting June 10.
Cawton says this will be the first round of public meetings before any notice could be given for a public hearing on increasing fares.
"It's a proposal and no action is being taken right now," Cawton added. "We want to give the people who use our services every day to engage with us."