JACKSONVILLE, Fla - Yes! Jaxson de Ville wears a bra. Granted, he obviously needs a bigger cup size.
But that's okay. Our fearless Jaguars mascot is helping us keep more women from dying of breast cancer.
Jaxson actually made a teal Buddy Bra at a fundraiser at Claude Nolan Cadilac on the Southside. We are raising money to purchase the Buddy Bus, a bright pink mobile mammography unit. It's our new mission with Baptist/MD Anderson Cancer Center.
PHOTOS: Jaxson de Ville Wears a Bra? For Buddy Check 12, of course he does!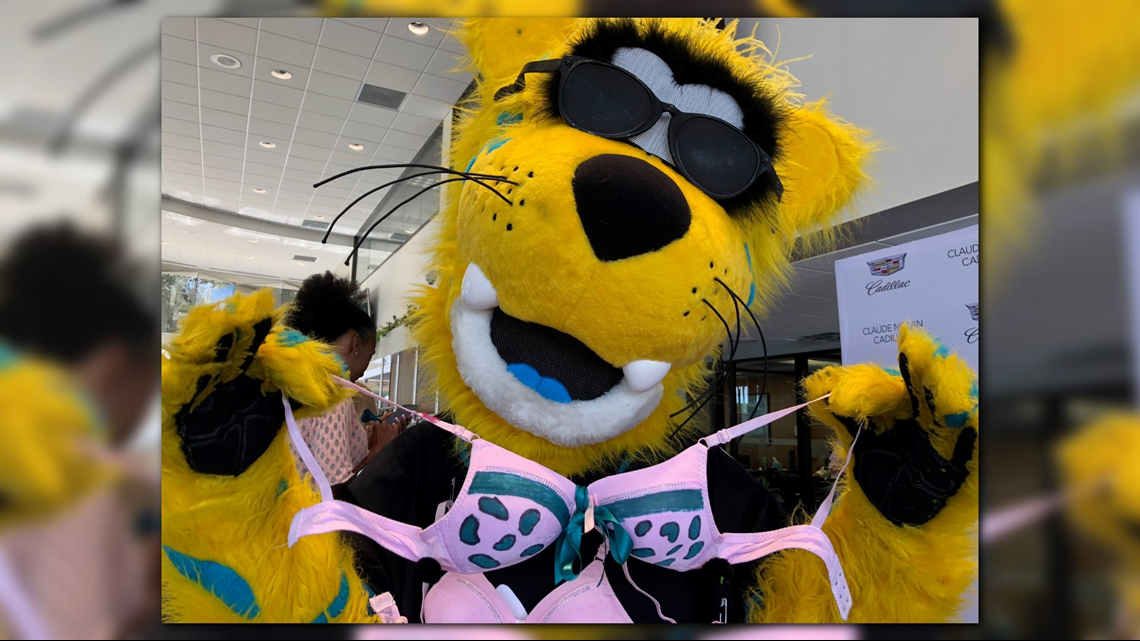 The Buddy Bus will travel to six local counties.
READ MORE | How buying a bra can help save lives on the First Coast
Right now less than half of women are getting regular mammograms. We want to change that.
Here's how you can help:
Ask your fellow employees or group or school to join our Buddy Bra project.
Each bra is a $20 donation towards purchasing the Buddy Bus. CLICK HERE to buy your Buddy Bra
We have the pink Buddy Bras at our TV station you can decorate.
Just email Jeannie Blaylock jblaylock@firstcoastnews.com for more info.
We'd love to recognize your group on TV and social media.
Thank you to owner Marc Helmick and organizer Valerie Jones at Claude Nolan Cadillac for helping us raise more than $2,0000. And a special thanks to Panama Pharmacy on Main Street for giving $1000 of that.