JACKSONVILLE, Fla. — It has been home to the Jacksonville Jaguars for nearly 30 years, but TIAA Bank Field is about to get a major facelift. The team released a video of its design plans Wednesday morning and the biggest change in the renovation plans is a closed roof over the stadium.
The concourses in the stadium will be four times wider than they are now and a system of parks will lead to the stadium entrance. But a glass roof above the stadium is the big talker today because it could be a game-changer in terms of fan experience.
Jaguars president Mark Lamping agrees with fans; football in Jacksonville in the month of September is too hot.
"Anyone who's been seated on the eastside of the stadium for a 1 o'clock kickoff on a hot September day knows it's almost unbearable," said Lamping.
Lamping added that reducing heat in the seats is one of the main driving factors in the renovations to TIAA Bank Field.
"We have more hospital transports for heat exhaustion during the month of September than any other month," said Lamping.
That's why the stadium renovation designs call for a roof that also includes a canopy over the sections where fans sit.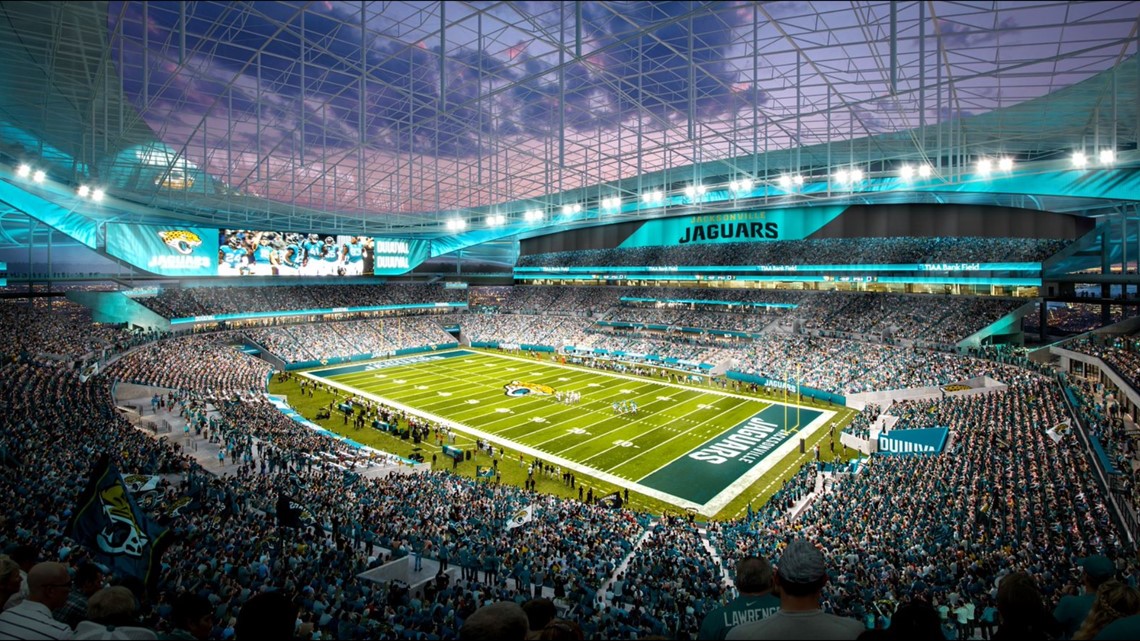 "It's providing shade over every seat," said Peter Broeder, the Design Principal for HOK, which is the firm that created the renovation designs.
Broeder says that even though the roof is glass, it will reduce heat even while it allows sunlight into the stadium.
"it's a next generation ETFE," said Broeder. "The chrome reflective quality of it will shield the heat on the fans and reduce the solar heat gain on the fans by about 70%."
The designs also call for open air passageways into the stadium, which Broeder says will allow air to circulate.
"It will dramatically reduce the temperature in the seating bowl itself," said Broeder.
Lamping says that reaching that goal is the measure of a successful renovation.
"It will be a total failure to the Jaguars if we do not solve that shade problem for all of our fans with the investment that's going into the stadium," said Lamping.
The overall investment will be well over a billion dollars with the Jaguars responsible for half of the cost. However, the Jaguars say that the current renovation plans will not only save some money, but also become an economic engine for the City of Jacksonville.