COLUMBIA COUNTY, Fla. — **WARNING: Some may find the photo below graphic and disturbing.**
A man whose leg was severely bitten by a deputy's K9 during an October traffic stop in Columbia County intends to sue the sheriff's office and the City of Lake City for negligence.
According to an Intent to Sue Notice dated Jan. 21, Martinezz Bowman says police "aggressively pursued" his vehicle and later filed a "false report" citing broken tail lights as the reason for the stop when "the brake lights and turn signals clearly work."
The report says Bowman, instead of stopping, drove at an "admittedly low rate of speed to his neighborhood and home, afraid for his life given the recent police encounters involving African American males."
According to the letter, "well after the fact, the officers claim they detected alcohol or marijuana" to execute a "warrantless search" of the man's car.
Speaking alongside his attorney, Jacksonville lawyer John Phillips, Bowman described to First Coast News the events leading up to and following the bite, which happened at a traffic stop in late October.
Dashcam video provided by Phillips shows deputies pull behind Bowman as he drives his mom's white Dodge sedan on U.S. 441 in Lake City. Both tail lights on the vehicle were out at the time.
As deputies activate their lights to pull Bowman over, he makes the turn onto the dimly-lit street where he lives.
"I wasn't trying to run or anything," Bowman said. "I was just trying to get back to a safe place with the lights and everything."
Around a minute passes between the time the traffic stop is initiated by deputies and the time Bowman comes to a stop in the yard of his home.
Immediately, deputies pull their guns on Bowman while standing near the cruiser, ordering him to put his hands out of the window of the car.
"What are you mad for?" Bowman asks deputies. "What, are you gonna shoot me?"
"Stop, put your hands out the window!" a deputy exclaims.
The subsequent report from deputies would state that Bowman "continuously reached into the vehicle and would come back out."
In the dashcam video, Bowman is seen and heard going back and forth with deputies as they order him to get out of the vehicle.
"Listen, come get me bro," he tells the deputy. "You're not going to shoot me. This is my house right here, you're not going to shoot me."
After he exited the vehicle, Bowman said he faced the deputies with his hands up as they ordered him to walk backwards toward them.
"Slowly, I said slowly!" the deputy tells Bowman.
While Bowman and the deputy are out of frame of the dashcam video, the deputy is heard then telling Bowman not to face him. A final warning is given before the K9 is released, and Bowman can be heard in the video screaming in pain.
"It felt like death, you know? I've never felt like I was gonna die, but this time right here, on this night, I felt like I was gonna die," Bowman said.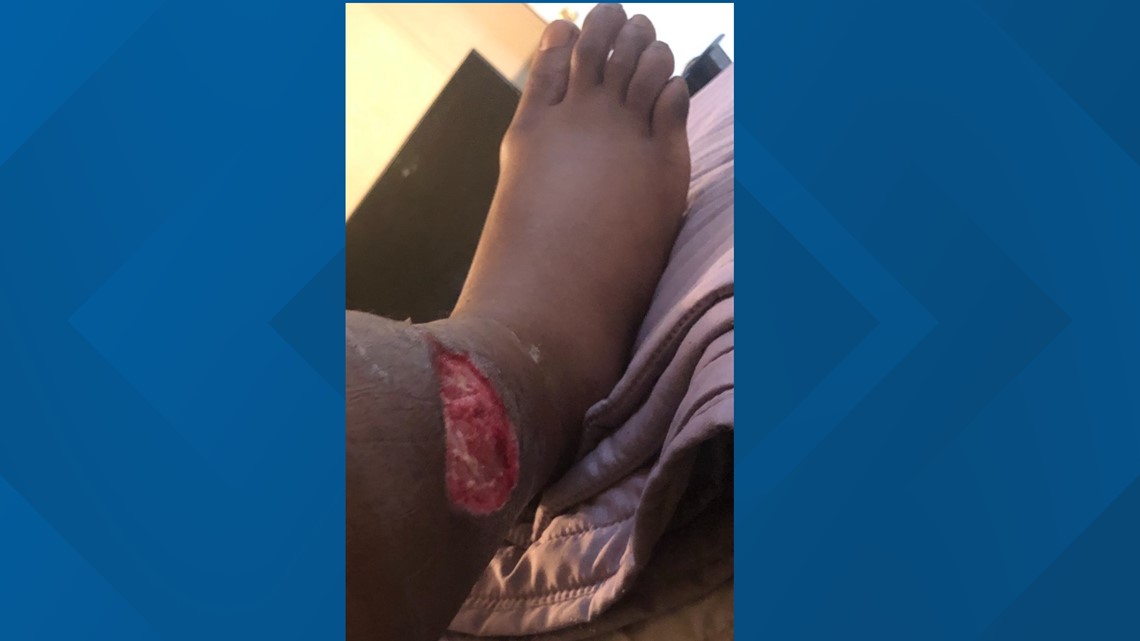 "I never seen my body like that before. I really never lost that much blood before either," Bowman continued. "There was puddles of blood, a puddle of blood on the ground. Blood on my mom's car and everything."
After three months, and three surgeries, Bowman's wound is still clearly visible and he said it continues to impact him physically and mentally.
"These officers need to be re-trained, they need to be held accountable," Phillips said. "[The deputy] was yelling commands, but all the evidence is that Mr. Bowman was following those commands. He did put his arms out, he did get out of the car."
First Coast News has reached out to the Columbia County Sheriff's Office for comment. However, the public information officer, Sgt. Steven Khachigan declined to comment citing pending litigation.
He said he was not sure if he could release the reports because of the pending litigation. He added no officers or deputies were placed on leave or desk duty related to this incident.
"[The deputies] take the precautionary measures as they should to effect a felony stop because you don't know who's behind the wheel of that car," said On Your Side's crime and safety expert Mark Baughman.
Baughman said, after reviewing the video, he believes the deputies actions were justified based on an overall lack of compliance.
"Eventually he gets out of the car but doesn't listen to the commands of 'turn around, let us see your hands, walk backwards to us.' That doesn't happen," Baughman said. "Had he just complied with the verbal commands, this wouldn't have happened."
"Ultimately it comes down to verbal commands, they have to be clear and you have to be sure people understand them. And in this case I think it's clear they were made clearly to the suspect."
In Lake City, City Manager Joseph Helfenberger said in a statement:
"The city is not involved in it at all. We don't have any officers involved. The Columbia County Sheriff's Office would have jurisdiction… The address of the home is in Lake City but the CCCSO has jurisdiction over the city and the county."
Stay with First Coast News as this story develops.