Evacuation orders have been lifted in Bryceville, Florida for residents who were affected by the 693-acre wildfire known as Garfield Road Fire. As of Saturday morning, the Florida Forest Service (FFS) said the fire is 95 percent contained and isn't spreading.
FL Forest Service mopped up hot spots while NCFR firefighters put out the flare-ups. What a team! The #GarfieldRoadFire is now 85% contained pic.twitter.com/uInPADoy2w

— NassauEM (@NassauEM) March 25, 2017
Officials said while assessing the damage in the daylight, the situation looks better than previously thought. Crews said they are "getting the situation better under control."
Two structures were destroyed, eight damaged and about 19 barns or sheds were destroyed or impacted as a result of the fire. FFS also announced that more than 250 houses have been saved.
Fire officials said there's a 20-acre patch of unburned fuel inside of their fire perimeter, so that's what fire rescue will work on all day Friday. We're told crews were working on a couple of spot fires overnight and firefighters were able to get them under control with water.
Because the wildfire spread to private property with homes, officials are trying to minimize the amount of damage they make while fighting the blaze.
As of 11 a.m. Friday, only the Nassau County Fire Department remains on the lines. Officials hope that they will have the fire 85 percent contained by late Friday or early Saturday morning.
Fortunately, there were no casualties as a result of this fast-spreading fire. Officials said there were minor injuries to First Responders as they were battling the blaze.
EVACUATION ORDERS LIFTED:
Nassau County Emergency Management has lifted the evacuation orders for all residents on Thursday in the areas of CR-121 and CR-119. Roads have been opened and most of the power has been restored.
Responders are opening roads to residents of the Bryceville wildfire area now. Power in the area has been restored & hotspots being cleared.

— NassauEM (@NassauEM) March 23, 2017
In their final press conference Thursday night, they asked folks who do not live in that area to leave so that they do not hinder with operations as crews continue to contain the fire.
"Please give people privacy," said Annalisa Winter, the FFS spokesperson.
Fire officials said they will continue to monitor the fire overnight. Authorities said there's still a lot of hot spots and concentrated heat sources in some of the rubble that's burning near CR-121 and CR-119.
"If you see flames outside of the burned areas, call 911... outside the area, we know about," Winter said.
Some of what #JFRD was faced with helping in @NassauEM Tough to see the loss of homes and property as we worked throughout the night. pic.twitter.com/slNwlsiwg4

— JFRDincidents (@JFRDIncidents) March 23, 2017
HOW IT STARTED:
The fire began around 2 p.m. Wednesday as an illegal yard burn off of Wills lane. In the 911 call, the wife told dispatch the fire started when her husband started burning moving boxes, as they had just moved into their home. Authorities said Wednesday night, it was started by someone burning paper and books off CR-121, but got out of control and grew quickly from five acres to 693-acres.
According to FFS, the person who started the wildfire is "remorseful."
Hitting CR119 earlier today #GarfieldRoadFire in Nassau County pic.twitter.com/sDw7zXBttf
— FL Forest Service (@FLForestService) March 23, 2017
#GarfieldRoadFire was caused by someone burning paperback books off CR121 in Nassau County. Burning household garbage is illegal in Florida

— FFS_Jacksonville (@FFS_Jax) March 23, 2017
FFS said folks in Florida can only burn clean, dry wood. As a result, the individual has been issued a notice for violation for an illegal burn. A forestry bill will also be issued and could be thousands of dollars. FFS said they could also be liable for damages, including houses and livestock lost.
Winds are driving the Bryceville wildfire in Nassau toward Countryside Acres. All residents should evacuate immediately!

— NassauEM (@NassauEM) March 22, 2017
@FCN2go Footage of the wildfire from CR 121 pic.twitter.com/XA56VgT224

— Brie Knight (@mystic_spectrum) March 22, 2017
Wildfire in Bryceville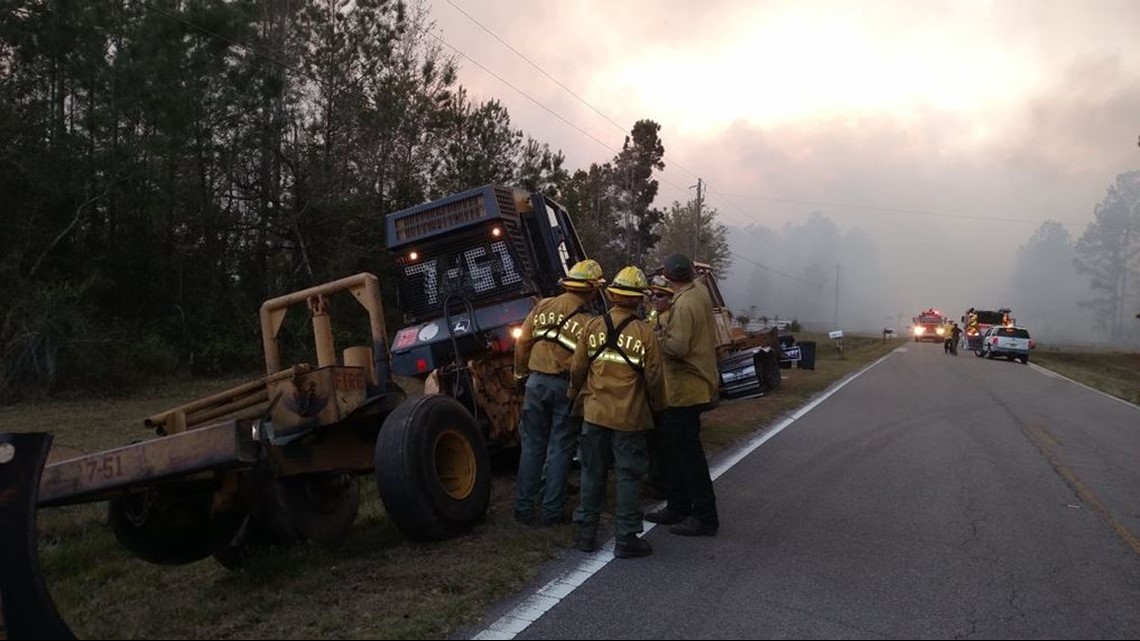 FFS, the Jacksonville Fire Rescue Department, and crews from Georgia, St. Johns County and Duval County responded to the scene and assisted the Nassau County Fire Department. At one point, about 150 to 175 first responders were on the scene. JFRD also had more than 20 units Wednesday, equating to about 50 to 60 firefighters.
As of Friday, only Nassau County firefighters remain.
Nearly 20 bulldozers were also out on the scene. One of them was damaged and flipped, but the driver was ok.
SEEKING HELP:
At one point, residents who evacuated were able to seek shelter at Bryceville First Baptist Church, Gray Gables Church, Callaham First Baptist Church and Brandy Baptist Church. As of Friday, officials say all shelters have been closed because residents have returned to their homes.
Nassau authorities stressed that folks can call their hotline in case they need shelter or assistance: 904-548-0900.
PHOTOS: Missing and found pets following Bryceville evacuation
Crossview mortgage collected items such as clothes sheets, beds, furniture, food, water, dog or cat food for all family's of the Bryceville fires and they asked the city to come together and support these families who lost everything.
Bryceville First Baptist Church in Nassau County has room for fire evacuees if you're unable to return to your home this morning @FCN2go pic.twitter.com/QW6sl1Fg4W

— Monica Garcia (@mgarcianews) March 23, 2017
NE FL American Red Cross is establishing a host shelter in cooperation with Bryceville Baptist Church, 7732 US Hwy 301

— NassauEM (@NassauEM) March 22, 2017
Three shelters have now opened for people in need from Nassau Fire. pic.twitter.com/rud7Md5sKz

— FHPJacksonville (@FhpJacksonville) March 23, 2017
Pet owners and livestock owners can drop their animals off at Diamond D Ranch on Solomon Road in Jacksonville. Right now, employees at Dimaond D Ranch say it hasn't received any evacuated livestock, but people can still call their cell phone number: 904-591-3289. Thursday morning, folks can call their office number at 904-289-9331. The Duval County Extension Office has trucks and trailers to help transport livestock if need be and you can reach them at 904-240-8675.