JACKSONVILLE, Fla. — The video attached to this story is from a previous, related report.
Former Jacksonville City Councilmembers, CEOs and business leaders are among the hundreds of people that were granted special badge access to Jacksonville Sheriff's Office facilities over the past decade.
Among those names include Robin Lumb, former City Councilmember, A. Earl Benton, CEO of Champion Brands and Mitch Reeves, Former Mayor of Atlantic Beach, listed as being apart of the "Sheriff's Circle", among others.
First Coast News obtained a list of all the individuals given badge access to JSO buildings over the last 10 years, following revelations that former GOP power broker Kent Stermon held an all-access badge, courtesy of former Sheriff Mike Williams.
When asked about the "Circle" by First Coast News, JSO's Public Information Officer responded confirming the existence of the group but explained that it has been discontinued.
"The name "Sheriff's Circle" is a title of a category given to those that past sheriffs have allowed access to JSO facilities. I know of no other significance than that –and unfortunately, those that allowed access to this group are no longer with the agency to ask.
With the exception of Mr. Stermon, all individuals that were on/in this category had been disabled prior to Sheriff Waters taking office. As stated earlier, Mr. Stermon's access was disabled following the election and he had been advised of such.
Sheriff Waters, upon his taking office, discontinued the use of this group and has not, nor is he planning on allowing special access to individuals outside of the need for official business."
Records show Stermon used his badge to access JSO facilities at least once a week since 2017. Multiple law enforcement sources tell First Coast News Stermon's access was largely unfettered, and he was allowed to roam without escort into even secure locations within the agency.
Stermon's badge access was terminated five days before Sheriff T.K. Waters took office in November, and it's not clear which, if any of the names on the badge access list released by JSO remain active.
Retired JSO Detective Kim Varner says from his time at the department, the badges have been used to allow retired officers, contractors, volunteers, custodians and interns access to facilities, as well as individuals close to the sheriff.
"Strike Force was a was a group of businessmen that were trying to help curb crime here in Jacksonville. So that way, the sheriff doesn't have to have to have to go down and walk them up and have somebody to walk out of walking up the hill, they have an access card, they can just come in to scan and going on up to his office," Varner said.
Varner says just because someone had a badge doesn't mean they had full access to everything in the building. He says the sheriff has the right to issue a card to whoever is working with him.
"Those cards not issued by the current sheriff. They could be issued from a sheriff from a couple of years back and that person might still have that card, they might still be actively working with the sheriff's office. I'm retired, I still have my card as a retired officer. I can go down to the gym and workout I can get access to the building. I can't get upstairs on the third floor where the sheriff's office is," Varner said.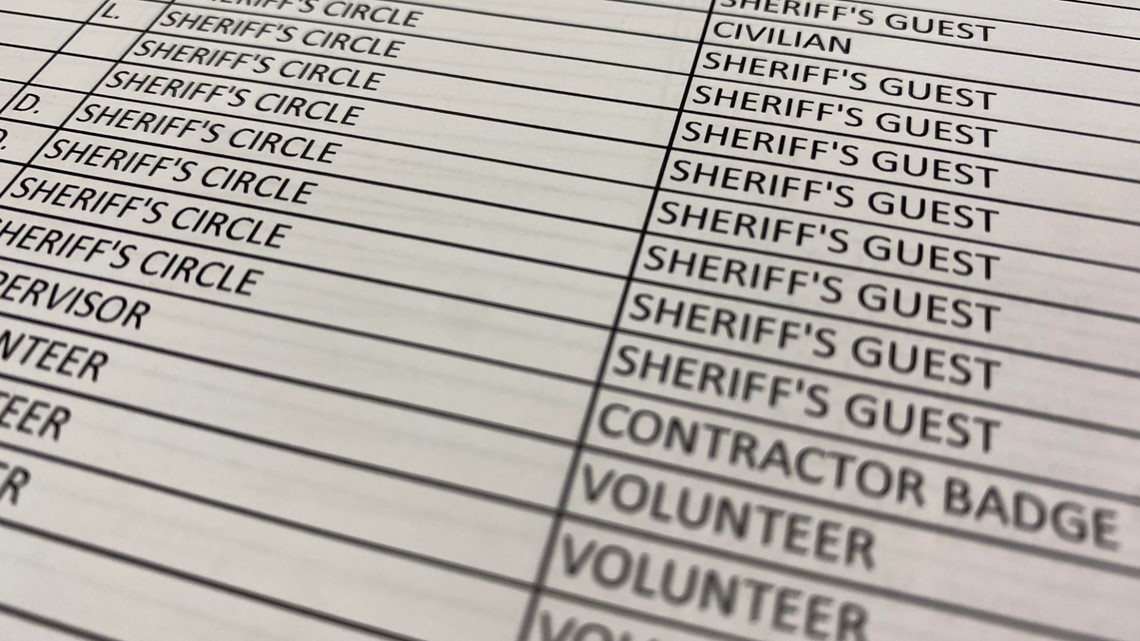 Varner says the size of the list doesn't surprise him because it's common for those working with the sheriff or on contracting work have access to the facilities. He says the most important thing is making sure those who have access are using it correctly.
This is a developing story.