JACKSONVILLE, Fla.- A baby girl kidnapped from a Jacksonville hospital hours after her birth has been found alive and well, 18 years later, in South Carolina.
The case of missing baby Kamiyah Mobley captivated the city and drew national attention in 1998 after she was kidnapped from University Medical Center, now UF Health-Jacksonville, just eight hours after she was born.
On Friday, the Jacksonville Sheriff's Office arrested the suspect, Gloria Williams, 51, in Walterboro, S.C., about four hours north of Jacksonville. Police say Williams allegedly took Kamiyah and raised her as her own daughter, but under a different name for the past 18 years. Officers are not releasing her name in order to reduce trauma for Kamiyah.
"She was abducted as a newborn and needs time to process this... we want to respect her privacy and we ask that you do too," JSO Sheriff, Mike Williams, said at a press conference Friday.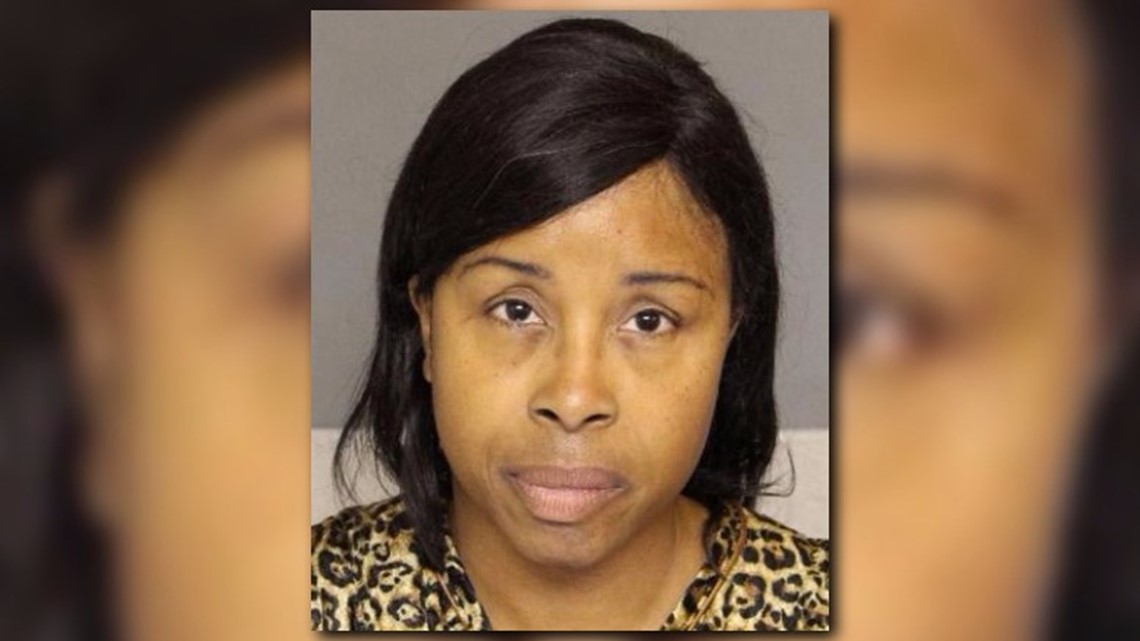 On July 10, 1998, a woman posed as a nurse and entered Kamiyah's mother's hospital room. She told the mother, Shanara Mobley, that Kamiyah had a fever and needed to take her away. The woman left the room and exited the hospital with the child. They both disappeared without a trace.
An intense investigation was launched after Kamiyah disappeared. Nurses told authorities that they thought the woman was a family member of Mobley's because they saw her interact with Mobley several times hours before the abduction.
Police searched every inch of the hospital. The FBI and the Florida Department of Law Enforcement (FDLE) were also called to assist.
When they looked at surveillance video, it proved too grainy to identify the kidnapper, and the camera in the nursery was broken. Law enforcement circulated a sketch of the suspect. There was only the newborn photo of Kamiyah, so investigators also told the public to look out for a baby with an umbilical hernia, similar to a raised belly button, and bruising on her buttocks.
Authorities offered a $250,000 reward to find Kamiyah. The case was also featured on America's Most Wanted. JSO said authorities also had more than 2,500 leads since her disappearance, but all leads ran dry.
Mobley sued the hospital and later got a $1.5 million settlement.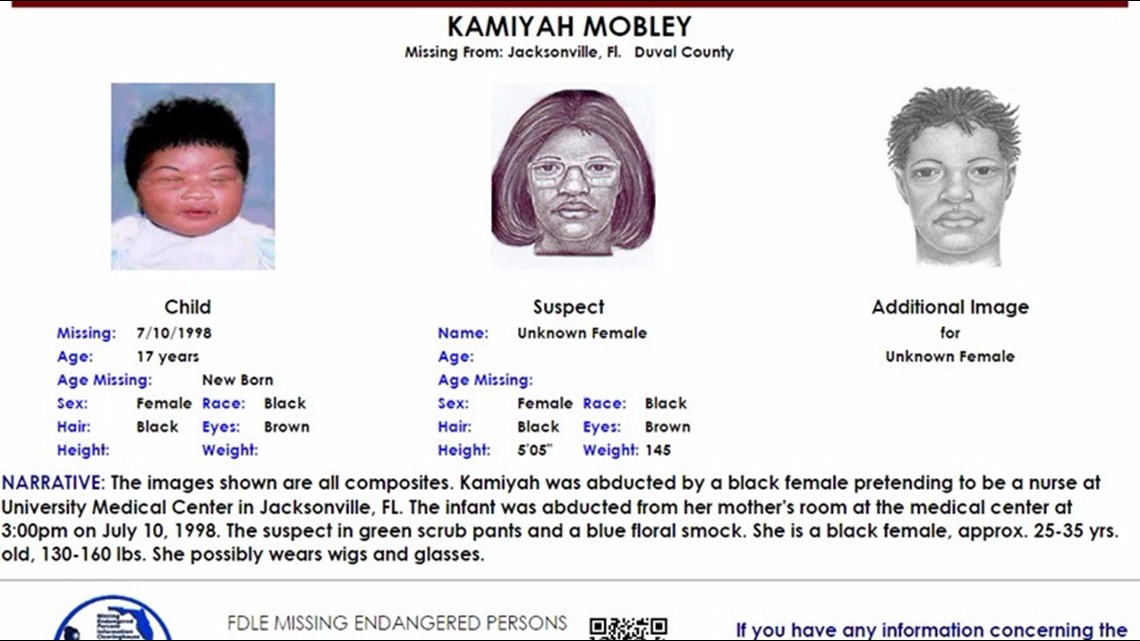 It wasn't until late 2015 when local authorities received two tips that led them to South Carolina. JSO Cold Case detectives teamed up with the Walterboro Police Department and managed to locate an 18-year-old girl with the same birth date, but different name. They also discovered fake documents had been used to establish the girl's identity. Police interviewed several people in the area, who helped create more suspicion that the teen was Kamiyah.
JSO said that, despite growing up thinking Williams was her mother, she began to suspect months ago that she may have been involved in the case.
"She had an inclination," Sheriff Williams said.
JSO managed to obtain a DNA sample from the teen earlier this week and submitted it to the FDLE Crime Lab for testing. They received the results Thursday night and discovered that it was a match to Kamiyah's DNA taken shortly after she was born.
Police arrested Gloria Williams at her Walterboro home Friday morning. They served a search warrant and JSO Crime Scene units remained on the scene for several hours after her arrest. Williams is facing kidnapping charges, a first-degree felony punishable by life, and interference with custody charges.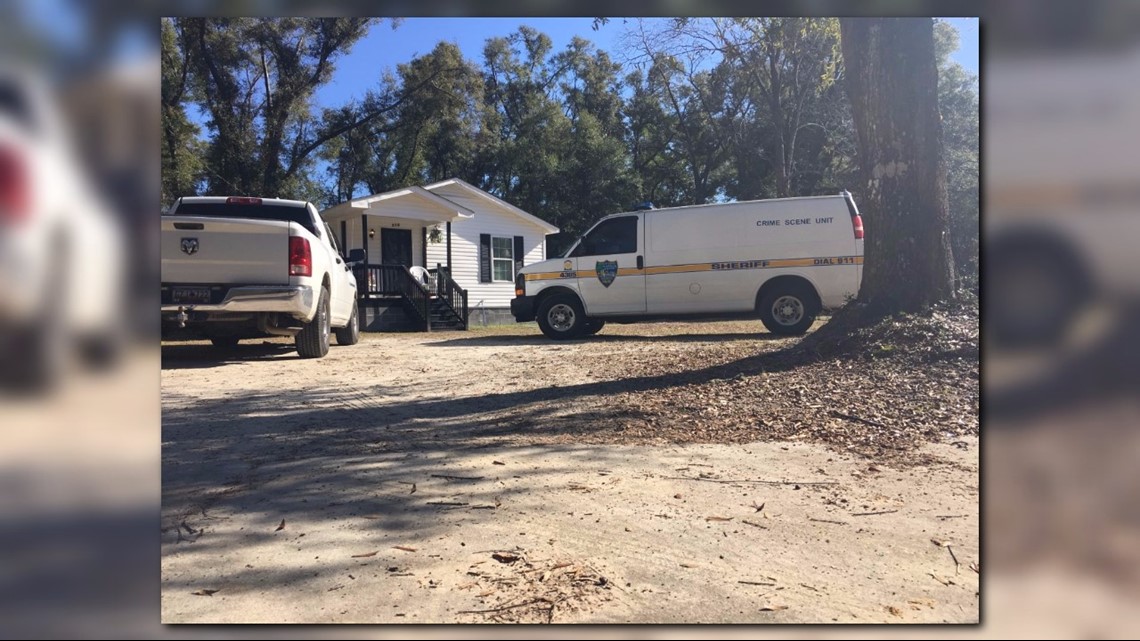 Williams had a court appearance in South Carolina late Friday afternoon, but the judge didn't set a bond. Police say she is going to be extradited back to Jacksonville where a bond will be set by a local judge.
Kamiyah was also in the court room during Williams' appearance and told her she was "praying for her" and that she "loved her."
After the arrest, JSO contacted Kamiyah's biological family and close family friends and shared the news. They said she was in good health and was living a normal 18-year-old life.
"They were elated... they were overwhelmed with emotion," Sheriff Williams said.
At this time, police said Kamiyah plans on staying in South Carolina. They do not know if she plans to meet her biological family any time soon.
"She has a lot to process, a lot to think about," Sheriff Williams said. "The ability is there for (a meeting) to happen, but they have to make that decision... she has to make that decision... Again, imagine the gravity of that situation."
Craig Aiken, Kamiyah's biological father, said they did video chat shortly after they heard the news, but there are no announcements if they plan to meet in person.
Despite an arrest made, this case remains an active and ongoing investigation.