JACKSONVILLE, Fla. - It's a photo that captured world's attention 50 years ago this month, but J.D. Thompson of Jacksonville remembers the moment it was captured well.
"A lot of people can't believe it was 50 years ago," he told First Coast News on Monday. "It's hard for me to believe."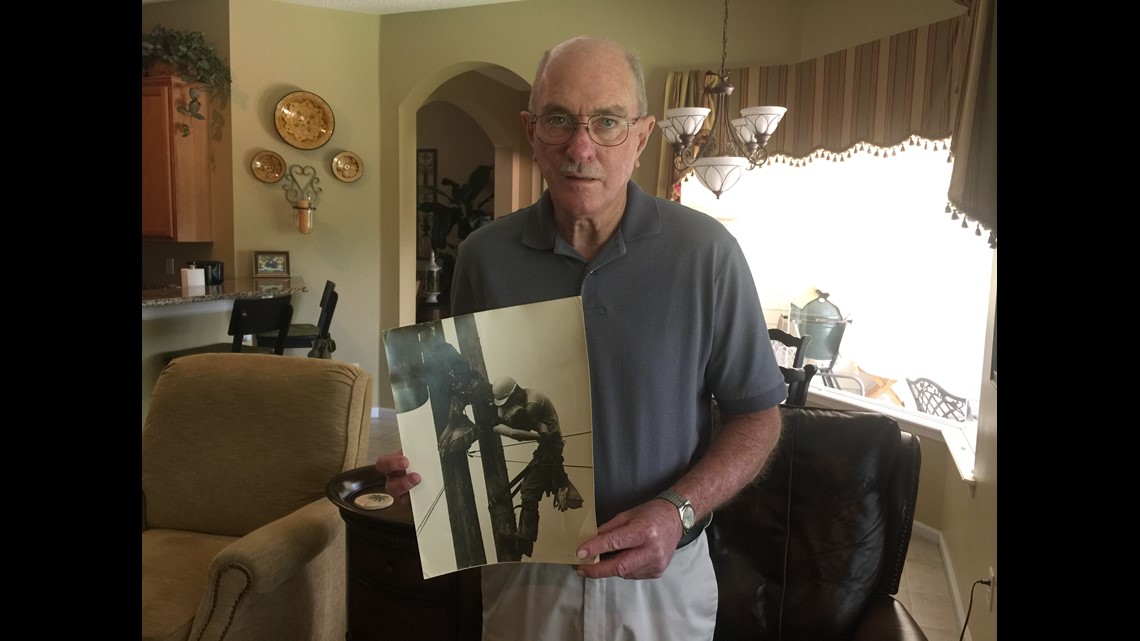 Titled "Kiss of Life," the photo, taken when he was a 26-year-old lineman with City Electric - now JEA - is an image of Thompson administering CPR to teammate Randall Champion just moments after Champion had grabbed a live wire he'd thought was dead.
"He got a hold of the hot wire with his four fingers," Thompson recalled, "and [the electrical current] came out his – I think it was the left foot. And it blew a hole where it came out his foot."
Champion's injuries included a burn to his foot that would require skin grafting and months of healing, but the 2400 jolt that caused them could have killed him.
"A lot of people have survived," Thompson said. "It's just a matter of how long you're hooked on to it, you know? And, a lot of people have been killed instantly."
The date was July 17, 1967. In those days, few people carried cameras as ubiquitously as in modern times with cell phones at the ready. It just so happened that a newspaper photographer named Rocco Morabito was in the vicinity of West 26th Street in Jacksonville, where the electrical crew was working.
"At that time the Florida East Coast Railroad was having a strike," Thompson explained, "and Rocco had went by our job and went down to the railroad yard and there was nothing going on, and so he came back and thought he'd take some pictures."
Thompson had been working about 400 feet away when he learned that something was wrong with Champion, a buddy who'd been hired on the same day four years earlier. Thompson ran to the pole, where Champion was dangling upside-down and unconscious in his safety harness some 20 feet above the ground.
"The position he was in wasn't too good," Thompson said.
He told First Coast News that thoughts of his emergency training raced through his mind as he raced to the pole.
"You actually had to breathe in the mouth and make this thing work," he said. "If you didn't do it right, the stomach blew up and you weren't getting any air in to the lungs."
Thompson said he was pleasantly surprised when his efforts paid off.
"I was putting air in him as hard as I could go," he said. "And also trying to reach around him and hit him in the chest. And, all at once, he came to."
The photo is black and white, but when I asked Thompson how confident he had been in the moment that he could save his friend, his recollection was in vivid color.
"No, he was blue," he said. "I mean, gray-blue."
Thompson downplayed his heroism, saying if it wasn't for Morobito's picture - which netted the photographer a Pulitzer Prize for spot news - his rescue would be no different from many that take place routinely.
He did, however, say that if he indeed saved his friend's life that day, it's the photo that gave the moment eternal life and an effect that has passed down countless lines since.
"My sister-in-law recently found on Facebook, there's a lineman in Washington state who has this tattooed on his arm," he said.
Champion would work several decades longer, passing away in 2002. Morobito died in 2009.