The mall seems like the place to be if you're an up-and-coming rapper making lots of money. That's unless your name is Keyanta Bullard, aka Yungeen Ace.
The 20 year old remained in Clay County jail on Tuesday after being arrested last week after going to Orange Park Mall without permission. According to an arrest warrant, Ace was traveling back to Florida from Louisiana and failed to "stay with his itinerary on 10/13/2018 ... the offender visited the mall without the consent of the probation officer."
He posted a video on his Instagram page before turning himself in saying, "If you see this, I'm already in jail.
After being shot multiple times in June surviving a triple homicide that claimed the life of his brother Tre'von Bullard, 18, and two close friends, the popular rapper has continued selling records and performing in rap concerts around the country.
The other men killed were Royale D'Von Smith Jr., 18, and Jercoby Da'Shad Groover, 19. Jacksonville Sheriff's Office has not made any arrest. JSO's only description of the event is a car pulled up to the victims' vehicle on Town Center Parkway and opened fire.
Ace was arrested after that shooting for another probation violation spending weeks in jail missing his brother's funeral. Officers removed him from a Jacksonville hospital where he was suffering from multiple gunshot wounds and brought him to jail.
The violation this time was touching a firearm at a Jacksonville gun store. The store's owner called police telling them Bullard was in the store days before the shooting and touched a gun. The probation stems from previous charges where Bullard was arrested after being in a car that had drugs and a firearm in it.
The rapper talked publicly about the shooting for the first time during the 6:50 interview on complex.com.
"We were at my little brother's dinner ... It was his birthday. ... We went to the mall, got clean, we left and was in the parking lot chillin'," Ace says in the interview adding that his brother Tre'von just turned 23.
After eating, he said they were driving to see some girls when, "out of the blue, all you hear is shots, at the red light," he said. The barrage of bullets hit the occupants in the car. Ace said he began telling his brother to open the door, but he couldn't.
"I got hit in the hand and dropped my phone," he said. The rapper said he eventually unlocked the door while trying to shield his brother so they can escape the car. "They were still shooting ... the car was still moving. ... I was thinking I got shot in my leg," but he was actually shot eight time in the buttocks, he said.
"An ambulance came. One ambulance and there's four of us. That's how that went. We all went to the hospital. They didn't make it," he said in the interview.
Being the only one in the car to make it out alive has come with some survivors guilt.
"What hurts most, I didn't go with them. We die for each other," Ace said in the interview.
One of the men just graduated from high school, one just became a father and another had a baby on the way, the rapper says in the interview. "I asked God why. Why not me instead of them? ... they looked up to me. I was the oldest in the car. I have to deal with their mothers. I call and check up on them ... they ask me why and I don't know. My momma asks me 'why they took my son from me?'
"I don't know why. I'm lost. I feel like it's my fault. I'm going to forever feel like that. I was supposed to be on my pivot. How could I slip? Why wasn't I on point?" he said in the interview.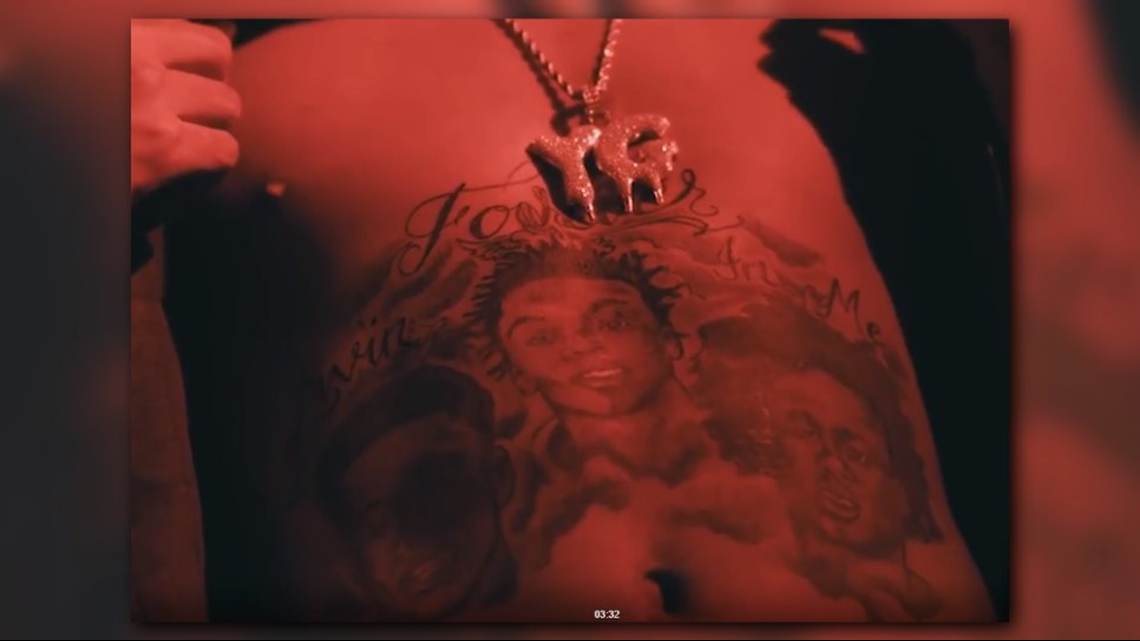 His way of dealing with it? Music.
"I don't like talking to people. I ain't going to counseling, so music speaks for me," he said. "I got a message. Somebody's going to hear it. ... I be talking to people and say 'I'm going to change the world. If I can't change the world, I'm going to change somebody's life."
He looked to be doing just that while in the Clay County jail on Monday. An Instagram post on Ace's page showed him talking to young people who were locked up.HEREHEREHERE
Yungeen Ace's videos have been viewed millions of times on YouTube and guns and references to violence are prevalent. "That's what everybody wants to hear. That turn up," he says in the interview adding that he did it for attention.
"People think wrong of me, especially the system. They think highly wrong of me like I'm just this terrible person. I'm not. I'm a good person. I got a good heart, but I ain't got no heart. I'm numb, but I got a good heart," he said.