Everyone agreed Eric Wright's 20-year sentence was excessive.
"I have no discretion," Circuit Judge Tatiana Salvador lamented at his 2015 sentencing. "I have no authority."
"[It's] a classic example of how inflexible sentencing laws may result in injustices that should not be tolerated," 1st District Court of Appeals Judge James Wolf wrote, rejecting Wright's appeal in 2017.
Even his alleged victim wanted him out of prison. The two share a son, and she said the child needed his father.
The 20-year mandatory minimum sentence was a requirement of Florida's 10-20 Life law. And in Eric Wright's case, it seemed as inflexible as it did unjust.
But after a failed appeal and multiple unsuccessful motions, Wright stepped out of a Duval County Courtroom a free man earlier this year, released by the same judge who'd originally sentenced him.
"I'm not in prison," he said. "I feel like I was blessed."
In July 2013, Wright's ex-girlfriend barged into his mom's house, uninvited. He told her to get out, but she was bigger than him – and angry.
Unable to get her to leave, Wright pulled out his licensed handgun and fired a warning shot, into the ground of his front yard.
No one was hurt, but discharging the firearm put Wright in the crosshairs of 10-20-Life.
The shorthand version of the statue was summarized on promotional posters. "Use a gun and you're done," the poster read. "Pull a gun: 10 years. Fire a gun: 20 years. Shoot someone: 25 years to LIFE."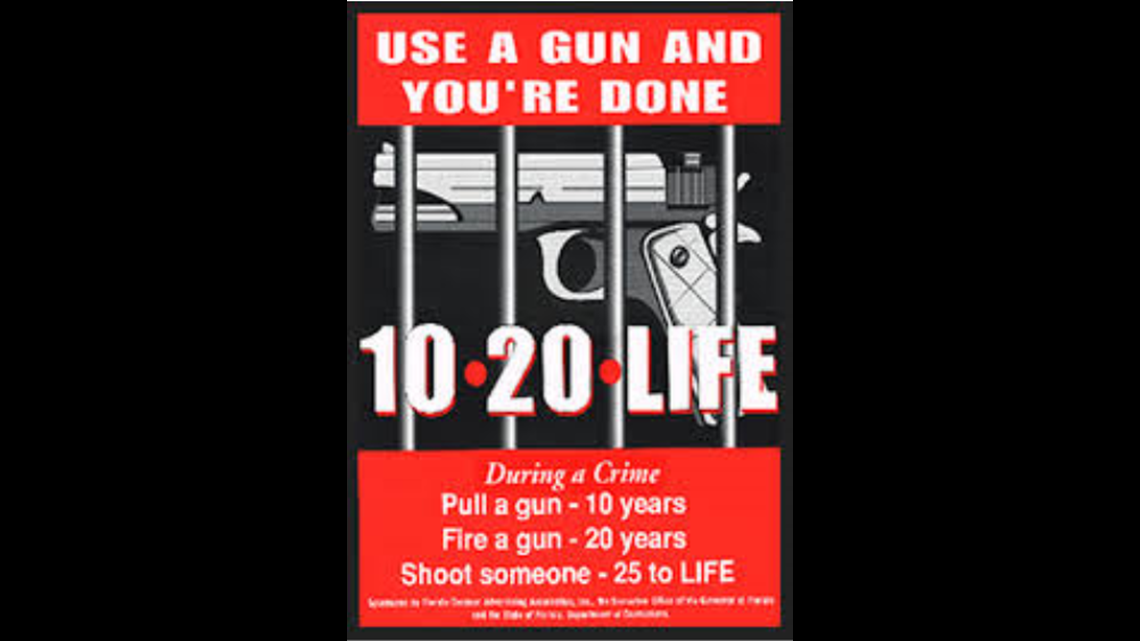 Though Wright had never been arrested, his 20-year sentence seemed immutable.
He filed motions for post-conviction relief. The first claimed his sentence amounted to cruel and unusual punishment. The court denied it. The second noted the Legislature had actually repealed "10-20-Life" for cases like his. The court said the new law wasn't retroactive.
With Wright's legal options seemingly exhausted, his new attorney approached the State Attorney's Office Conviction Review Unit.
"I think it struck the heart of many people," attorney Rhonda Peeples-Waters told First Coast News. "It just really spoke loudly about the injustices that may come about when judges don't have discretion."
Peeples-Waters met with unit director Shelley Thibodeau. "I knew there were issues in the case," Thibodeau said. "It was waiting for me when I started the unit [in 2018]."
Because the unit only handles claims of actual innocence, Thibodeau declined to take Wright's case. But she did suggest a plan.
"It's not an innocence claim, so it didn't fit neatly within the parameters of Conviction Integrity Unit," she said. "But as I was reading through the transcripts and filings, I realized there had not been an [ineffective assistance of counsel claim] filed in this case. And it appeared to me there might be a legitimate basis for doing so."
Wright filed an ineffective assistance of counsel claim against his original lawyer, saying he didn't inform Wright of the consequences of not taking a plea, and that he argued, incorrectly, that the judge could deviate from mandatory sentencing.
Prosecutors didn't challenge the filing. Instead, they offered a plea deal of time served.
"We really are thankful and blessed that we have a state attorney that would say, 'as much as I can prevent injustice in our criminal justice system, I'm going to assist,'" said Peeples-Waters. "[State Attorney] Melissa Nelson and her office were large factors into why we were able to have this case re-heard."
So in January, after years behind bars, Wright was suddenly a free man.
"About 10, 11 o'clock that night I was walking out of county jail," Wright told First Coast News. "And I saw my kids."
The moment was "scary," he admitted; he hadn't seen them in years. But the mood lightened with the kids' first question: "Can we go to Chuck E. Cheese?"
Wright laughed. "I told them we'd work on it."